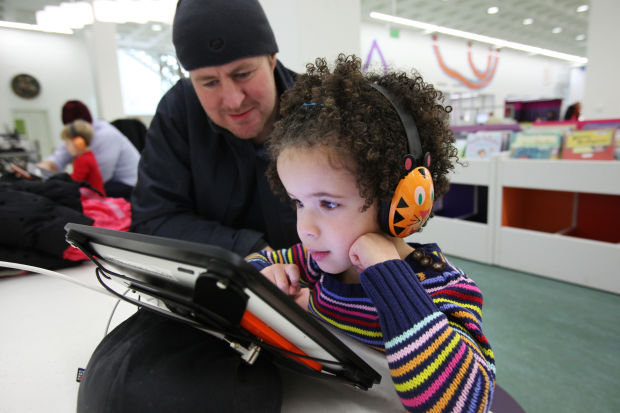 Advertising Age magazine reported in August that U.S. adults spend about two hours and 20 minutes per day online, about the same amount of time on smartphones and other mobile devices, and another four hours and 31 minutes watching TV.
Televisions are ubiquitous — whether in the dentist's office, the checkout line at the grocery or in the bedroom. Around 2005, for the first time, the number of TVs in the average American home surpassed the number of people in the average American home, according to a 2006 Associated Press story.
For many of the approximately 40 percent of American workers considered white-collar, work means staring at a computer for the better part of eight hours a day.
We in the grown-up world spend a lot of time with screens. And yet who bears the brunt of the vast majority of hand-wringing over the dangers of too much "screen time"? That's right — it's our shorter, birthday-deficient fellow citizens we subject to all our self-righteous, largely arbitrary limits on Elmo, selfies and "Grand Theft Auto."
It's hard to avoid pot-and-kettle comparisons when it comes to stories like the one in this Wednesday's State Journal on how parents should handle children's screen time — especially if you're like me and the kids' bedtime is also ESPN/Facebook/randomly-flipping-through-channels-with-a-slack-jawed-stare time.
But this apparent irony hasn't led to much action, judging by the relative dearth of research on the effects of screens on adults. Nor are there any official guidelines that I could find on how much screen time is too much — à la the well-known American Academy of Pediatrics guidelines on children's screen time.
"As far as I know this is still a very small and scattered body of literature," said Heather Kirkorian, a UW-Madison assistant professor in the School of Human Ecology.
Among what exists is a 2011 Journal of the American Medical Association analysis that found high rates of TV-watching correlated with higher rates of cardiovascular disease, type 2 diabetes and, well, dying in general. A 2012 U.S. Department of Agriculture publication noted "strong and consistent evidence in both children and adults ... that screen time is directly associated with increased overweight and obesity."
There's even less on how screens affect adult mental and emotional health, learning and social skills.
A 2005 study showed a slightly elevated risk for Alzheimer's disease among elderly people who during middle age had watched more TV, and earlier this year a study of college-age people suggested a correlation between lots of Facebook use and lower levels of well-being.
There are also "some studies that demonstrate enhancements in specific cognitive skills for individuals who play certain types of video games," Kirkorian said.
Doug Gentile, a psychologist who runs the Media Research Lab at Iowa State University, said that results of research into the effect of screens on adults tend to be similar to what's seen in children.
"Children and adults don't learn differently," he said, even if adults have the advantage of having outgrown impulsivity. Violent video games, for example, might encourage violent reactions in both children and adults, but adults are better equipped to suppress them.
Gentile said that research has shown the No. 1 factor in human happiness is social connection, and social media, email or other forms of screen-based social connection can be poor substitutes for face-to-face experience.
He pointed to the work of UW-Madison's Richard Davidson, a neuroscientist whose research has suggested (screen-less, obviously) meditation techniques can improve empathy and emotional well-being. At the least, adults who spend lots of time on screens are "certainly not improving those types of skills," he said.
As for guidelines on adult screen time, I poked around such reliable sources as the American Medical Association, the American Psychological Association, the Gerontological Society of America and the National Heart, Lung and Blood Institute but found nothing.
Kirkorian and Gentile were not aware of any such guidelines, either, although Kirkorian dug up a 2005 BBC News story about a British Psychological Society official who called for imposing daily limits on TV watching, including a two-hour limit for adults. His efforts were largely pooh-poohed, according to the story.
The massive amounts of time adults spend on screens might just be a pretty good reason to chuck all the worrying we do about the massive amounts of time children spend on screens.
Letting children watch as much Elmo in their bedrooms, play as many video games and post as many Facebook updates as they want might be basic preparation for adult lives full of falling asleep to Jay Leno, sneaking peeks at YouTube at work and spending the dinner hour with eyeballs glued to smartphone.
It's not as if the case for less adult screen time is ironclad — and we're in no hurry to find out if it could be.