From a mirror and a flashlight to instant connections to Pinterest, Hulu, Netflix and Epicurious, if you want access to something on your smartphone, there's probably, as the old saying goes, an app for that.
Most Android or iPhone-toting Madisonians have Google Maps or some variation, Facebook, YouTube, a news site or two. (If you have an iPhone, you probably already have the Cap Times app. You do, right? Go install it now!)
But beyond the map-and-social workhorses, there are a few apps I have found essential for my way of life in Madison. After checking BusRadar to see when the bus is coming, I can hop on and renew the novel I'm reading, order sushi for dinner and catch up on "All Things Considered," all on my phone.
The apps below are all Madison- or Wisconsin-specific and free. Have a local favorite? Let us know in the comments.
1. BusRadar for Madison for Android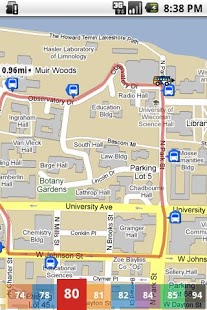 BusRadar, developed by students at the University of Wisconsin-Madison, is only available on Android. Besides Google Maps, it is the most valuable app I have for getting around town.
The app includes a map that charts each bus line, from the 1 on campus to the 84 out to Eagle Heights, as well as school routes. A blue dot indicates your location; users can tap the icon for the closest bus stop and see which routes are slated to come in the next hour or two.
BusRadar predicts surprisingly accurate arrival times. I found it to be more reliable than the times posted on the signs (if there even are signs) and quicker to respond than Google Maps' own feature.
According to the website, an iPhone version is in the works.
This radio app is making the "driveway moment" obsolete — those radio stories that are so good, you leave the car running the driveway just to hear the end. Instead, turn off the engine, pop open the WPR app and keep listening to "This American Life" while you run errands.
I like the Wisconsin Public Radio app because it allows bus commuters like me to keep current on popular drive-time shows like "Fresh Air." I have had minor problems on walks getting the signal to stay strong when I'm listening to a live show, like "Whad'Ya Know?"
But for the most part I've had little trouble calling up the most recent episodes of "All Things Considered," "To the Best of Our Knowledge" and "The Moth Radio Hour" whenever I have time to listen.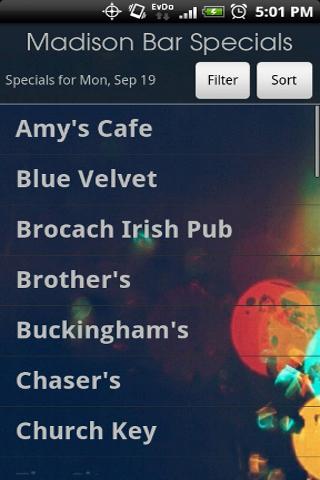 This is the perfect app for when you've got an hour or two to kill before your evening plans and you want to know where to get a quick, cheap margarita.
For example, on Friday, I could choose from $4 Old Fashioneds at the Capital Tap Haus, a $5 glass of wine at Brocach, 40 percent off rail drinks at Genna's or $3 Long Islands at the Church Key.
Beer drinkers have many more options here, and some bars don't clarify what "Happy Hour" means. Still, I've used this app more than once when I'm downtown and thirsty.
UPDATE: The information in this app may no longer be current. Email attempts to contact the developers were returned (Dec. 16, 2013).
Unlike many apps from older institutions, the LINKcat Library app might be even easier to use than the Madison Public Library's desktop site. It offers quick access to your main account (for hard covers, paperbacks and DVDs) as well as OverDrive, Wisconsin's digital library for e-books and audio books. It keeps you updated on holds and tell you which libraries participate, from Adams County to Wyocena.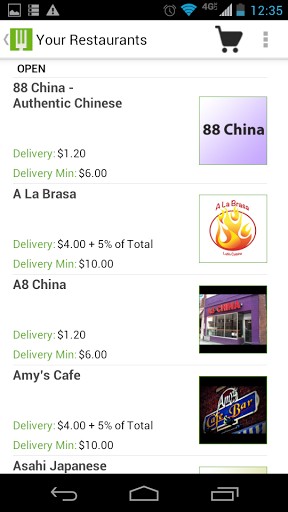 I'm not big into takeout, but this app could eventually change that. According to a recent NPR story, competition to sign restaurants up for apps like EatStreet is "fierce."
"Eat24, GrubHub, Seamless, Delivery.com and a growing list of smaller online ordering services have changed the way people order takeout and delivery," according to the story. "Instead of dialing a restaurant, hungry souls go online or open a smartphone app to order their next meal."
That's exactly what EatStreet, a Madison-based start-up launched in 2010 (as "BadgerBites") does for local diners. A quick search with my office as the delivery point offered me everything from sushi from A Sakura to a turkey and provolone sandwich from ZuZu Cafe.
Not every restaurant on EatStreet takes online orders (ZuZu, for example, does not), but many do. A recent Journal-Sentinel story says options will only get better.
"More than 2,000 restaurants across the country now use EatStreet's system," it says. "Over the next 12 months consumers will order some $25 million worth of burgers, subs and such through EatStreet."
This handy app, created by a company in Canada and used by cities all over the world, costs Madison "about the same as a simple brochure" according to the city. For that, My Waste puts information about leaf collection, Christmas tree pickup (according to the app, it hasn't yet been scheduled) and much more right into your phone. 
If you tend to space on recycling day, ask the app to remind you at increments from one week to one hour in advance. Similar to Madison Metro's text alerts, users can opt in for reminders about holiday changes and one-time or bulky collections. 
Perhaps most helpful, My Waste explains exactly what can be recycled and where, including dropoff sites for electronics, rigid plastics and yard waste, among other things. Holiday lights are recyclable, for example. So is cooking oil. 
Wisconsin is one of seven states to use the app, and Madison is the only Wisconsin city, split into the east side (including downtown), the west side and East Bluff Condominiums. (East Bluff is in such a condensed area, it needs its own unique calendar for recycling.)