Spaghetti is out and sashimi is in on Cayuga Street in Middleton, where the short-lived Pasta Nuovo has become a beautiful new location of Takara, a locally owned Japanese mini-chain.
Takara 88 — eight is a lucky number in many Asian cultures, so "88" is doubly so — is open seven days a week across the street from Barriques. Tutto Pasta had the space in the 1900 block from 2006 to 2013.
Owning and running Middleton's only sushi restaurant is the family team of chef Brian Ni, his wife, Erica Ni, and his sister, Jeannie Ni.
The family already owns two of the city's most beloved and praised Japanese spots: Takara on State Street, where restaurant critic Chris Martell found "sushi bliss" in 2001, and Takara on Whitney Way, its "even prettier younger sister."
The Middleton restaurant opened in mid-December, featuring a full complement of sushi, 22 special rolls, hibachi dinners, several udon and soba noodle bowls, teriyaki and tempura meals.
Already, reviewers on Yelp have found the flavors "rich and fresh," praising the uni (sea urchin), hamachi collar and beef sukiyaki (hot pot). 
"Everything's doing really well," said Erica Ni. "Customers are excited about our location here."
At lunch, served 11 a.m.-2:30 p.m. weekdays, sweet soy dipping sauce perked up katsu don ($9), crispy pork cutlet with tender vegetables and a fried egg over rice.
Chef Ni also packed a generous, uncomplicated tofu teriyaki bento box ($10) with a few stir-fried veggies, a six-piece California roll, three dumplings and half an orange.
Less successful shrimp tempura soba ($9 at lunch) got the crunchy toppings right, but the tempura itself lacked flavor and the noodles were gummy.
Better noodles came at dinner with seafood udon ($14.95). The scallops were overdone, but the rest worked: a rich, deliciously fishy broth with fat noodles and perfectly cooked whitefish, crab and shrimp. It radiated warmth, served in a ceramic bowl plenty big enough for two.
Takara does classic Japanese starters very well, like well-seared, pork-stuffed gyoza ($5) and savory shumai (shrimp dumplings, $5). The flavors were clean, the execution assured. 
A chef's mix of sashimi ($10.95 for a six-piece appetizer, $13.95 for a nine-piece lunch) added to the standard salmon, tuna and red snapper two pieces of boiled surf clam, mild and chewy with a vibrant pink-orange edge.
The delicate hamachi app ($9.99), thinly sliced yellowtail sashimi in a citrus-soy ponzu sauce, could be a bit of a wild card. Slivers of jalapeño, about a quarter-inch thick with the seeds still in, were only as hot as a green bell pepper the night we tried them. Jalapeño roulette!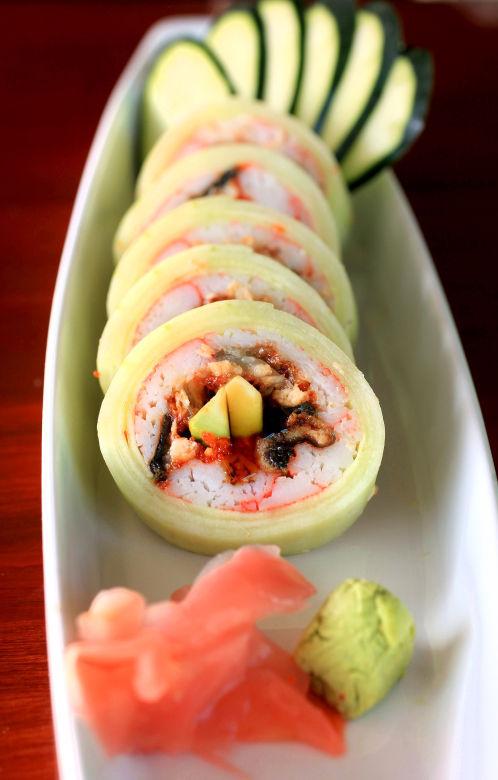 Takara was at its best with such simplicity. We looked past the silly name of the ISO Fantastic Roll ($13.95) to discover a striking, well-crafted roll with tuna, salmon, yellowtail, avocado, cucumber and tobiko, wrapped in a white soy paper that looked like a topographical map. It's one of the best rolls I've ever had.
The King Eel Roll ($9.95) was also very good, just eel, caviar and avocado rolled in quarter-inch thin cucumber sheets. For lovers of candy-like eel, the Rock and Roll ($7.25) didn't carry it quite so well, succumbing to too much thick, sweet sauce.
Takara in Middleton, according to Erica Ni, has more specials than the other locations. One, a burnt red "volcano" appetizer ($12.95), covered crab and avocado in a wrap of red snapper, like a tiny, seafood-y birthday cake, laden with sauce. It was too heavy, the flavors muddy. 
More elaborate (and expensive) special rolls were like jugglers tossing a half-dozen bottles in the air. Add one too many ingredients and the whole thing could come smashing down.
The BMW Roll ($14.95), combined cream cheese, seared salmon, fried shrimp and roe for a roll that landed just on the enjoyable side of decadent. But the too-sweet, heavy Salmon Fire ($12.95) seemed to sag under its own unnecessary complexity.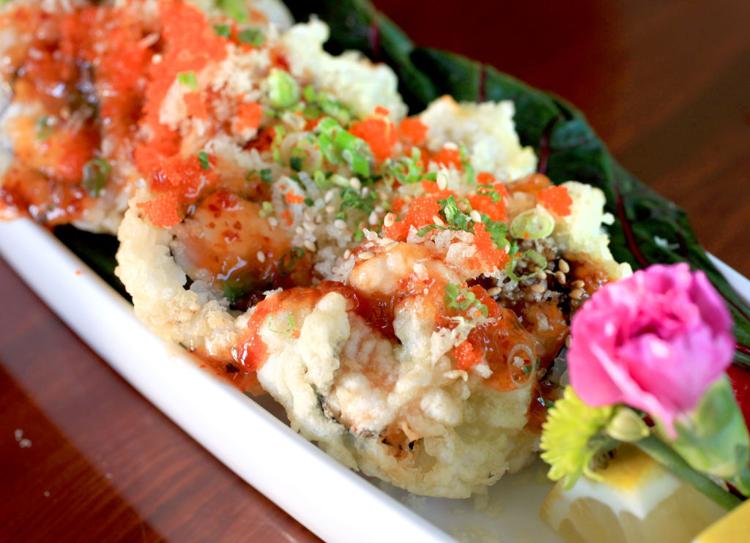 Takara's sashimi was clean and fresh, often lightly sweet. At the opposite extreme was the Puppy Love Roll ($11.95), a overwhelming mash-up of shrimp tempura, crab and cucumber contrasted with creamy cubes of avocado and tiny wedges of mango.
Pink soy paper held the roll together, which was then dotted with roe and drenched in three sauces: eel, mango and "spicy." Too much for me.
Aro Eberle Architects, a Madison firm whose clients included Red Sushi and both Muramoto restaurants, designed the dining room.
The space, which seats up to 150 people, feels warm and open, and smaller than it is. In warmer months, an outdoor patio will be able to seat about 50 more, Erica Ni said.
Behind the sushi bar, the wall color fades upward, from a fiery orange to an oceanic green. Two booths for six, shaded by white curtains, may be reserved individually, as can a large oval table for 10 and a party room for several dozen sushi lovers.
Unlike its downtown location, Takara 88 offers only dine-in and carry-out, with no immediate plans to start delivery. Service during a slow weekend dinner was paced well, but lunches are becoming more popular, leading to long waits. 
Those getting take out for the office should order early — ours took more than an hour to fill, and a server neglected to give us part of our order. (Despite several calls in both directions, this was never resolved.)
Takara 88 is likely to get even busier soon. Erica Ni said Takara just sent a postcard to residents of Middleton and Waunakee, announcing the opening.
"They don't have Japanese food in the area," Ni said of the two towns.
Thankfully, now they do.