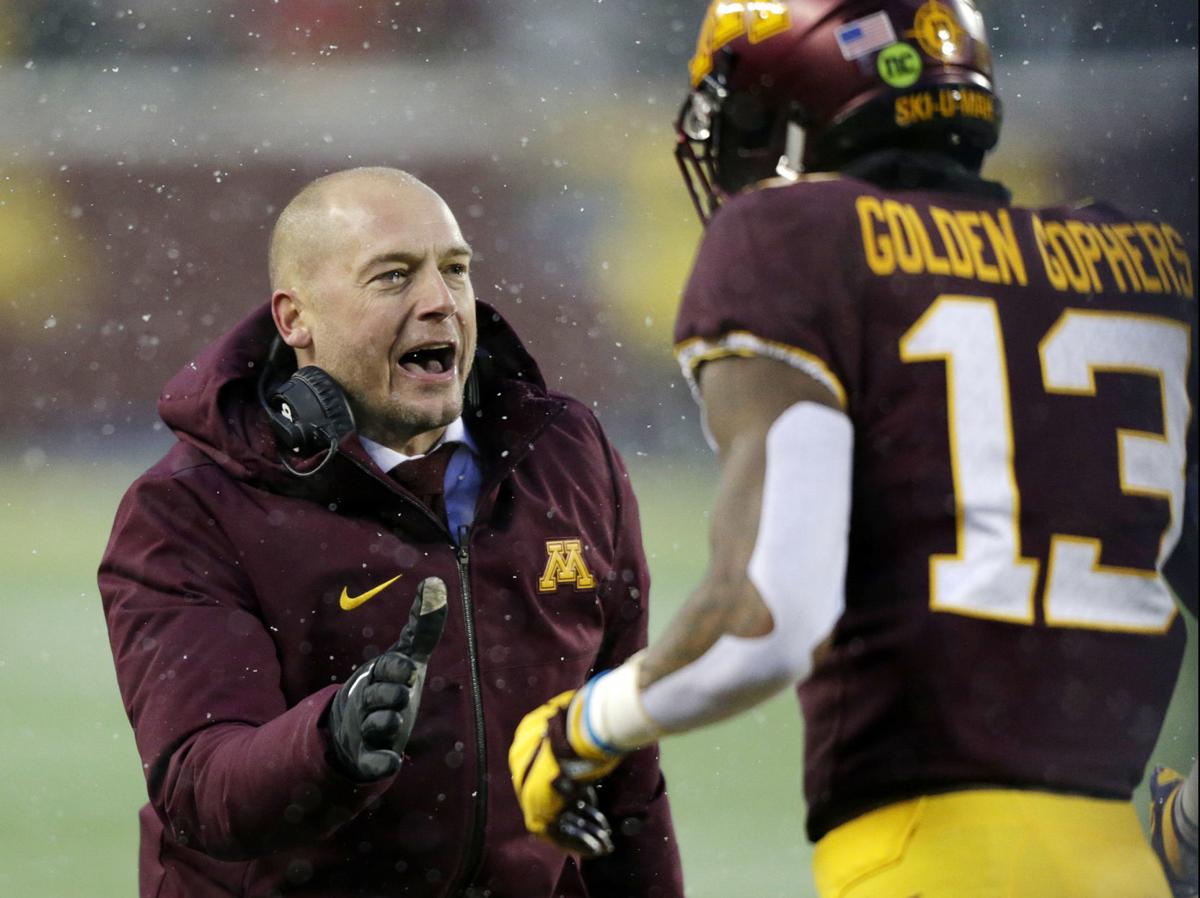 In a photo of University of Minnesota football players waiting to take the field at Iowa on Nov. 16, the Gophers look like extras in the 1979 film "The Warriors." A couple of players are holding flags (American and state), one has a baseball bat, another one is gripping a bulky chain (like the type used to tow a car). Others are holding a medieval shield, a large monkey wrench and, of course, an oar.
It's stuff like that which makes it so easy — and, let's face it, fun — to goof on Minnesota coach P.J. Fleck.
That oar represents Fleck's signature expression: Row the boat. It's among many catchphrases and acronyms he spouts. He employs so many that the Minnesota athletic department produced a series of videos called "Gopher Talk 101" in an attempt to explain them all.
Unlike University of Wisconsin coach Paul Chryst, Fleck fills up notebooks at his press conferences, over which he presides from behind a podium, dressed in a trim suit. His words-per-minute rate is impressive. And he does that Bret Bielema thing where he signs off by saying "Row the boat, Ski-U-Mah, Go Gophers."
And he is an energetic presence at games. He was flagged near the end of the Iowa game for sprinting onto the field to tend to an injured player (his version of the story) or break up a shoving match (the referee's version). He sprints a lot, covering more ground during Gophers games than many of his players.
For Badgers fans, accustomed as they are to dry coachspeak from Chryst, Fleck comes off as college football's version of Harold Hill, the flim-flamming bandleader in "The Music Man." But even the skeptics have to admit that Fleck has proven this season that there's some function to go along with his flash.
Picked to finish sixth in the seven-team Big Ten West division, the Gophers are 10-1 — the program's best record since 1905 — and ranked eighth in the College Football Playoff rankings. And to Fleck's delight, they have attracted the ESPN College Gameday circus to the Minneapolis campus ahead of Saturday's game against the Badgers, set to be telecast to a national audience at 2:30 p.m. on ABC.
"It's program-changing," Fleck said Tuesday of the Gameday announcement. "This is becoming a national program."
Mixed in with all of Fleck's sloganeering is a lot of talk about building a culture of winning, which makes what he's up to at Minnesota remarkably similar to what Barry Alvarez set out to do in Madison nearly 30 years ago.
"We are exactly where we are. That's the reality," Fleck said after his team lost, 31-0, to Wisconsin to finish his inaugural season in 2017 at 5-7. "And I'm hired to fix it and we'll fix it. Recruiting, development, strength and conditioning, that's what we'll do within our program. The guys who stay will be champions."
You have free articles remaining.
That "champions" bit has gotten a lot of eyes rolling, not just around the Big Ten, but in the Twin Cities, where fans long ago grew weary of fast-talking coaches like Lou Holtz, Jim Wacker and Tim Brewster, all of whom promised much and delivered little at the U of M.
But Fleck's schtick isn't that far away from promising, "They better get season tickets right now, because before long they probably won't be able to." Video of that boast from Alvarez is now played on the Camp Randall scoreboard before every Badgers game.
The confidence upfront with diligent attention to detail behind the scenes is right out of the Alvarez manual. Fleck admits as much.
"Compliments to Barry Alvarez and what he created back in 1990, and the vision and the dream he had and to be able to keep that culture continually, to sustain over the years has been pretty special to watch," Fleck said in that same 2017 postgame press conference. "I know they're our rival, I know we're not supposed to talk about 'em. But when you have a great team, an elite team like that, that's what it's all about and that's what we're working to get to. We gotta get there. We've got a long way to go."
Minnesota football fans have defined their team in relation to Wisconsin for decades now. In 2004, Minneapolis Star Tribune columnist Jim Souhan took a weekend trip to Madison and returned with a glowing report. He unfairly compared a crisp autumn afternoon spent in and around Camp Randall Stadium with a half-full Metrodome, where Minnesota played football games until 2009.
"Disregarding the game's result, it was a quintessential college football experience," Souhan wrote of his visit. "This is part celebration of what Wisconsin has, part lament that Minnesota can't compete in terms of football amenities and atmosphere."
Fifteen years later, Minnesota has that on-campus stadium, thanks to a considerable assist from its former athletic director, Joel Maturi, who of course got his start in Madison. They've been having problems filling it this season, but the Badgers game is sold out and the push is on to take advantage of this season's success.
Though the Paul Bunyan's Axe rivalry between Minnesota and Wisconsin is knotted at 60 wins apiece (and eight ties), the Badgers have dominated recently. The Gophers have won just four times in the last 25 years. But when Minnesota ended a 14-year losing streak with a decisive victory at Camp Randall a year ago, Fleck made a big deal out of it, sending Paul Bunyan's Axe on a tour around the state.
A Twin Cities reporter wondered Tuesday if that was a bit excessive.
"It wasn't just mine, it wasn't just our players', it was the state of Minnesota's," Fleck said. "I wanted people to be part of our football program, to invest more in our football program, to see that we can do things."
While the 37-15 victory was a big turning point for the Gophers, it was just one in a series of gut punches for a Wisconsin team that fell short of nearly every expectation. And even though Chryst barely addressed the Axe subject this week — "Our guys, they know the history of the rivalry, they understand what's in it for this year," he said Monday. "The biggest thing that matters is they focus on playing the game." — he has to be aware of the signs that Minnesota is making a serious run at displacing the Badgers as the class of the Big Ten West.
Saturday will be an opportunity to forestall that surge from Fleck and his Gophers. 
Share your opinion on this topic by sending a letter to the editor to tctvoice@madison.com. Include your full name, hometown and phone number. Your name and town will be published. The phone number is for verification purposes only. Please keep your letter to 250 words or less.