Bob Queen plans to stage new Willy Street event one week before Waterfront Festival
It doesn't take much effort to get Bob Queen started on a new street fair he's planning for next June at the intersection of Williamson and Baldwin streets.
"We're going to have great music as usual, mostly world music but some jazz and zydeco ... And also we're going to have comedians at the end of the day — on the acoustic stage there will be an hour-and-a-half of local comedians and a national comedian … We'll have good food and we'll have street performers and did I mention the dance component?" Queen said last week.
He went on to discuss several acts he'd like to bring to Madison that include dancers. He said he has even purchased a piano to accompany people who want to literally dance in the street between stage acts. He's calling it the Pursuit of Happiness Festival at the Crystal Crossroads, a nod to the Crystal Corner Bar.
"It's going to be terrific," he said.
Queen, who has played a significant role in producing free outdoor music events on Madison's near east side for over 25 years, is planning to hold his event on the first weekend in June, one week before the Marquette Waterfront Festival, an annual neighborhood bash at Yahara Place Park that he helped create 29 years ago. Waterfront also features a lively music schedule, typically booked by Queen, and serves as a fundraiser for the Marquette Neighborhood Association.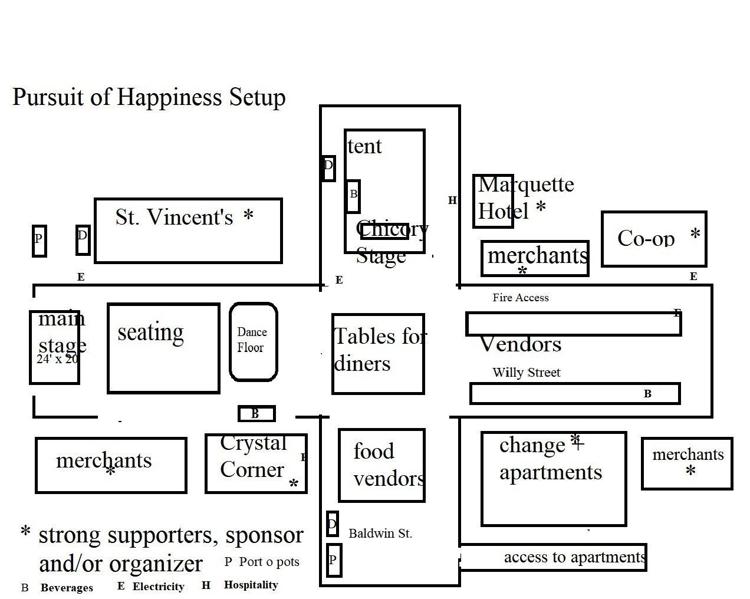 Why organize a big street fair just a week before a well-established festival happens in the same neighborhood?
"To see people happy, to be with friends and to honor those long-standing relationships," Queen said. "That's our inalienable right. Sometimes that right is abrogated."
That last sentence hints at Queen's irritation with the MNA. Earlier this year, he sent MNA board members a list of 12 conditions they needed to meet for him to stay on as Waterfront organizer. He quit after board members couldn't meet his demands.
The resignation happened in early October and about a month later, word of the new festival started circulating. That has neighbors wondering if Queen is trying to upstage Waterfront with Pursuit of Happiness.
"My relationship with MNA has just gotten to the point where it is totally volatile," Queen said. "They were doing things that I could never even fathom, especially with the Waterfront Festival. I've been raising funds, mostly in the mid-$40,000s, for 28 years for that organization. I would think I was invaluable, but they don't think that."
MNA president Lynn Lee sees it differently. He said the explosive growth of MNA-sanctioned events like the Waterfront Festival, La Fete de Marquette, Orton Park Festival and Willy Street Fair means more oversight and closer attention to bookkeeping is necessary. He said Queen wasn't willing to give up any control.
"It's an MNA event and the truth was we had to make it more transparent and more accountable to the neighborhood," Lee said. "We're a 501(c)(3) and one of the issues was that the money wasn't being handled by MNA. And another issue was that (Queen) wanted to have complete control over the music budget, which is voted on by the membership. We agreed to what we could because all of us wanted Bob to continue doing it.
"We were very saddened when he retired, but at some point we have to answer to the neighborhood. We were in a bad situation, we had hoped to work it out and wish nothing but the best for Bob."
One of the sticking points was over the Crystal Corner Bar's involvement. Queen wanted Crystal Corner staff to continue to serve beer at Waterfront, keep tips and control the festival's cash overnight. Lee countered that tips to volunteer beer servers at other neighborhood events are considered donations to MNA and other nonprofit organizations involved. He said an increase in expenses associated with security and permits means MNA needs to keep a tighter rein on finances.
Lee also said Queen has not shared much about the new festival with MNA. He passed along some emails he exchanged with Queen in late November where he asked for details — dates, location, nonprofit involvement — and expressed concerns about a lack of neighborhood engagement. Queen told Lee to relax and warned him not obstruct the new event.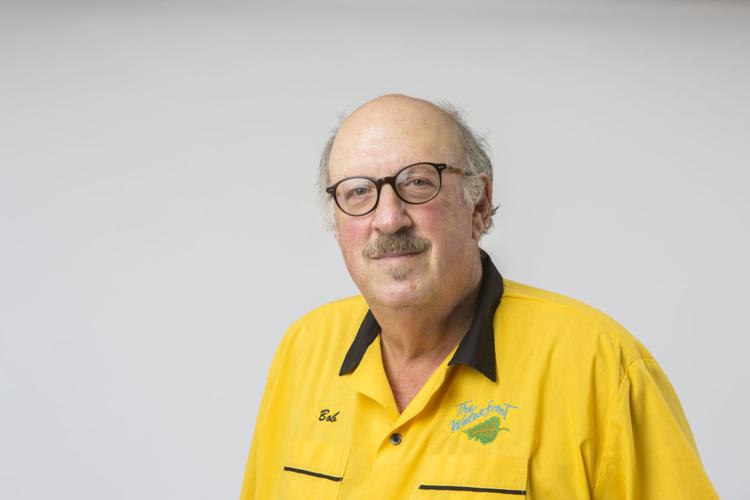 Ald. Marsha Rummel, who represents the neighborhood on the City Council, said she is working to schedule a neighborhood meeting to discuss the Pursuit of Happiness event in January. Following that, the city's Street Use Staff Committee will take up the proposal at its Jan. 17 meeting. The Alcohol License Review Committee and City Council will likely review an application for a temporary beer license in April.
"MNA hasn't taken a position on the new festival because we don't know any of the facts yet. We've requested to be informed about it and he hasn't told us until just two days ago that it's a two-day festival and what weekend it would be," Lee said last week, adding: "He throws great festivals, without a doubt. I'm one of his biggest fans. I go to every one of his festivals."
Queen has been more forthcoming with Williamson Street business owners, sharing a map of the grounds and asking for supportive signatures. In an email to Rummel, Queen said: "Everyone that I have encountered has been ecstatic about this new event."
But according to emails received by Rummel, obtained through an open records request, several neighbors are reserving their support until concerns about the event are answered. Queen's event is planned for the same day as Plan B nightclub's annual Fruit Fest, which is slated to close down the 900 block of Williamson Street on June 2. A neighborhood-wide garage sale is scheduled for the same weekend.
"The corner of baldwin and willy is way too busy to close and it's a main vein for buses and traffic," wrote one of Rummel's constituents. "I oppose this festival!"
"I have heard, many times, that we are getting weary of the shear volume of noise and party atmosphere that is becoming the norm," wrote another. "I want to make sure that the neighborhood is included in the planning process."
Lauren Cnare of St. Vincent de Paul, which operates a popular thrift store at the corner of Williamson and Baldwin, said "we're neutral and we're going to wait to see what the neighborhood says."
Queen said Fruit Fest organizers "love the fact that we're going to be there," but Plan B owner Corey Gresen, who has run the event for nine years, said he was "indifferent."
"I don't know if the city's going to allow both of those things going on and close the road twice," Gresen said. "I would hope that if it comes to one or another, they would choose us because we've been there nine years."
Many of the business owners and residents contacted for this story offered no comment or asked to be quoted anonymously or speak on background only for fear of making enemies in a neighborhood well known for its activism. One longtime resident who has volunteered at MNA events conveyed mixed emotions common to others interviewed.
"I have had a lot of fun dancing to these festivals over the years. Bob really picks some fun music that I absolutely never would have heard. It's an amazing opportunity to just walk out of my house and go to a party and then come back and do things around the house and maybe wander back to the party again," the resident said.
"But if there are any problems with either volume or duration of the festival, Bob always knows what's best and you're always the party pooper. And it always gets pretty quickly to the conversation where you're against the festivals, trying to kill them and the good things the money does," the resident said.
Many of those interviewed for this story used the term "festival fatigue," indicating not just the four MNA-sanctioned events but concerts and events at nearby Breese Stevens Field and neighboring AtwoodFest, not to mention the seven-night concert series Queen books in August under the Central Park Sessions banner. Those concerts are run by Queen's organization and are not affiliated with MNA.
"Certainly you hear folks wondering about festival burnout. A real key aspect of any of these events is business sponsorship," said Gary Kallas, executive director of the Wil-Mar Neighborhood Center. "If you don't have that piece in play, you can run into some financial difficulties. It hasn't impacted Wil-Mar at this juncture. Could it in the future? Could we say we're at five events, let's have six? Maybe we should have seven, maybe eight. Will there be a diminishing return down the road? I can't quantify that."
Lee pointed out that changing demographics in the area often make it hard to predict how residents will respond to certain issues.
"Our neighborhood is going through a change in identity. We have many more nights of music. We have many more restaurants. We have a real uptick in foot traffic and cars and it's because what used to be a hippie, quiet neighborhood has become a very popular destination point. It's only been in like the last seven years," Lee said. "So there is, in the neighborhood, a sense of it's getting hard to live with all this sound, noise, music.
"And yet we all love it. We love having the options. We love the music. Is there a tipping point? I think there is. I think at some point, a neighborhood can't have music every weekend because you want to have a weekend that's quiet. I think what we're trying to figure out is where is that tipping point."
Queen argued vitality is what drew many of his neighbors to the area.
"The music isn't going to be loud, it's not going to be directed right into anybody's homes. It's an area where people really want it to happen and deserve it to happen," he said. "Our inalienable right is to do joyful events and it's certainly a time when it's needed. They're all free, accessible and diverse. What else can you do?"
Kallas brings another perspective to the controversy. In his role at Wil-Mar, he is involved in all of the fests. He said Wil-Mar produces La Fete de Marquette by itself, partners with other organizations to run AtwoodFest and the Willy Street Fair and does substantial behind-the-scenes work at Waterfront and Orton.
"We produce events to celebrate our place. In some regards, Orton and Waterfront celebrate more of a local place, smaller events," Kallas said. "Fete, Atwoodfest and Willy Street Fair are much larger events and we think we've taken it beyond the notion of celebrating our place; we're celebrating Madison. So we celebrate place and community while we're raising funds to support programs for needy and vulnerable people. Not bad."
Share your opinion on this topic by sending a letter to the editor to tctvoice@madison.com. Include your full name, hometown and phone number. Your name and town will be published. The phone number is for verification purposes only. Please keep your letter to 250 words or less.