Hundreds of CUNA Mutual Group workers went on strike Friday after the union and CUNA Mutual Group weren't able to negotiate an agreement on a new labor contract.
"Show me what democracy looks like," workers picketing on 5810 Mineral Point Road chanted as passing motorists honked. "This is what democracy looks like."
Picket lines of CUNA Mutual Group workers, who are part of the Office and Professional Employees International Union Local 39, first formed at 7 a.m. near CUNA Mutual Group's offices.
CUNA Mutual Group is an insurance company that provides financial services to thousands of cooperatives, credit unions and other customers around the world. It serves roughly 7,000 credit unions alone, and brought in $5.2 billion in revenue in 2022.
The business, which is in the middle of rebranding to TruStage, has roughly 4,200 total employees, with 1,750 in the Madison area. It has negotiated with the OPEIU Local 39 since 1946. The most recent contract expired in February 2022.
The strike is the first in the company's and union's history. OPEIU Local 39 represents roughly 450 CUNA Mutual Group workers. A majority of the union's membership voted in April to authorize the strike.
When asked about whether the strike has disrupted CUNA Mutual Group services for customers, spokesperson Barclay Pollak said, "we totally understand the situation and it may present questions from our partners and communities."
Pollak said the company has "business resiliency plans" in place for customers amid the strike, though he declined to go into specifics.
On Tuesday, a Wisconsin group called the Union Community Solidarity Committee delivered 2,700 letters to CUNA Mutual Group calling on management to settle a contract with the union, according to a statement from the group.
"In this community, we believe that workers should be treated with dignity and respect, and we stand together when our friends and neighbors are treated poorly," state Rep. Lisa Subeck, D-Madison, said in a statement. "Outsourcing jobs, firing employees for union activity and walking away from the bargaining table are all good ways to build a bad reputation here."
Unfair practices alleged
Since February, the union has accused CUNA Mutual Group of several unfair labor practices.
Four filings with the National Labor Relations Board accuse the company of bad faith and retaliation against union employees amid contract negotiations, including the termination of Joe Evica, who is OPEIU Local 39's chief steward and was a retirement services specialist with CUNA Mutual Group for four years.
Other accusations of retaliatory actions, according to the filings, have included coercion and surveillance. Another NLRB filing alleges the company refused to provide the union with information.
Both the company and union confirmed they had been working with a mediator to try and sort out contract negotiations prior to a strike occurring. The union said two mediation sessions were held prior to the strike. A session Monday was canceled by the company, it said.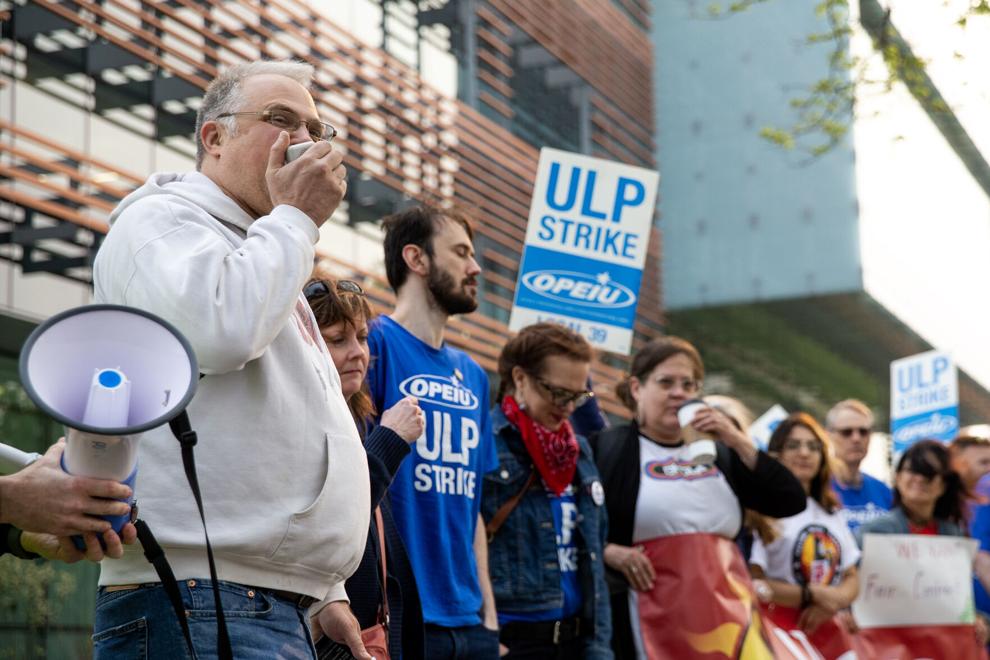 "The union was prepared to stay to bargain one by one through every issue until progress could not be made, but the employer requested to end mediation after providing us their counter proposal," Evica said in a statement. "We requested that they provide us additional dates of availability in the meeting and they declined. We followed up to let them know that we are available 10 out of the next 13 days to reach an agreement."
At the picketing Friday morning, union president and business manager Kathryn Bartlett-Mulvihill said CUNA Mutual Group hired labor and employment law firm Jackson Lewis, of New York, to help handle the dispute. The union views the firm as majorly anti-union.
"The company is breaking the law," said Kevin Gundlach, president of the South Central Federation of Labor, AFL-CIO, which represents hundreds of unions in the area including OPEIU Local 39, during a news conference outside CUNA Mutual Group's headquarters.
The president of the Wisconsin AFL-CIO also weighed in on the strike in a statement.
"As union men and women, we do not take the decision to strike lightly," said Stephanie Bloomingdale in a statement. "The history of our union movement has clearly demonstrated that only by standing shoulder to shoulder have working people gained family-supporting wages, pay equity and other benefits which we are rightly due.
"The Wisconsin labor movement proudly stands in solidarity with our sisters and brothers of OPEIU Local 39."
Union demands
The union over the last year and a half has been asking CUNA Mutual Group to stop attempting to eliminate its pension plan for new employees, allow all bargaining unit members — even those who work remotely — access to affordable and quality health care and extend pay equity reviews to union employees.
It also wants the reinstatement of Evica's position and for member salaries to keep up with inflation. The union accuses CUNA Mutual Group of outsourcing and hiring contractors to fill jobs that would otherwise be represented by local employees.
According to past contracts with OPEIU Local 39, union member salary ranges have gone up by 18% since 2010.
At the strike Friday, Sara Larsen, CUNA Mutual Group administration specialist since 2019 and union steward since January 2022, said "we were 1,700 strong 20 years ago."
"A decade ago we were 750," Larsen said, adding that 1,200 CUNA Mutual Group positions have been outsourced.
There were 1,200 flags planted in a terrace across the street from the strikers representing the outsourced positions.
"We've met three times since January, and they haven't moved toward our core priorities at all," she said.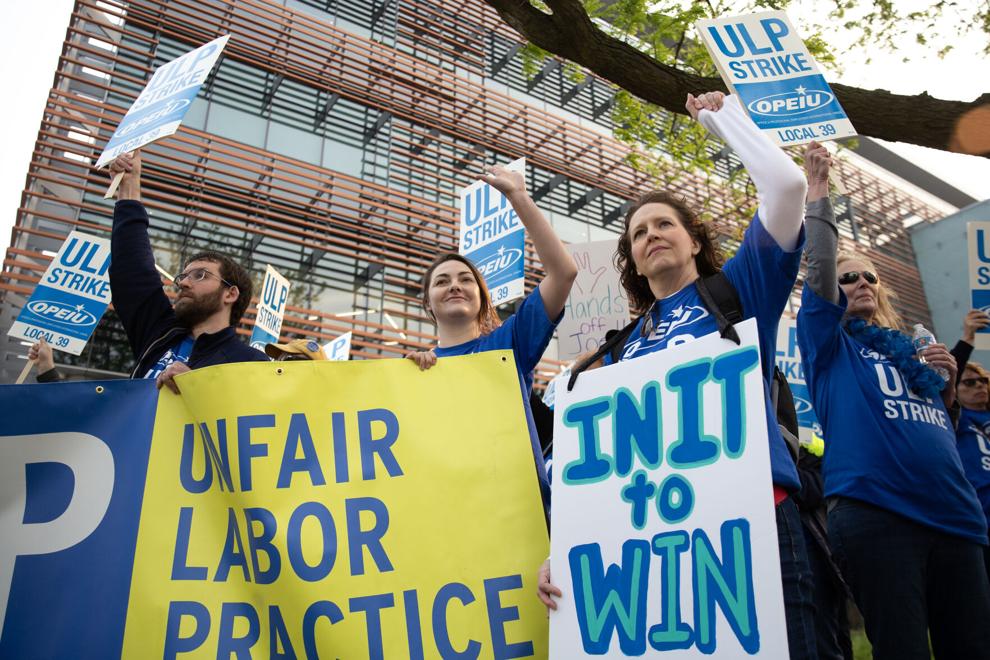 Company's proposal
CUNA Mutual Group said it has "worked to address the major issues the union has identified."
The company's proposal includes a "double-digit percentage immediate pay increase, increase to bonus structure and a cash bonus upon ratification," according to an email statement the company provided to the Wisconsin State Journal.
For health insurance, the company said it wants to maintain current health benefits that the union said were important to employees and "adds a health savings option."
The company's proposal for remote work maintains policies that allow "full-time employees to work remotely, along with a monthly stipend for virtual employees."
And on retirement "our proposal maintains retirement benefits for current employees, and we will continue to offer a 401(k) employer match of up to 5%."
The company's statements about bargaining with the union counter much of what the union said Friday at the strike.
"CUNA Mutual Group remains fully committed to reaching a collective bargaining agreement with OPEIU Local 39," the company said. "From the start, CUNA Mutual Group has approached negotiations with the OPEIU Local 39 in good faith and continues to do so."
"We respect the decision of our employees to strike and to voice their opinions throughout the process," CUNA Mutual Group said. "We are determined to reach a fair and market-competitive agreement."
'A sustainable future'
Larsen, union steward and CUNA Mutual Group employee said, "I like working for CUNA Mutual Group."
"When I was hired in 2019 as a disabled woman — I have (multiple sclerosis) — I was initially really impressed at how it didn't seem to impact the interview process or getting hired at all."
But the bargaining process has been one of the most frustrating circumstances of her career, Larsen said, even though she's found meaning in it. She does worry about how the strike will affect her and her family personally, Larsen said.
Sheila Condron, union strike captain and CUNA Mutual Group analyst of 37 years, said of striking "it feels like I owe it to the people coming up behind me."
"I've had a wonderful career here, and I want to make sure we have a sustainable future for our members as they come in, as well as the benefits and environment we've enjoyed," Condron said. "I'm here to try and make a difference.
"It's been a lot more emotional than I thought it would be. I never thought I would feel the way I feel right now about our company. I'm sad. During the pandemic, the things that CUNA Mutual Group did for us were just extraordinary."