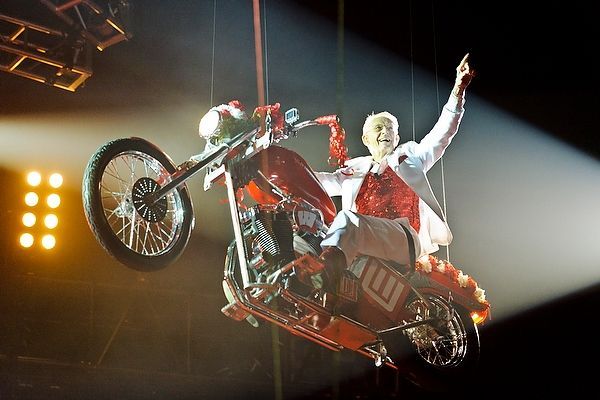 Who orchestrates behind the scenes of the UW Varsity Band concert?
The UW Marching Band hosted its annual Varsity Band Spring Concert on Thursday, Friday and Saturday at the Kohl Center, featuring local talent, a celebration of the 75th anniversary of "The Wizard of Oz" and plenty of tuba section jokes.
Sarah Marty, the concert's production manager, is the woman behind the curtain. She helps coordinate the theme, scenery, sound and pyrotechnic elements in addition to writing the lighting cues and stage directing the annual show.
Marty, who has been working with band director Mike Leckrone on the spring show since 2001, started on this year's installment in December. She also runs her own theater company, Four Seasons Theatre.
During tech week, the week before the show, she and a production team work every day to transform the Kohl Center into a theater and make sure every element is in its place before the show.
Although she works closely with every element of the performance, she is watching everything come together along with the Thursday night audience.
"We finally get to see all the pieces," Marty said. "There are things you have to adjust as the show is happening ... you're adjusting on the fly."
After the first performance, Marty and the team talk through the show from top to bottom, making tweaks where necessary and redoing elements if needed.
Even after directing the first show, Marty said she still experiences an adrenaline rush at the beginning of each performance.
"Every night is a different audience, and it's their first time seeing it," Marty said. "It feels fresh."
This year's "There's No Place Like Home" theme tied into "The Wizard of Oz" songs the band played as well as the idea that UW-Madison is home to many generations who return to be part of the "Badger spirit weekend," Marty said.
To emphasize Madison as home, all of the guest performers were local, including Mark Metzler, a UW-Madison trombone professor; Jon Schipper, chair of Madison Country Day School's music department; and UW-Madison alumni Amanda Poulson and Jamie Pitt.
Local Madison College students Rae Ganci Hammers and Jane Lee designed the graphics played on the screen during the performance.
Ganci Hammers, 32, who is studying graphic design and illustrations, created "The Wizard of Oz" backgrounds playing on the familiar story but adding new artistic elements.
"The goal for everybody on the whole show is we want it to look and feel like magic," Marty said.