It will be days, if not weeks, before local officials have a handle on the damage from Monday's historic deluge.
United Way of Dane County had fielded more than 600 calls from flood victims by Wednesday afternoon, while Dane County officials worked to tally the damage to roads, bridges and businesses.
"That remains a work in progress," said Josh Wescott, chief of staff to county executive Joe Parisi.
In Madison, water was already covering parts of East Johnson and East Main streets near the Yahara River, and East Mifflin Street near Livingston Street, Deputy Mayor Katie Crawley said. East Johnson was subsequently closed Wednesday night between Dickinson Street and Fordem Avenue.
The National Weather Service said thunderstorms could produce another one-half to three-quarters of an inch of rain on Friday.
City officials are concerned about possible flooding of East Washington Avenue early next week. If that happens, Crawley said, Williamson Street will be designated an alternate route.
Public Health Madison and Dane County has also closed all beaches in the county due to elevated bacteria levels, and a slow, no-wake order is in effect for all five lakes in the Yahara chain.
In the western half of the county, where some areas received 11 to nearly 15 inches of rain, Wescott said the county's mission has shifted from public safety to cleanup and damage assessment.
"Once the water comes down you have a better picture of what has occurred," he said. "That process is just now getting underway. ... How do we get commuters and commerce moving again? That really is one of the big questions right now."
American Family Insurance had processed about 230 vehicle and 200 property claims as of Wednesday afternoon, said spokeswoman Linda Wagener.
But many home and business owners hit by the storm may not get help from their property insurance policies, which typically do not cover flood damage.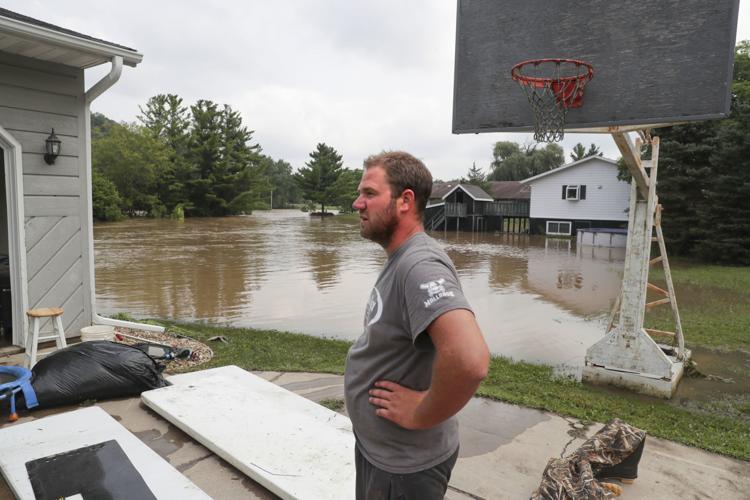 As of June, the National Flood Insurance Program, which provides flood insurance for homeowners, renters and businesses, had only 553 policies issued in Dane County, which has more than 222,000 housing units.
"The vast majority of folks have contacted their insurance companies and are not going to be receiving any assistance," said Rachel Gundacker, director of United Way's 2-1-1 line, which is documenting private property damage in the county.
Gundacker said the most common reports have been of water and debris in basements.
"They've never had an issue with flooding," she said. "This is new territory for a lot of people."
Wescott said it could take a couple of weeks to put together a comprehensive cost estimate, which the county can then use to apply for state and federal disaster assistance.
Speaking to reporters Wednesday at the state's emergency operations center in Madison, Gov. Scott Walker offered his condolences to the family of Jim Sewell, the Madison man who died in the flooding. Earlier in the day, Walker took a helicopter tour of the flood-damaged areas and said he planned to visit parts of western Dane County on the ground Thursday.
Walker said he has received requests that he seek a federal emergency declaration, but noted "a federal declaration is a very, very high bar."
It may be difficult to meet disaster thresholds because the storm was a relatively isolated event, though Wescott said the damage to Dane County is significant.
"That's why we're really encouraging people to document," he said. "Because the more accurate, detailed information we can demonstrate in the end helps us make a better case eventually to the feds."
State Journal reporters Matthew DeFour and Shelley K. Mesch contributed to this report.