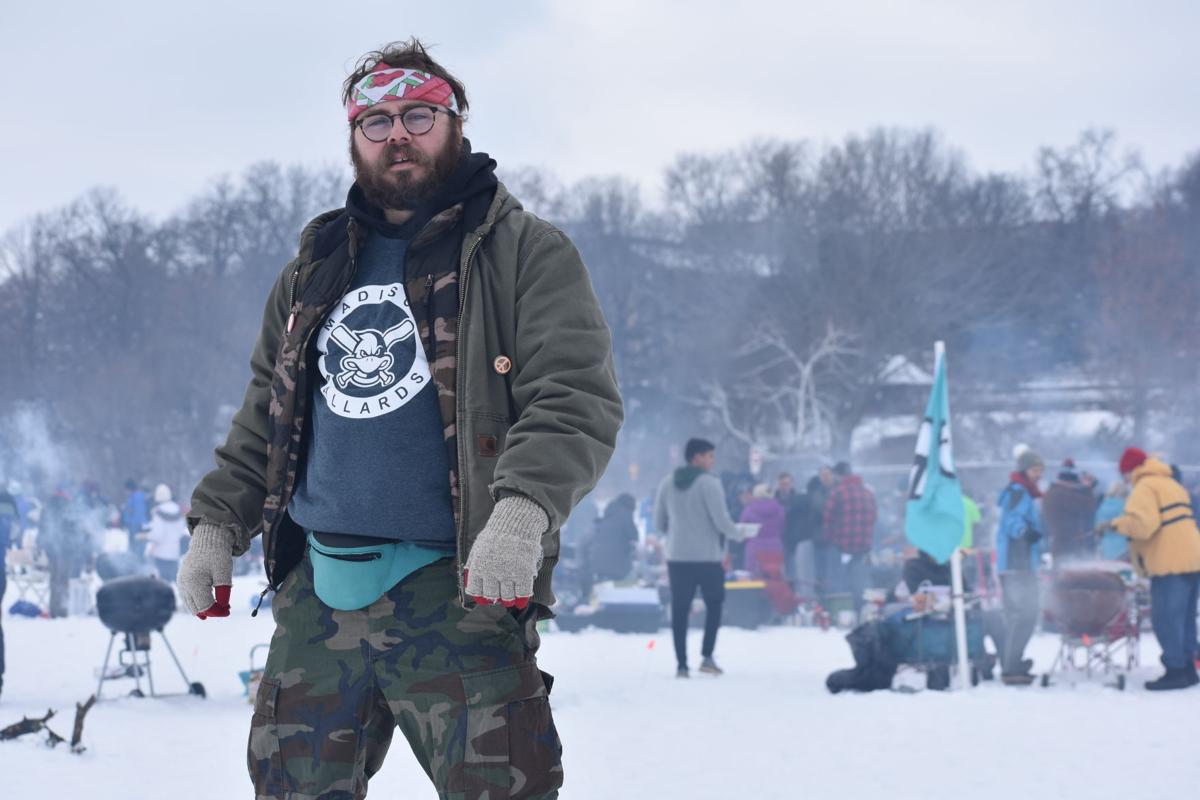 Paul Hendrickson helped launch Savory Sunday after spending an evening in October 2005 griping over beers about the government response to Hurricane Katrina in New Orleans. Someone asked him what he was going to do about it besides complain, so he went home and made a bunch of pancakes.
"I was like ... let's make some pancakes and pass them out to people on State Street," Hendrickson said. "This is about midnight on a Saturday night. When we went out the next morning, some people were sleeping on park benches, so we laid the pancakes next to their heads like little pillows."
They did it again the next week, and the one after, with Hendrickson cooking whatever he could find out of the kitchen in his apartment.
But that nearly proved disastrous.
"We almost burned down my apartment because of this brownie mix that was in the oven with, like, 100 baked potatoes, and it dripped down and went, 'Poof.' There was a bunch of smoke," he said. "Anyway, we started cooking at community centers and a bunch of different churches."
What began as a barroom challenge became a weekly event to feed hungry people. Savory Sunday began recruiting volunteers in early 2006 and gradually became more organized. Volunteers now prepare meals at the Madison Senior Center and serve them at the state Capitol at 2 p.m. Sundays. Patrons include people who are experiencing homelessness or living on very low incomes.
Hendrickson, 38, is less involved with Savory Sunday's day-to-day operations now, given his various roles as a father, husband, adult men's league baseball coach, dive bar enthusiast and special-education teacher. As of this year, however, he took the reins on Savory Sunday's main fundraiser — Grillin' 4 Peace, held annually on Lake Wingra.
Where does Savory Sunday get most of its food?
A lot of the food we get is normally tossed at restaurants and cafeterias. It amazes me and also disgusts me how much food gets thrown away when we have a problem of people not eating. This is a simple solution. I like a good challenge, and we try as hard as possible not to pay for our ingredients. We're 100% run by volunteers, so we don't have a big budget. We get a table of food from the farmers' market or local restaurants — Epic also donates a lot of leftovers — and we'll try to make a meal. There's no planned menu; it's like those cooking shows where you've got to make what you've got. One time, I was making mashed potatoes and we didn't have milk, cream or butter, so I used vanilla ice cream. Nobody could tell. I was asking people, "What do you think the secret ingredient is today?"
What's Grillin' 4 Peace all about?
One of the guys who was a big volunteer at the time, Tom Barry, he had a wonderful idea for a fundraiser. We're always struggling to get protein for our meals, so he suggested we should make a peace sign out of grills out on the frozen lake, and people would donate meat. That was 13 years ago. This year, we had 67 grill spots, and about five people at each grill. So, we had at least 300 people there. Last year, we collected 950 pounds of meat. We deep-freeze it out at the Community Action Coalition, and each week we pull out about 20 pounds of meat for Savory Sunday. Tom Barry passed away about six years ago, and his wife, Mo, carried on the tradition. This year, she's training me to lead the event. I used to be a participant working a grill. Last year, I grilled 150 pounds of meat in, like, three hours. People are very generous; they don't skimp and bring hot dogs. It's really good food.
Why are you motivated to serve the community in this way?
I grew up in a pretty affluent suburb of Milwaukee. Starting at a young age — I think I was maybe 10 — my family would serve meals at a shelter in downtown Milwaukee. It was pretty eye-opening for me, the disparity between what my family had and what others didn't have. It had a profound effect on me as a kid. I realized you could give back, no matter who you are, and the act of giving back — that physical presence of being with people and having conversations with people you normally wouldn't meet — can be more powerful than the act of "Here's food."