For years, Just Bakery has partnered with local churches and organizations to sell the baked goods that participants in the job-training program for incarcerated or formerly incarcerated people make. Now, you don't have to have a large order to purchase from Just Bakery — visitors can just stop by its new storefront on Madison's Far East Side.
Storefront for Success, 1704 Thierer Road, had its grand opening Saturday. The small store is a partnership between Just Bakery, run through Madison Area Urban Ministry (MUM), and Porchlight Inc.'s Porchlight Products, and sells both programs' goods.
Items such as sauerkraut and baking mixes were for sale on shelves near the register, and fold-up tables were piled with packaged pastries and breads as customers gathered in the small space.
Porchlight and Just Bakery have separate kitchens in the same building as the storefront. With proximity and similar ideals, joining together in Storefront for Success made sense, said Melissa Guth, Porchlight director of kitchen operations.
Just Bakery works primarily with people who have been incarcerated or are currently serving time in jail with work-release privileges. Students in the program are trained in commercial baking, which could help them gain future employment, program director Carmella Glenn said.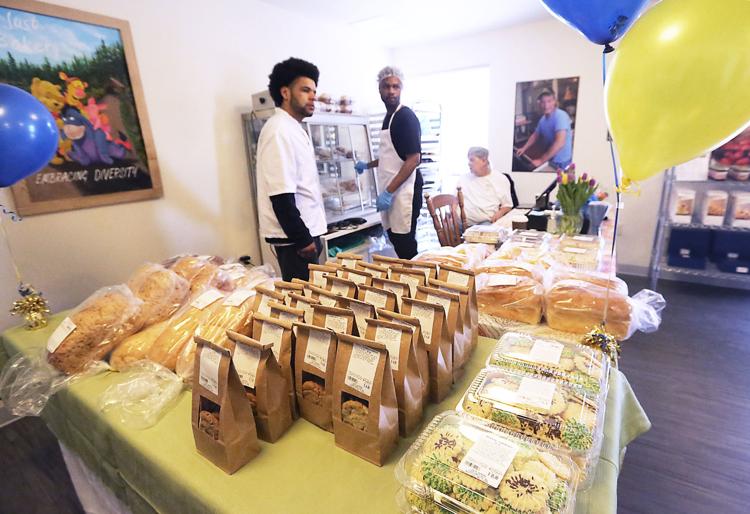 Porchlight Products works with formerly homeless people who are clients of Porchlight, which works to reduce homelessness in Dane County. The kitchen teaches clients to make canned goods, applesauce, jams and scone and pancake mixes. Many participants have disabilities, Guth said, and the kitchen she runs is able to employ them with the flexibility they may need for their circumstances. Other participants gain employment and life skills they can use to seek other jobs.
"We're able to join together and combine our forces — everybody who knows Porchlight and Porchlight Products and everyone who knows MUM and Just Bakery," Guth said. Storefront for Success is "giving both programs a lot more visibility, and I see it as nothing but good for both our programs."
For years, opening a storefront has been a goal for Glenn, who said sales revenue is important to keep the job-training part of Just Bakery running. Sales of Just Bakery products help stabilize funding for the program, and welcoming the community to drop in for smaller-batch sales than what's available in online orders increases revenue.
Linda Ketchum, MUM's executive director, said about 60 percent of the program is sustained through sales but the goal is to raise that to 75 percent.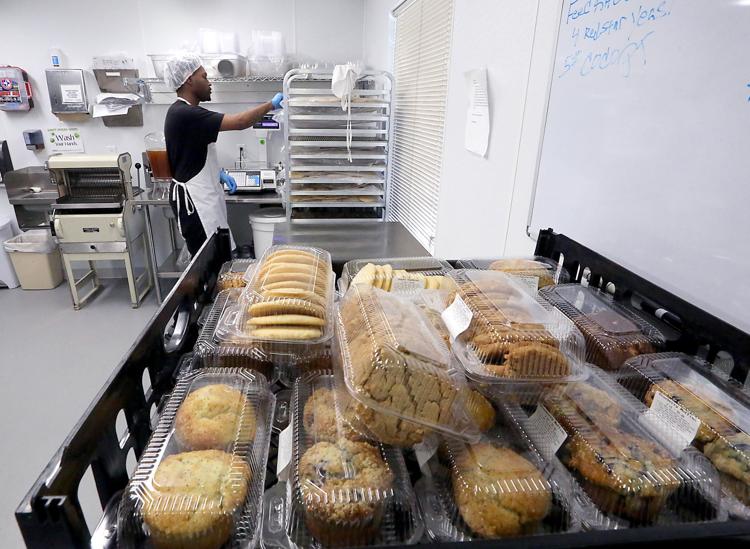 Glenn said the program will still depend on grants and donations, but with more funds from sales coming in, the program doesn't risk going under if certain grants aren't received.
"The goal is to have the grants help us expand, level us out during those times when we're changing things or teaching something new," Glenn said.
Just Bakery students learn the baking and food safety skills needed to give them a leg up in the search for a food industry job, despite their criminal histories. Glenn said letting students work in the Storefront for Success adds a new level to the training process.
"For those people that maybe have a check against them because of a money crime or some kind of theft, we can check off a box that says they've been working with us doing front of the house, doing all of those things. We trust them, nothing's come up, they're trained in it," Glenn said.
That extra vote of confidence can be paramount for some students since many of them were arrested for crimes related to their drug addictions, which tend to be theft charges, Glenn said.
With the storefront, the community can also get to know the program better, Glenn said. Just Bakery has worked with several churches over the years to provide baked goods on Sundays, but now anyone can stop by to meet the staff and students.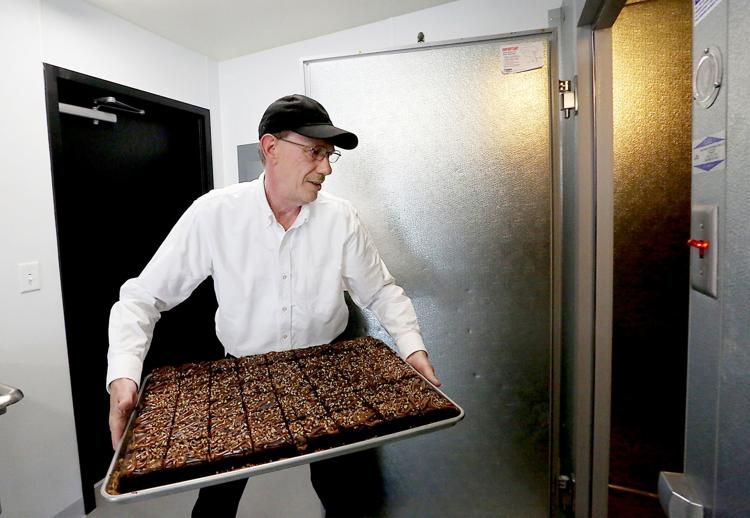 "You can just stop in and see us, get to know a student, and realize that this person who is maybe currently or formerly incarcerated is just another human being," Glenn said.
Glenn isn't satisfied, though. To her, Storefront for Success is one more piece of a puzzle that isn't complete. The next piece is to expand the program to include savory cooking and possibly a restaurant.
As Glenn talked about her future plans for the program, Ketchum drew near, trying to overhear the timeline Glenn imagined. When Glenn said she could see the expansion coming in two years' time, Ketchum's eyebrows raised. She thinks it's going to take a bit more time, she said.
"We usually have differing opinions (on time frames) and it usually ends up being somewhere in the middle," Ketchum said.