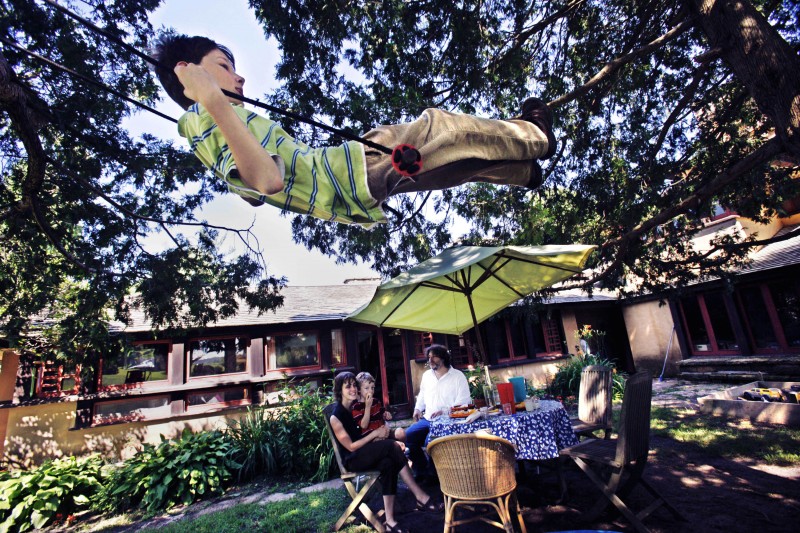 SPRING GREEN — Living in the whirlwind of raising five school-age boys, it's possible for Floyd and Caroline Hamblen to forget they reside in one of Wisconsin's most distinctive architectural wonders.
"You can start to take it for granted," said Floyd Hamblen, whose family is growing up in rooms built into a nook of Frank Lloyd Wright's sprawling Taliesin home and studio on a hillside overlooking the Wisconsin River valley.
The family long ago got used to the streams of tourists — 25,000 visit Taliesin in an average year — and it's no big thing on the rare occasion one wanders off the beaten path and peers through a window or open door into the Hamblens' three-bedroom home.
"Actually, it's a great reminder that you are living somewhere special," he said. "When you see people coming through, you can see it in their eyes."
Or it can be a little awkward, if you are a pre-teenager growing up in this Secret Place, a private residence in the middle of a national landmark.
"I've had them come right up in the yard," said one of the older boys, Lukas, 12, lounging in a lawn chair outside the home and pointing to his bedroom window. "I had to close my curtains."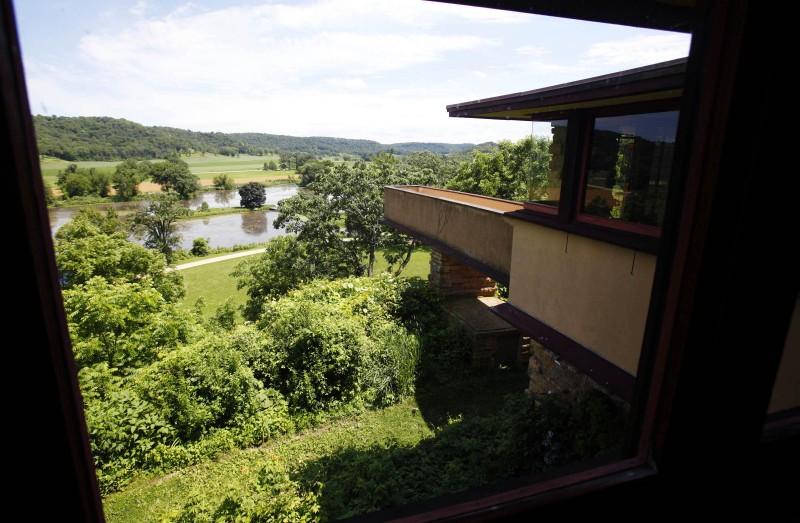 The Hamblens have lived since 2001 in their apartment, one of several probably built between 1914 and 1918 for draftsmen and apprentices.
The three-bedroom, 1,200-square-foot home was designed in Wright's "organic" style: A mortared stone walkway leads to the front door that extends into the living room, accenting the shellacked cypress that forms the rest of the floor.
The interior walls and ceiling are made from golden yellow plaster, with cypress trim. All of it glows with warm diffused light from windows and overhead fixtures.
The apartments are now used by members of the Taliesin Fellowship, which carries on Wright's vision of architecture as a practice conducted in a community of apprentices, professional architects and artists.
No tours go inside the residences, although groups appear outside the Hamblens' rear courtyard several times a day. The tour groups take in the rolling hills of the 600-acre Taliesin estate to the south while walking from a shuttle drop-off point to Taliesin's main attractions — the Wright living room and drafting studio in the east wing.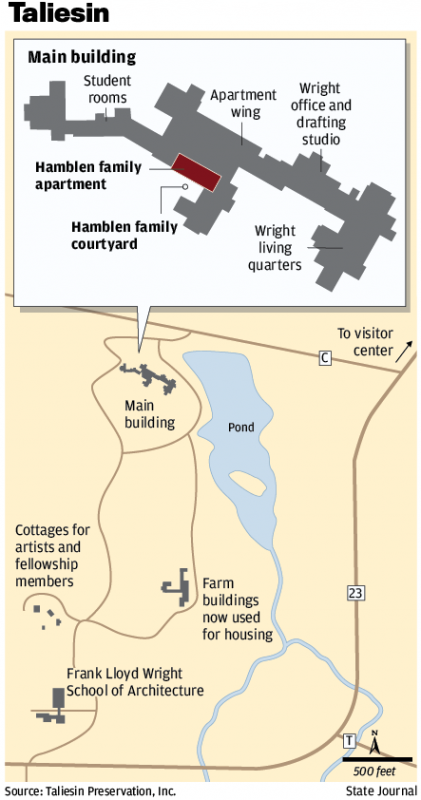 It takes less than a minute to walk out the Hamblens' front door, down about a dozen narrow stone steps and through a formal flower garden to the foyer leading into the Wright residence.
The adult Hamblens are employees of the Frank Lloyd Wright Foundation and the home is part of their compensation. But they see their role as a mission to continue Wright's legacy.
Floyd Hamblen is a graduate of the architecture school Wright founded on the south end of the estate in 1932. He mentors apprentices at the school and operates his own architecture firm. Caroline Hamblen coordinates the Taliesin Arts and Culture Program, an ongoing series for the Taliesin community of student-apprentices, fellows and artists-in-residence, and the public. She has home-schooled the children, although next year they will attend public schools because her program will expand greatly during 2011's centennial celebration.
Living at Taliesin is a rich experience for the boys, who meet students from around the world, join the rest of the community working in the communal vegetable garden, eat in the school dining hall and help out at formal dinners and other events.
"It's a fantastic opportunity for them," their mother said.
The boys regularly wander the labyrinth of stone walls, walkways and steps that weave through Taliesin's lush flower gardens and around the 16,000-square-foot main building. They don't have trouble finding their way back home, but there are challenges for their parents.
"Sometimes it's hard to find the kids right away," Floyd Hamblen said.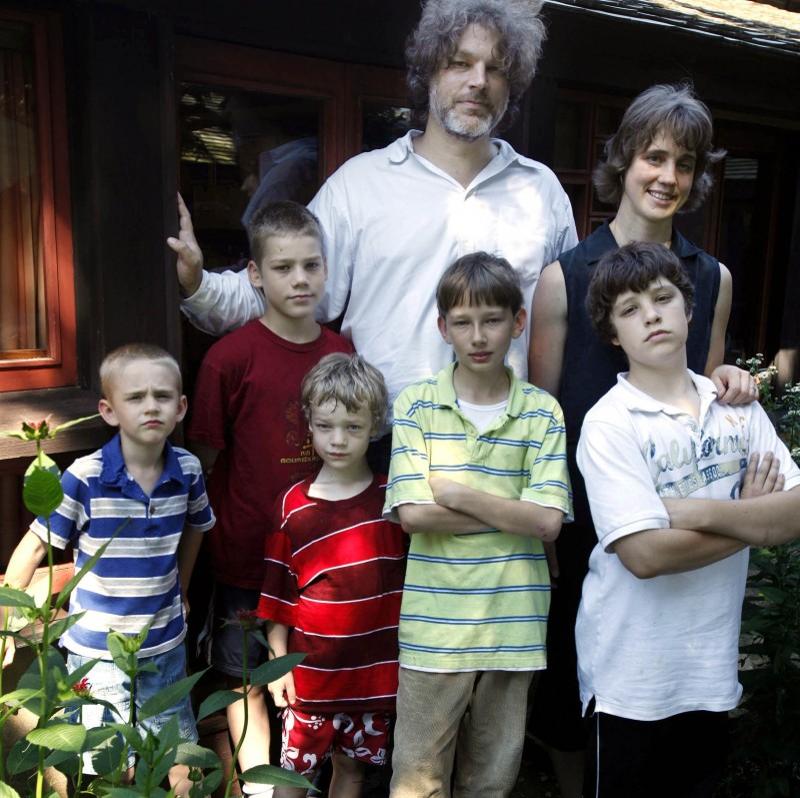 Lukas said there are rules for when they encounter tour groups on the grounds. Stand back. Show respect. Don't approach them or talk to them. Pick up any toys that might be in their path. He pauses, then thinks of one more: "No yelling."
The courtyard outside the Hamblen apartment is formed on two sides by golden ochre-tinted stucco exterior walls and on another by a low stone wall. Beyond the wall the hillside drops away to provide a view of rolling green hills and distant cottages occupied by visiting artists and members of the Taliesin Fellowship.
Inside the shaded yard, a rope swing dangles from the branch of a cedar, a blue plastic kiddie pool leans in a corner and a sandbox made of unfinished 1-by-6 boards is jammed with toy trucks.
On a recent Tuesday afternoon, Ernest, 12, put the rope swing to the test, while Christopher, 6, and Ian, 5, dragged the pool out and filled it with a garden hose.
Noah, 9, showed off a nearby camp structure the boys nailed together using parts of packing crates that protected some estate statues on their return trip from a restoration service, and wooden slats that visiting students left behind after building a tunnel structure as a class project.
"When you live here for a while, it's a pretty normal house, except it's big and there's more people and tours," Noah said.
"Big" is a matter of perspective. Floyd Hamblen is a tall man who has to duck through a doorway to enter the apartment, built in the same low-slung style as the rest of the complex.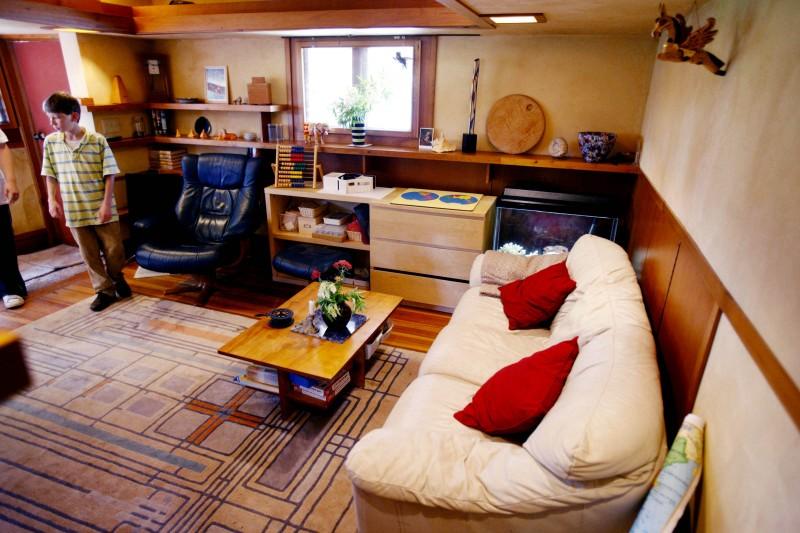 "I'm 6-foot-5 when I stand up straight, which isn't very often," he said.
He stays bent to avoid scraping his head on the 6-foot-high overhang that extends a few feet out from each interior wall in the living room. The idea is to make the room feel more spacious, despite it's 8-foot ceilings, once you get past the overhangs, he said.
Life at Taliesin has evolved since Wright began building his home in 1911, but his core idea of a school and a community of artists living communally endures, said Effi Casey, a violinist, painter, teacher and leader of the Taliesin chorale group who has been a fellow since 1966 and lives in a cottage a few hundred yards south of the main building half the year. Like the students and many of the other fellows, she spends winters at Taliesin West in Arizona.
Children have always been a part of the life at Taliesin, she said.
"I would say it brings a great quality," Casey said. "You need a core presence, a living presence. Mr. Wright said he didn't want to make drawing board architects."
Counting the Hamblens, 11 people live in the Wisconsin Taliesin year-round.
Floyd Hamblen said it's a good life.
"The buildings are fascinating. But it's so much more interesting that there is a life that happens here," he said. "It's the way Wright envisioned it: as growing."