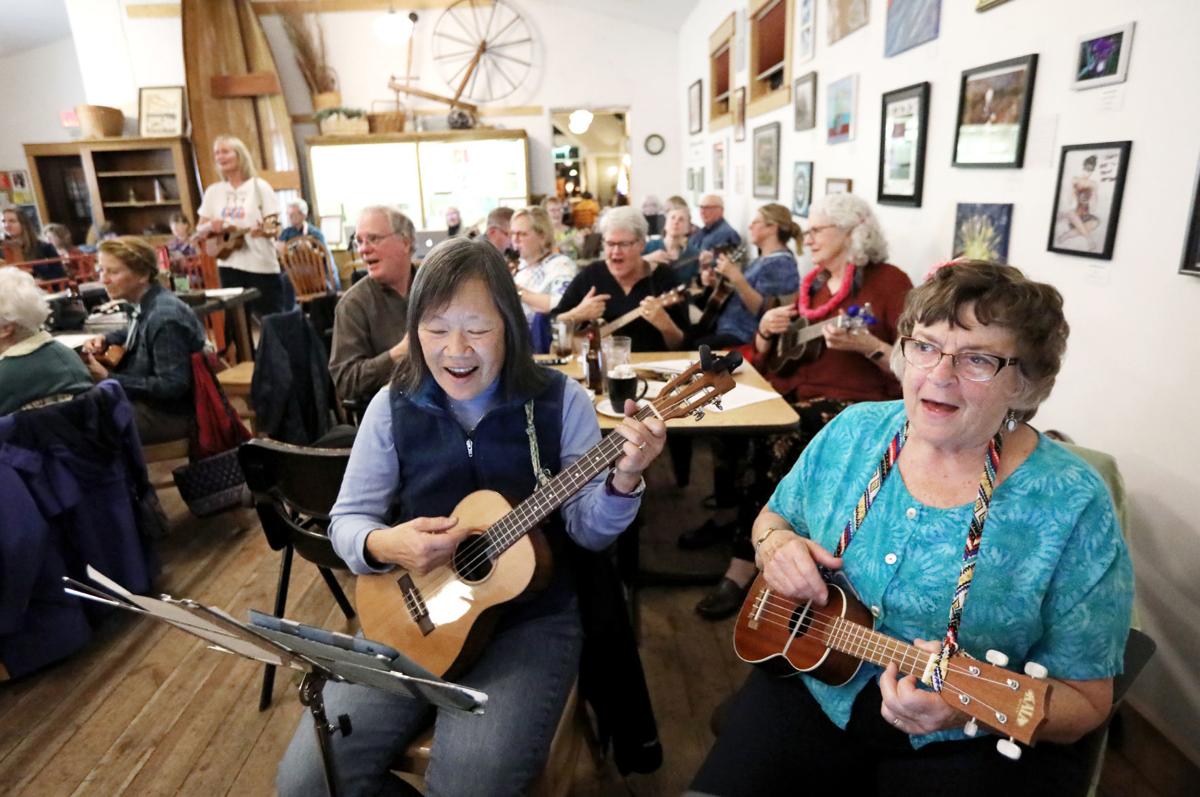 Andrew Wilke searched for the right key, singing under his breath while his long, slender fingers formed ukulele chords with the precision of well-exercised muscle memory.
Then he jumped into the evening's first song — Billy Joel's "You Might Be Right" — and about 100 ukulele players followed his lead, singing and strumming in unison.
The recent gathering at Lakeside Street Coffee House was joyful from the beginning. Many participants were smiling as they followed the lyrics and chords changes on their tablets, probably due in part to the silliness of dozens of adults using kazoos to hum the solo in "You Might Be Right" like a colony of sing-songy bees. The song's conclusion prompted cheers and applause.
"Now let's do the whole song again, but only with kazoos," Wilke joked.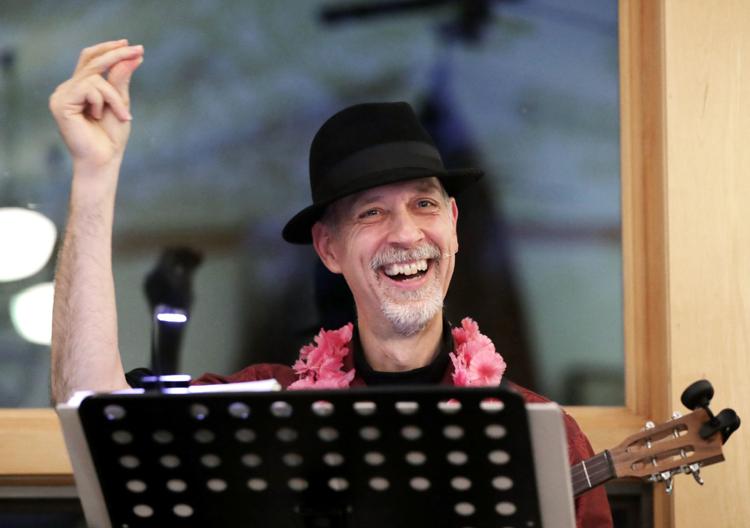 Wilke is the founder of Good Day Ukulele, leading lessons at his home on Madison's East Side and other locations. The business is an offshoot of Madison Area Ukulele Initiative (MAUI), made up of roughly 1,200 local members and a much smaller performance ensemble that makes appearances at such events as Make Music Madison and the Winter Art Fair Off the Square. The organization also organizes singalongs like the Lakeside gathering.
With the state Capitol glowing over Monona Bay in the window behind him, Wilke paced the group through familiar tunes like "Octopus's Garden" by the Beatles, "Crazy Train" by Ozzy Osbourne and the 1953 novelty song "Istanbul (Not Constantinople)," exuding good humor all the while.
And he wasn't the only one. Several participants said the classes and singalongs simply make them feel good.
"There are certain songs that just take off. They're almost transcendent," said Carol Tyler, a dedicated MAUI member. "You have a moment of bliss, this joy when everybody is strumming and singing, and you just get lifted up."
Finding community
Wilke is up front with everybody who takes his ukulele classes: He's not a rock star.
"I'm not an instrumentalist doing circuits and touring and wowing people," he told the 20 or so aspiring musicians at a recent beginner's lesson in his home studio. "My thing is what we're doing here today — community-building around music. I love bringing people together."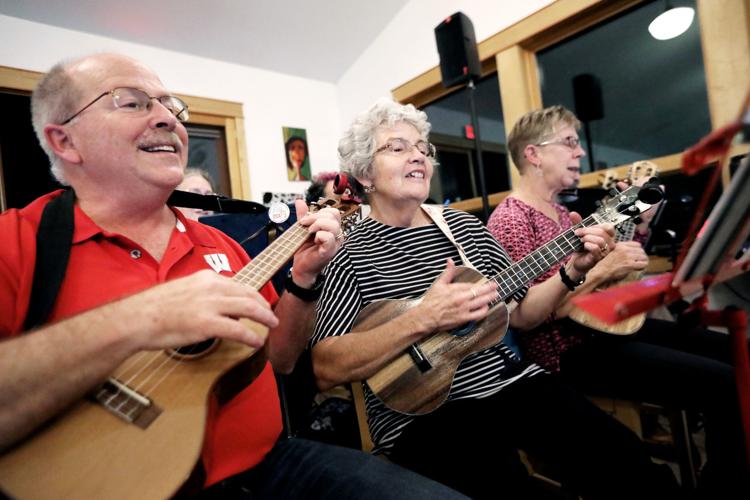 Wearing his signature black fedora and addressing students casually from his living room couch, Wilke exuded the calm of a Zen master while leading the group through easy standards like "This Land Is Your Land" and "The Lion Sleeps Tonight." Despite claiming not to be an expert, Wilke's easy musicality was immediately apparent.
As "chief cat herder," Wilke teaches students how to tune and strum their ukuleles, and to fret simple chords — the most basic skills required for playing with other musicians. And he tries to make the lessons unintimidating by providing options for students who aren't ready for a particular song or technique. For example, if students have a hard time holding a strumming pattern, he encourages muting the strings and strumming along without worrying about changing chords until they get the rhythm down.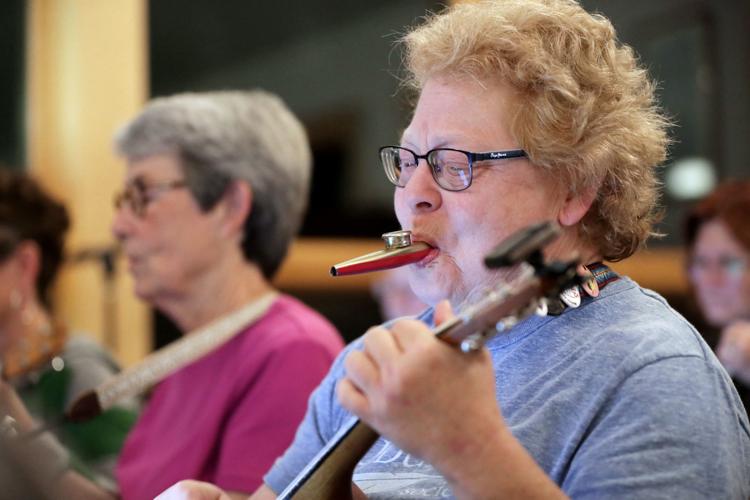 From the listener's perspective, the result is often a "merely adequate" version of a familiar song, Wilke said. Bum notes, missed chord changes and faltering rhythms are all expected, especially in the early going of a beginner's class.
But the performances are secondary in Wilke's mind. For a host of reasons, sharing a space and playing together are what's most important.
Wilke, who grew up in the Milwaukee suburb of Greenfield, started playing saxophone when he was 12 and took six years of instruction from a big-band conductor who taught everything strictly by the book.
"You had to follow all the rules, and I really didn't enjoy it," Wilke said. "On the saxophone, of all instruments, you just want to cut loose with some kind of improv. It felt like a straitjacket musical experience."
In another foundational experience he didn't appreciate at the time, a teenage Wilke begrudgingly attended many of his mother's performances with a competitive barbershop vocal group that traveled across the state.
His own musical journey wouldn't begin in earnest until he picked up the guitar in college and started playing and singing popular songs with his younger brother.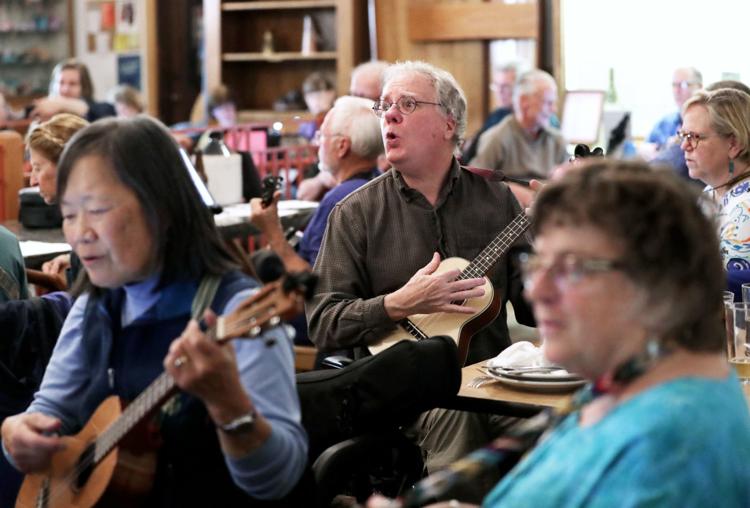 He moved to Madison in 1992 for graduate school. Many years later, he joined an improvisational singing group that he credits with busting his performance anxiety and paving the way for him to become an instructor. A little more than 10 years ago, he was introduced to the ukulele by his friend, MAUI co-founder Susan Jensen.
'Noticing goodness'
Wilke describes it as a "light switch moment." While he'd always been frustrated by the complexity of the guitar and its endless permutations of scale and chord structures, he found the ukulele refreshingly straightforward.
You have free articles remaining.
"I could enjoy playing music rather than tripping over all the technical stuff," he said.
Around that time, a small group of ukulele players started getting together for singalongs in each other's living rooms. But a divide formed in the group that would become MAUI — some wanted to keep it closed and small, while others wanted it open to the public. Wilke was in the latter group. He started hosting musical gatherings at his house and within a few months about 50 or 60 people were regularly participating.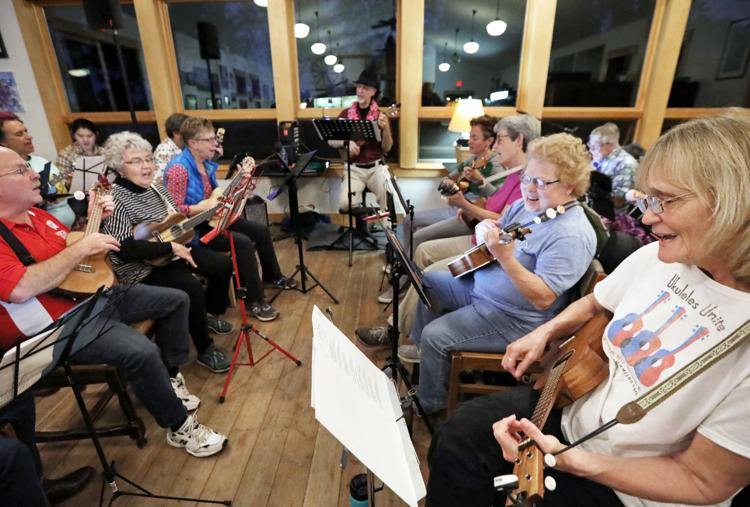 So many people were interested that in 2014, Wilke quit his job as an engineer at the Madison design and product development firm bb7 to focus on teaching.
"It felt like the most irrational possible move to make in my life," Wilke said. "Now this is what I do for a living, which is kind of crazy."
He doesn't regret the decision. He views his teaching business as an entrepreneurial endeavor, a means of community-building, and an excuse to slow down and appreciate the good stuff in life.
It's called Good Day Ukulele because he wanted to "help people practice noticing goodness," he said. "A million years ago, noticing every conceivable threat was an asset. Today, it's a liability, predisposing us to anxiety and excessive negativity."
'An unlikely ally'
Overcoming this "negativity bias" is like learning an instrument — it takes practice. That's why Wilke emphasizes to his students the simple joy of playing together.
"Ukulele is an unlikely ally," he said, "but a refreshingly effective path to greater goodness and gratitude."
Most people likely think of the ukulele as a cheery-sounding Hawaiian instrument, or, to Wilke's chagrin, associate it with Tiny Tim singing "Tiptoe Through the Tulips." Perhaps that's why it doesn't scare people away.
"It's such an accessible instrument," Tyler said. "For those of us with a string of failed instruments behind us, it's just this little four-string thing. How hard could it be?"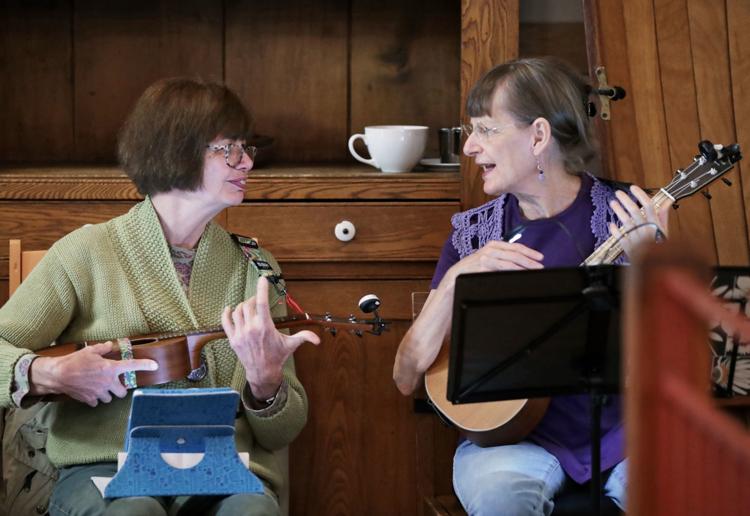 Dan Johnson, 71, is one of the hardcore ukulelists who make up MAUI's performance group. The retired wine merchant and newspaper photographer has made a lifelong hobby of playing music since first picking up the guitar during the height of rock 'n' roll and the folk revival of the 1960s.
But about 10 years ago, he had stopped playing enough to keep the calluses on his fingertips. He sold his guitar and bought a ukulele — then two more ukuleles. He, too, was drawn to the simplicity of the four-stringed instrument.
"It's the perfect instrument for the casual musician," Johnson said. "You can pick up the uke and it doesn't hurt quite as much as a steel-string folk guitar. The guitar is popular, but the guitar is not easy to play. With the uke, it's easy to pick up casually and noodle around."
Johnson, a founding member of MAUI, emphasized that the ukulele is not a limited instrument. As demonstrated by virtuoso Jake Shimabukuro's interpretation of George Harrison's "While My Guitar Gently Weeps," one of the internet's original viral videos, it can be as versatile as the individual player.
Full-brain workout
Just as the ukulele itself is highly adaptable, Good Day Ukulele's lessons apply to life beyond music, Wilke said. He likes to tout the cognitive health benefits of playing music, which is the brain's equivalent of a full-body workout.
"It's astounding to me, the claim that playing music uses more of your brain than any other activity," he said. "Now I'm starting to reflect that back to the class, that this is about more than the technical aspects of playing the ukulele — this about taking care of yourself."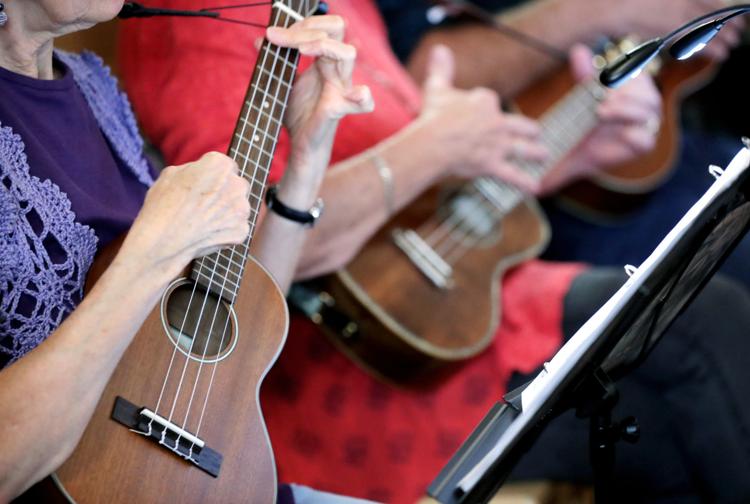 On that note, Wilke has observed that people tend to leave his singalongs in a better mood than they arrived in, but he doesn't understand the phenomenon any better than his students.
"We get together and play easy songs together; we sing and strum," he said. "There's nothing very novel about it. But there is something satisfying about synchronizing our actions and synchronizing our emotions with the song."
In this digital age, people are craving analog experiences and real human-to-human connections, and his students are finding "contentment, belonging and happiness" by playing music with other people, he said.
Tyler, who co-manages the 30-member Fitchburg Ukulele Network with her friend Judy Christie, said the area's FINDING HARMONY ukulele clubs serve as an outlet for people with musical aspirations who've never had time to learn an instrument. She believes that's why the clubs tend to attract older adults.
"My generation has the time and the interest," she said. "For those of who are retired, it's the first time in our lives we can explore something like this."
Get local news delivered to your inbox!
Subscribe to our Daily Headlines newsletter.