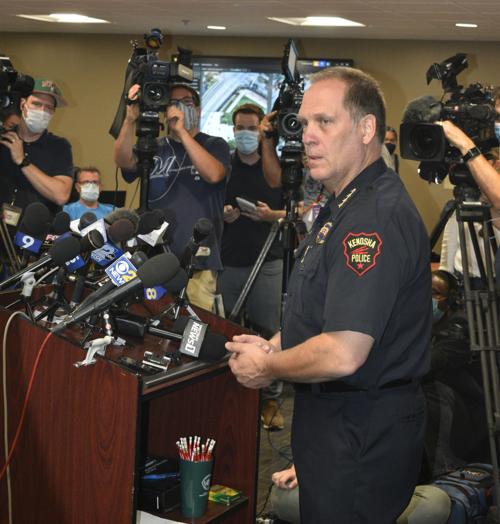 Of 175 people arrested in Kenosha during unrest in the city, 102 live outside the community, according to a statement from Kenosha Police.
During protests and unrest since the shooting of Jacob Blake by a Kenosha Police officer on Aug. 23, residents of the city have repeatedly said they believed Kenosha residents were not likely to be behind violence, fires and looting that occurred during the first three days of protesting.
According to a statement from police, of the 175 people arrested from Aug. 24 through 12:30 p.m. Aug. 30, 69 people were arrested for curfew violations, with another 34 arrested for curfew violations with additional charges ranging from carrying concealed weapons to possession of controlled substances. More than 20 firearms were seized, according to police.
"Arrest numbers include people from 44 different cities," police stated.
While police said the majority of those arrested do not live in Kenosha, many of those out-of-towners charged or arrested and booked into Kenosha County Jail live nearby, with addresses in northern Illinois or southeastern Wisconsin. Those more far afield include one resident of California and another from Minneapolis.
Kyle Rittenhouse, 17, of Antioch, Ill., charged with homicide for shooting three protesters, killing two and wounding another, is facing the most serious charges associated with the protests.
Court records show charges issued during the week for seven felony cases that appear likely to be associated with the unrest, including burglary and weapons charges.
Of six individuals charged with burglary or as co-defendants in burglaries, two of those charged are from Kenosha. Others live in Milwaukee, Madison, Janesville and Racine.
Adonis Renderos, 25, of Janesville was charged with burglary and possession of narcotics. According to the criminal complaint, police called to a looting complaint at Walgreens, 3820 52nd St., at 2:48 a.m. on Aug. 25 saw a man later identified as Renderos leaving the store, which had a broken door, fleeing on foot and dropping prescription pills as he ran. When he was arrested he had two bottles of prescription pills.
Several people were charged with burglary and other charges related to looting at Target, 9777 76th St. According to the criminal complaints, law enforcement was called to the store at 1:35 a.m. on Aug. 25 for a report of 20 people smashing the glass front doors of the store.
"Law enforcement resources from multiple jurisdictions were stretched thin (responding) to vandalism, looting, fires and property destruction in the downtown area," the complaint states. "There were no protests anywhere near the Target, which is located seven miles from downtown."
The complaint states that police saw multiple people racing out of the store, running to cars that "began speeding haphazardly through the parking lot" trying to evade police. Police were able to take four people into custody. Three were charged with burglary, one with being a felon in possession of a firearm. Two of those four people were from Kenosha.
According to the complaint, the glass front doors of the store were smashed with a hammer that was left at the scene. Thieves took merchandise like headphones, Playstations, televisions, laptops and candy.
Police stated that they are working on calculating damage estimates to businesses in the city.
Get local news delivered to your inbox!
Subscribe to our Daily Headlines newsletter.