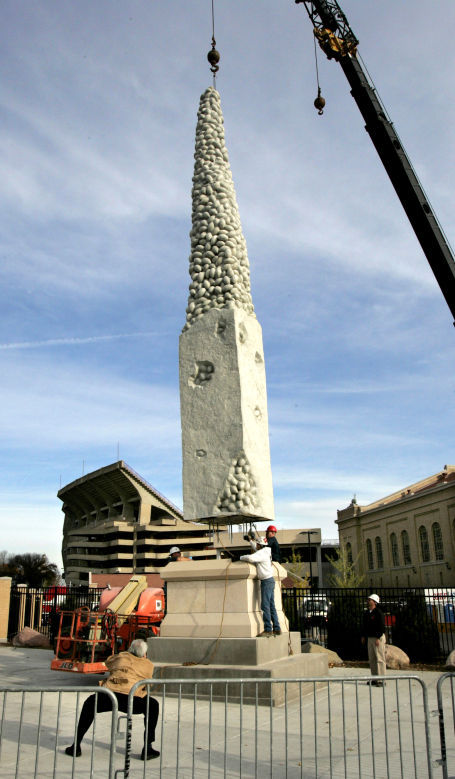 There are public art controversies, and then there is "Nails' Tales."
The sculpture by celebrated artist — and UW-Madison graduate — Donald Lipski has caused an intense reaction, largely negative, since it was first unveiled in November 2005 outside Camp Randall Stadium at the corner of Breese Terrace and Regent Street.
Actually, the angry howls of protest began before it was unveiled. A drawing of the proposed sculpture caught the attention of a State Journal columnist, who mocked it in print.
Things didn't get much better after it was in place. Critics said it looked like an ear of corn or an appendage unique to the male anatomy. Hank Reese, a longtime employee at the nearby Mickies Dairy Bar, was asked his opinion by a reporter for a local television station. Later, Reese said, "I was diplomatic and called it a monstrosity."
On the day of the unveiling, Lipski paced in front of the sculpture like an expectant father. He said he named it for his college roommate at UW-Madison, Eric "Nails" Nathan. The artist said he had tried to provide a piece that "projects power and strength." Was he happy with it? "I'm pleased as can be," Lipski said.
Around Madison in the years since, it has been hard to find many others who feel the same way. There are some, of course, among them a few who think the piece was intended as a satire on the over-emphasis of football on campus. The majority of Madison residents haven't delved that deeply. They just look the other way.
Contact Doug Moe at 608-252-6446 or dmoe@madison.com. His column appears Monday, Wednesday, Friday and Sunday.
Test your memory by matching photos of some of the 100 objects that define Madison.
Photos are chosen randomly — always two of each. There are easy, medium and expert levels, all of which you can play on any device, but levels below expert will appear better on phones and tablets.