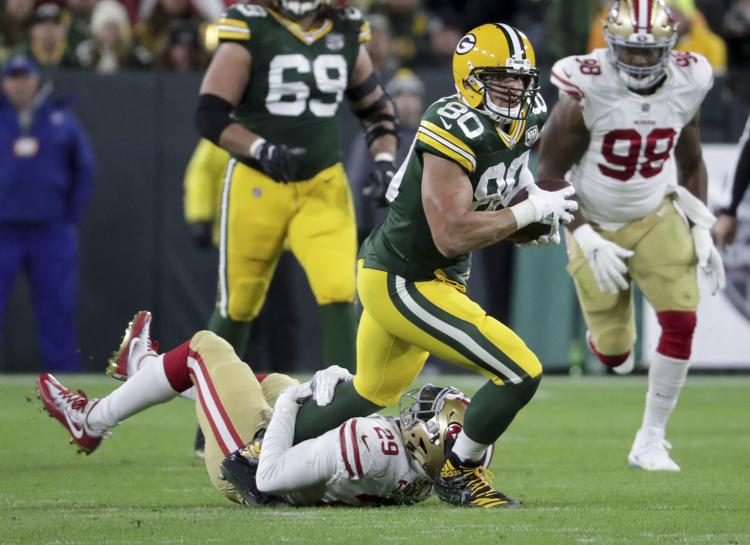 Even though his 32 receptions for 425 yards put him on pace for single-season franchise record catches (64) and receiving yards (850) by a tight end – surpassing Jermichael Finley's records of 61 receptions in 2012 and 767 yards in 2011 – the Packers would like to see tight end Jimmy Graham get more opportunities, particularly in red-zone situations, during the second half of the season.
"Ten, 12, 13 targets a game," tight ends coach Brian Angelichio joked.
Maybe not that many, but Graham's contributions have been up-and-down so far. He's had big games against Minnesota (six catches, 95 yards in Week 2) and San Francisco (five catches, 104 yards in Week 6) but totaled just five receptions for 76 yards in the past two weeks in losses to the Rams and Patriots. He and Rodgers tried several times to connect in the red zone at New England and did not connect – something that needs to change for an offense that has been inconsistent as a whole inside the opponent's 20-yard line.
"There's nobody tougher on Jimmy than Jimmy. He understands the game, he understands when he should've made a play that he didn't make," Angelichio said. "You saw in the New England game, he had some opportunities down there in the red zone, which is good. More than he's had in the other games. We get a 1-on-1 (matchup), throw that thing up there. He's done it as good as anyone in the league – going up and jumping and coming down with those things. I certainly hope that's something that we continue to build on."
---
Jason Wilde covers the Packers for ESPN Wisconsin. Listen to him with former Packers and Badgers offensive lineman Mark Tauscher weekdays from 9-11 on "Wilde & Tausch" on 100.5 FM ESPN Madison.