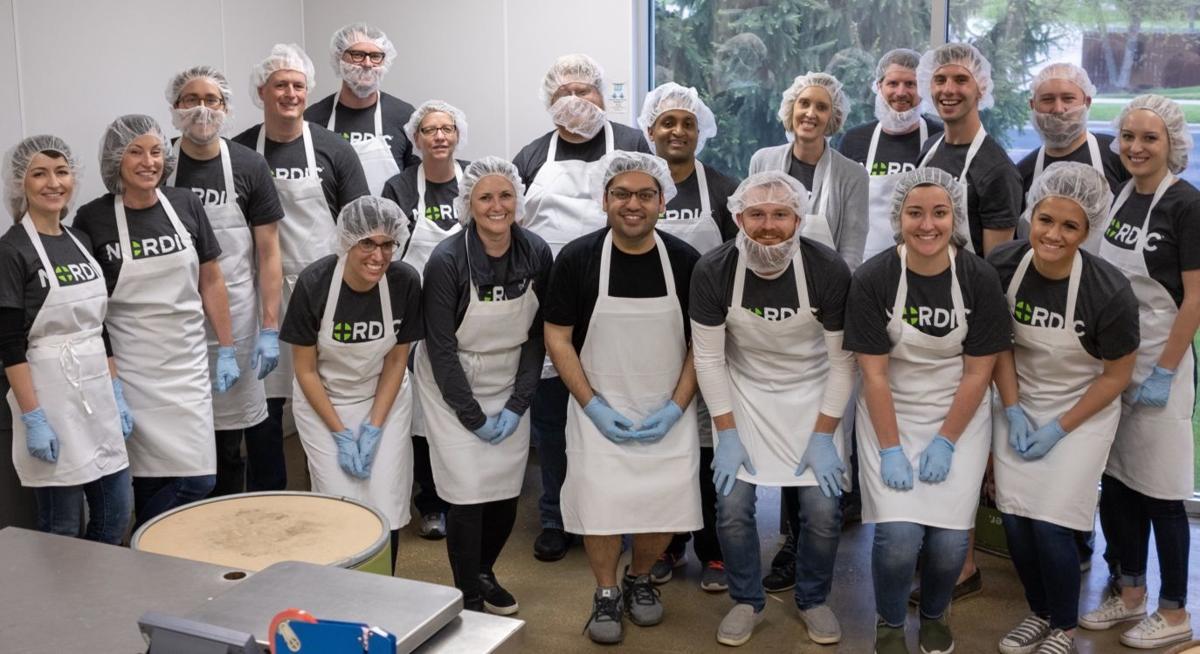 From groceries to financial services, the midsize company category generated a range of highly ranked firms, whose dynamic approach to workplace culture earned them a spot in Top Workplaces.
6. Widen Enterprises
Widen builds a digital asset management software platform that spans brand management, content lifecycle management and creative management. Its services are aimed at helping clients ¬– ranging from the Houston Astros to the Boston Ballet – create compelling and measurable digital experiences.
Established in 1948, Widen 160 employees, with 133 based in Madison. Employees enjoy perks including onsite fitness classes with workout equipment and locker rooms, lunch-and-learn programs, fireside chats, employee celebration lunches, free popcorn delivered to employees' desks and craft coffee and beer from local vendors.
Employee comment: "I know that I am valued as an employee, regardless of my title. I feel free to share my opinions and ideas openly."
7. Nordic
Nordic, founded in Madison in 2010, specializes in information technology consulting in the healthcare industry. Its employees focus on strategy, technology and operations, as well as managed services, that are aimed at better patient outcomes.
The firm has 224 employees based in Madison and 977 nationally. Employees are guided by a set of 11 maxims that include such things as "think, act and adapt with urgency" and "in fear, chaos and confusion, be a rock."
Nordic also stresses education, providing $1 of training for every hour worked, and higher amounts with approval.
Employee comment: "I want to get up every day and come to work because I feel challenged in my role and am sincere in wanting to do the right thing and do what I can to improve healthcare."
8. Insperity
Founded in 1986, the Kingwood, Texas-based firm provides an array of human resources and business solutions designed to improve business performance. Its products and services deliver administrative relief, better benefits, reduced liabilities and a systematic way to improve productivity.
It's Madison office, one of 77 nationally, has 117 employees. In addition to medical, vision, dental and prescription drug coverage, Insperity provides, a company match up to 6 percent on 401(k) plans, 12 hours of paid time off per quarter for volunteer service, adoption assistance, tuition reimbursement and an employee assistance program for its employees.
Employee comment: "The team I'm on consists of intelligent, motivated, and insightful people. I couldn't ask for better management and leadership."
9. Credit Union National Association Inc.
The Credit Union National Association (CUNA), founded in 1940, is the only national association that advocates on behalf of America's credit unions.
Headquartered on Mineral Point Road, CUNA has 172 Madison-based employees among its 247 globally. The financial services trade association advocates in Congress and with other policymakers on behalf of credit unions and offers professional education to credit union personnel.
CUNA offers employees a company 401(k) match of up to 9 percent, remote work options and company benefits that are available on an employee's first day of work.
Employee comment: "Through our cooperative financial model we work to enhance the lives of people, families, and small businesses across America. This creates a positive vibe in our work culture since we are living the 'people helping people' principles each day."
10. Aldi
This no-frills grocery shopping chain was born in Germany and opened its first U.S. store in Iowa in 1976 and has grown to 1,900 stores across 36 states – and has 104 employees at nine Madison-area locations.
The company says its management system is based on four components: leadership, communication, responsibility and teamwork. Its aim is to create a collaborative environment based on mutual trust and respect, one that allows independent decision-making in a flat organizational structure.
Employee comment: "Aldi is confident in me. I'm given this challenge. They will teach me, and I will succeed."
11. Compeer Financial
Compeer Financial is a member-owned farm credit cooperative supporting agricultural and rural communities by offering loans, leases, risk management and other financial services.
Compeer serves 144 counties in Wisconsin, Illinois and Minnesota and employs 118 employees in Sun Prairie.
New hires begin with 15 vacation days, 16 volunteer hours and 15 days of sick leave, which has unlimited accrual. Compeer provides a dollar-for-dollar match of up to 6 percent of 401(k) contributions, plus a fixed 3 percent contribution of eligible compensation, whether or not employees contribute.
Ownership: Cooperative/mutual
Employee comment: "This is an amazing company to work for. Compeer encourages growth not only professionally, but within the organization as well."
12. RenewAire LLC
RenewAire helps improve indoor air quality with energy recovery ventilation technologies. That technology optimizes energy efficiency to lower capital costs by reducing HVAC loads and operational expenses.
Located in Waunakee, RenewAire employs 113 people.
In addition to a comprehensive benefits package, RenewAire offers a $100 stipend for shares in Community Supported Agriculture programs, fully paid long-term disability insurance, monthly employee appreciation events, a clothing allowance, flexible schedules and an onsite fitness facility.
Employee comment: "My voice is heard here. I am constantly allowed to look into improvements in processes and lead projects to make those improvements."
13. Associated Bank
Associated Bank – based in Green Bay – is one of the nation's top 50 publicly traded bank holding companies with total assets of $33 billion. It serves more than 110 communities in Wisconsin, Illinois and Minnesota, and provides commercial financial services in five other states.
It has 22 Madison-area locations staffed by 211 employees.
In addition to a comprehensive benefits package, Associated offers wellness programming including health assessments and fitness and weight management reimbursements. Staffed with nurses, onsite wellness centers in hub locations offer appointments and programs designed to promote healthy lifestyles.
Employee comment: "The opportunities that I have at Associated have been wonderful. Just because I was a new employee, they made me feel welcome, they made me feel impactful from Day One."