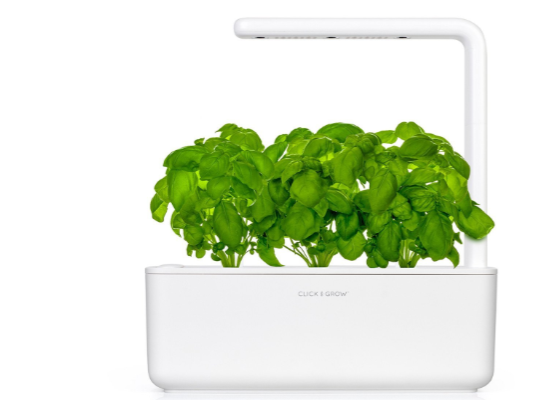 If you want to enjoy fresh herbs throughout the fall and winter but weren't blessed with a green thumb, this smartly designed herb garden planter from Click and Grow will give you a hand.
How It Works
This herb garden planter uses energy efficient LED light to make sure your plants thrive, even if your kitchen gets little sunlight. The water reservoir also means you can forget to water or take weekend trips. The kit includes basil plant pods so you can get started right away, but Click and Grow also offers over 50 pre-seeded pods from cilantro to strawberries.
Portable and Compact
If you have limited space to grow herbs, this lightweight and compact planter is perfect. It can be squeezed onto small kitchen counters, shelves, or window sills. It's also portable so you can move your herb garden throughout the year as the temperature and natural light changes in your home.
Why Customers Love It
Customers love that this self-watering herb planter is so no-hassle, and that it quickly produces 3 plants at a time. The setup was as simple as plugging the garden in. Customers also liked that this planter was only about the size of a loaf of bread while producing plenty of herbs for their family.
Make your house a home
For the holidays: Get inspiring home and gift ideas – sign up now!