Farmhouse style is trending and it's not hard to see why. It invokes a homey feel, which makes it great for a room of relaxation. Get the look by filling your bathroom with a collection of comfortable linens, soothing hues and sentimental artwork. While you're at it, don't forget to check out the bathroom remodel sale this weekend!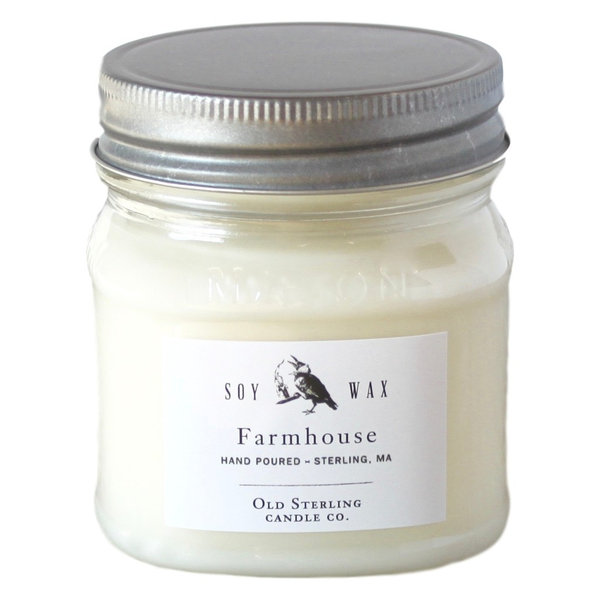 Start Small
Tiny touches, like candles, can go a long way in a bathroom. Make lighting candles part of your nighttime ritual to kindle relaxation before you even draw a bath. Arrange them on the vanity, windowsill and along the ledge of the tub to set the room aglow. This farmhouse candle in an antique-inspired mason jar is a cozy blend of cinnamon, vanilla, sandalwood, evergreen and clove.
Pure Soy Mason Jar Candle from Houzz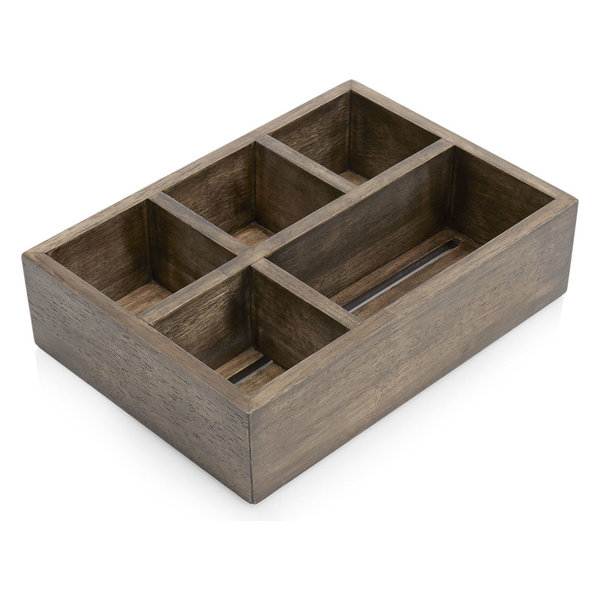 Warm Up With Wood
Bring natural elements, such as wood, in the bathroom for a rustic look. This driftwood organizer is finished with an antique French gray for a vintage vibe and it brings a ton of texture to a room that's often filled with smooth tile and sterile accessories. Corral bathroom essentials here, like perfume, lotion and soap.
Driftwood Organizer from Houzz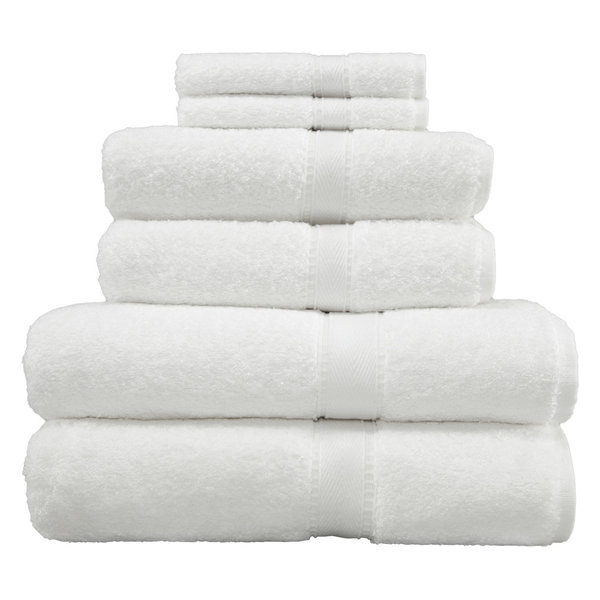 Bring in Bright Whites
A stack of fresh, fluffy towels is another textural necessity that makes a bathroom more enticing. We can practically smell clean cotton through the computer screen while admiring this white towel set online. Can you imagine the effect it'll have in person?
Dobby Terry 6-Piece Cotton Towel Set from Houzz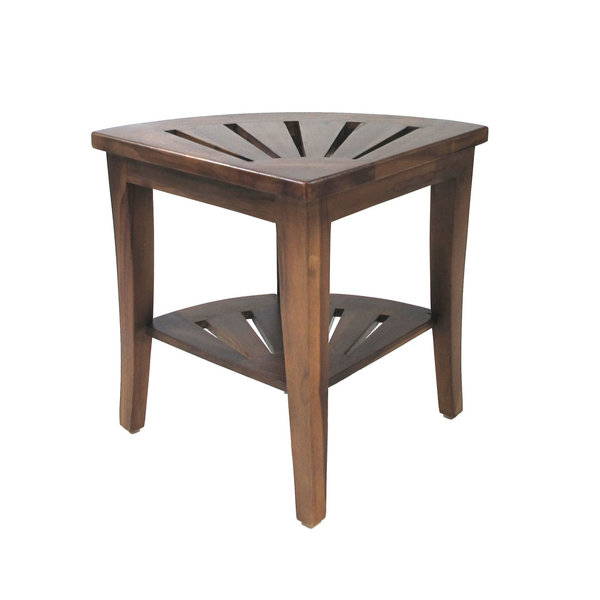 Keep It Casual
Farmhouse style is rooted in simplicity. Rather than neatly folding each and every towel inside a linen closet, lay a towel or two on a rustic stool near the tub instead. A pile of soft fabric creates a gentle slouch that exudes casual elegance. This teak shower bench will do just the trick. If you don't have a tub, use it in the shower instead to store supplies.
Osaka Teak Corner Shower Bench from Houzz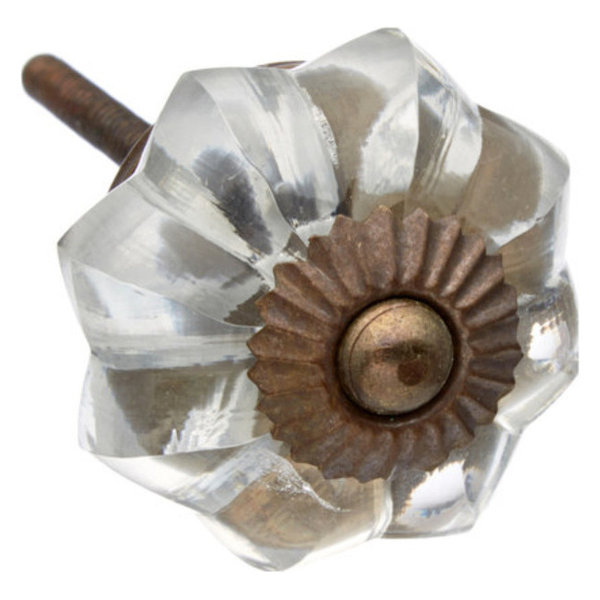 All in the Details
Don't let too many raw or rustic materials roughen up the bathroom too much. After all, it should be a place where you primp and pamper yourself. Get your shine fix by way of cabinet hardware and drawer pulls. These delicately hand-painted glass knobs can gloss up a drab vanity in no time. If you don't need eight knobs, you can always order this set as a four-pack instead.
Clear Melon Glass Knobs, Set of 8 from Houzz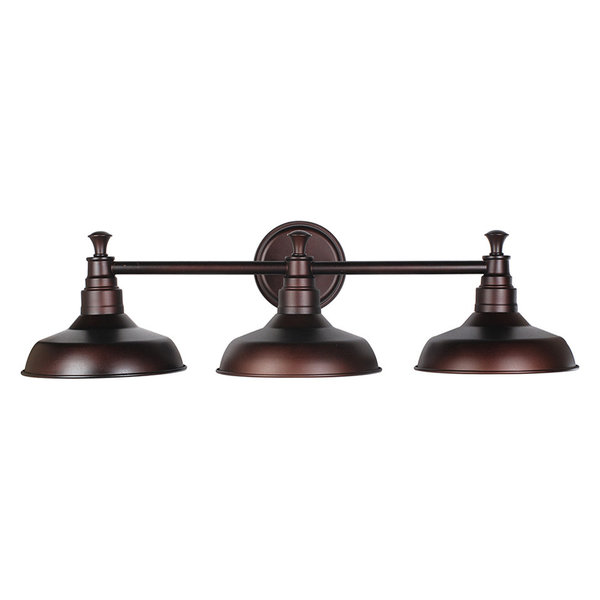 Let It Shine
When used sparingly, industrial fixtures can be very complementary to farmhouse style. All that exposed metal can really whip the laid back nature of farmhouse design into shape. That's why we've chosen this vanity lighting in particular. Its bronze finish can highlight the warm wood features in a room and intensify their texture. This three-lamp fixture will even reduce shadows cast from overhead ceiling lights.
Allenby Vanity Light from Houzz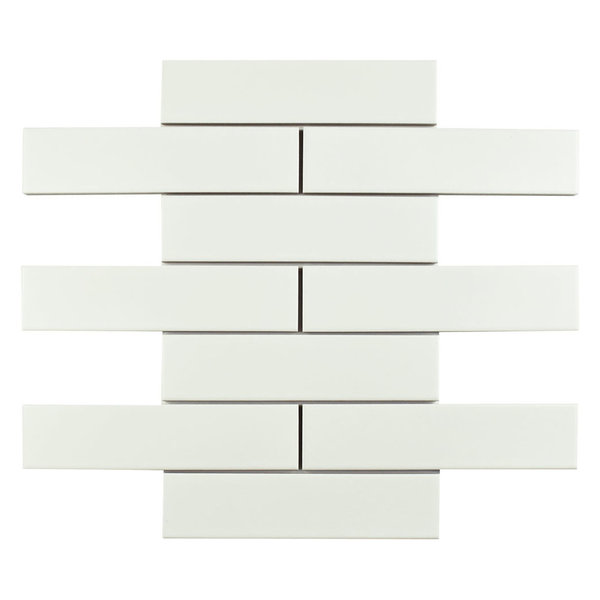 Pick a Classic
This classic ingredient can be anything from claw-foot tubs to pedestal sinks. If you don't have the time or money for a full bathroom remodel, look to subway tile for a more manageable solution. It has been a staple on bathroom walls for at least a decade and we don't think it's going anywhere anytime soon. These little rectangles can make a big impact, especially in a compact space, so tack them onto your inspiration board of small bathroom ideas.
Victorian Soho Subway Tile, Set of 10 from Houzz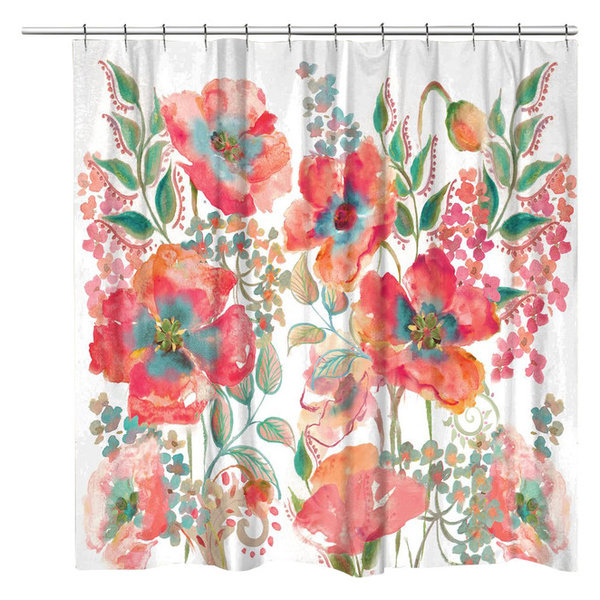 Farmhouse Meets Floral
Cheer up an earthy color palette with fresh blooms. Ok, these might not be fresh flowers, but they're just as beautiful. A new shower curtain always has an exciting effect in a bathroom and it's usually used for years, so the return on investment is high. Splurge a little and make these bohemian poppies the focal point of the room.
Laural Home Bohemian Poppies Shower Curtain from Houzz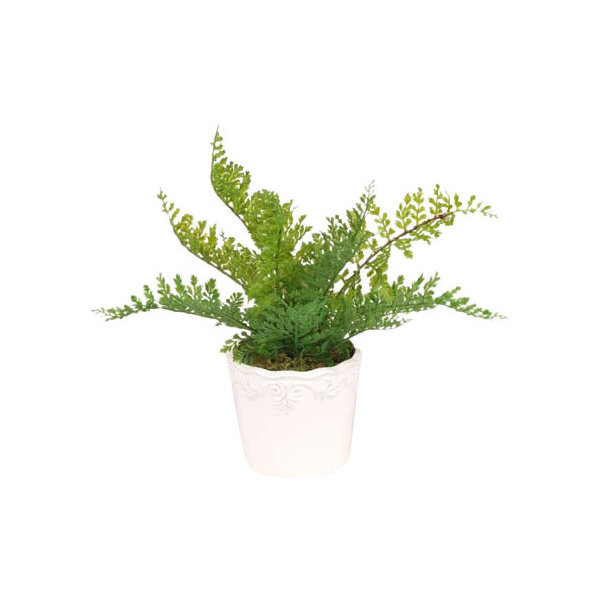 Go Green
A few potted plants can liven up a muted palette just as well as floral patterns. Growing plants in the bathroom isn't impossible, but the extra moisture does make it trickier and even more so if you're stuck without windows. Artificial plants will have the same energizing influence as their living counterparts. Save yourself the hassle and disappointment of a dying houseplant by choosing a fake fern, like this one.
Ruffle Fern With Ceramic Pot from Houzz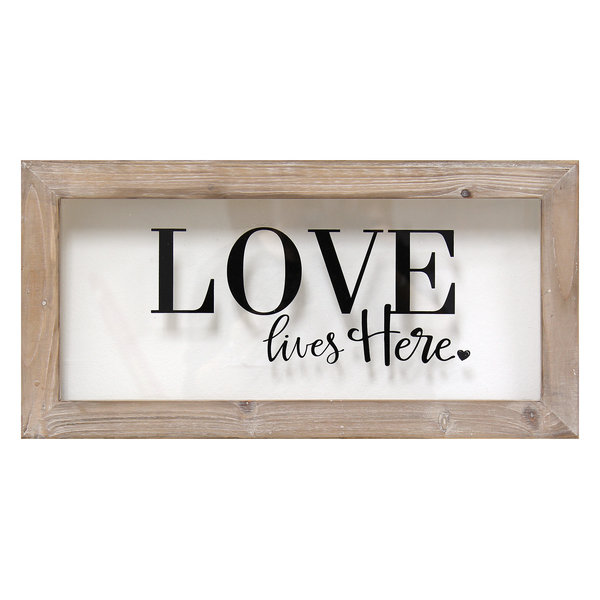 Spread the Love
Love is in the details and it's certainly in this framed wall art. Its wooden frame and eloquent handwriting is full of country charm. The 20-inch-by-10-inch frame will be the perfect fit above a toilet or towel rod. The words "love lives here" are prettily displayed on a clear glass panel, so it will go with any color palette or decor scheme.