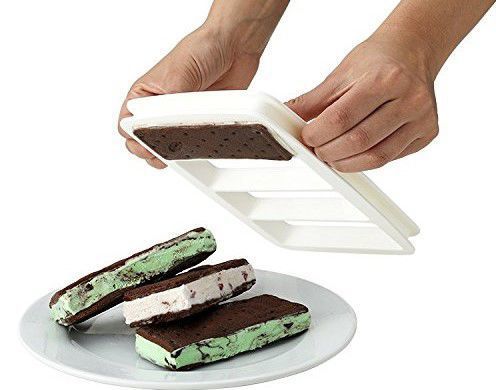 Ice cream sandwiches are a delicious, decadent, warm weather treat, but you don't always want a box of them tempting you from the freezer. That's where this ice cream sandwich maker from Chef'n comes in. You can now create your own flavors and combinations at home.
How It Works
This home ice cream sandwich maker comes with two trays with four slots each to create the cookie sandwich pieces. The kit includes a cookie recipe, or you can use brownie mix from the store. Once your cookies are frozen, simply add whatever flavor of ice cream you want—homemade or store bought—to create a custom ice cream sandwich.
Perfect for Allergy Sufferers
It can be tough to find delicious store-bought treats for those who have multiple allergies. If you're avoiding gluten, dairy, nuts, or soy, this ice cream sandwich maker is the perfect way to satisfy your sugar craving without turning on the oven in the summer heat. It's also great for kids with allergies who don't want to miss out on this classic summer treat.
Why Customers Love It
Amazon customers loved that this ice cream sandwich maker allowed them to experiment with different combinations of ice cream and sandwich cookies. Those who already made their own ice cream at home loved this addition to their kitchen. Customers also liked making ice cream sandwiches with their kids since it was an easy no-knife and no-heat cooking activity that all ages could enjoy together.
Sprout new ideas
With our home & garden newsletter!