From the 1950s until 1994, the Wisconsin State Journal compiled some of the best reader-submitted recipes into annual cookbooks.
Judges gave their stamp of approval to many of these recipes, choosing winners in a variety of categories from cookies to pies, pastries and more.
As a gift to readers, we've dug through the archives to find some of the best holiday recipes from these cookbooks. They appear today just as they first appeared.
Keep in mind that ingredients and cooking techniques have changed over time. Cooking terms that were common in 1956 might send a modern cook to the internet to look something up. Also, don't expect step-by-step directions with these recipes. Cooks were expected to know what to do and in many recipes steps are implied.
In some ways, the recipes are a time capsule. Looking through the decades, you'll see how the women submitting recipes were most commonly known only as Mrs. (insert husband's name here) until that began to change in the 1970s and how at one point the thought of men cooking warranted its own recipe category.
While many things have changed, families today still take pride in their holiday food traditions. Maybe one of these recipes will inspire you to start a new tradition.
Cookie making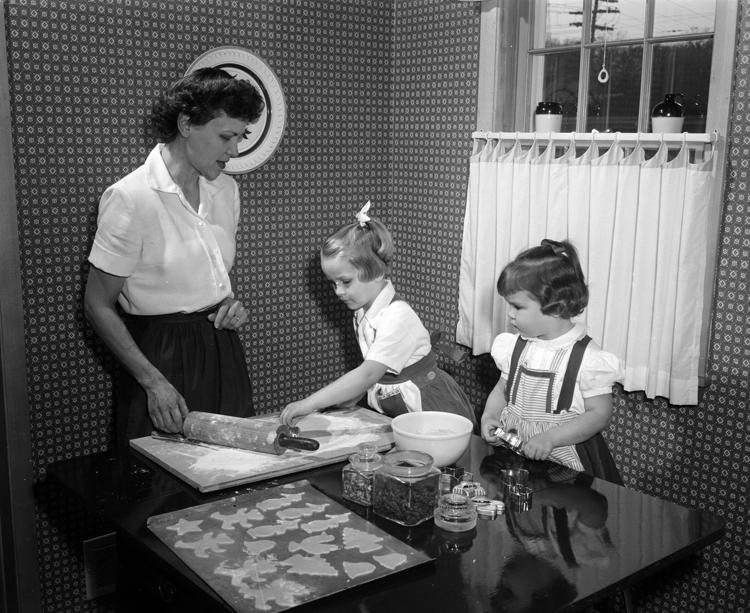 1956: Elegant cherry Christmas pie
1956 Pies and Pastries honorable mention submitted by Mrs. Lyle F. Hird of Madison.
Meringue crust
3 egg whites
1 cup sugar
3/4 teaspoon lemon juice
Beat egg whites until they hold soft peaks. Gradually add sugar, beating until stiff and glossy. Add lemon juice, a few drops at a time, during the beating. Spread in a buttered 8-inch pie pan and shape high on sides. Bake in a very slow oven (275 F) 45 minutes to one hour. Cool.
Cherry filling
1 cup frozen, sweetened cherries
1 teaspoon lemon juice
1 envelope unflavored gelatin
1/4 cup cold water
1/4 cup powdered sugar
1/2 teaspoon almond extract
1/2 teaspoon vanilla
1 cup whipping cream
1/2 cup shredded coconut
1/3 cup chopped English walnuts
Toppings
Candied cherries
English walnut halves
Defrost cherries, reserving liquid. Simmer for 5 minutes, then drain and cool. Combine cherry liquid with enough water to make one cup. Add lemon juice and bring to rapid boil. Soften gelatin in cold water. Add to hot juice, stirring until dissolved. Chill mixture until it begins to congeal. Beat until fluffy. Add powdered sugar and flavorings to whipped cream. Fold into gelatin mixture. Fold in cherries, coconut, and nut meats. Pour into meringue shell. Decorate with candied cherries and walnut halves. Chill two to three hours.
1959: White fudge candy
1959 Men's Best Recipes honorable mention: Leron Barnes of Richland Center. 
3 cups granulated sugar
3/4 cup milk
4 level tablespoons butter
1/2 teaspoon vanilla
1/2 teaspoon lemon flavoring
1 cup chopped nutmeats (preferably hickory nuts)
Mix sugar. milk, and butter in a large saucepan and place on high heat. Don't stir. Bring to a boil, and reduce heat to medium. Continue cooking until syrup forms a soft ball in cold water, or until it reaches 232 F on a candy thermometer. Remove from fire and cool until pan feels only slightly warm to the hand. Beat until creamy, then add flavoring and nutmeats. Continue beating until mixture begins to stiffen. Pour into buttered pan immediately. Cool and cut into squares. Makes about 1 1/2 pounds candy.
Note: For holidays, 1/2 teaspoon of red or green food coloring can be added just before the flavoring.
1959: Christmas pepper nuts
1959 Cookies second place: Mrs. Ed Keller of Marshall. 
1 1/4 cups brown sugar
1 cup shortening
2 eggs
3 teaspoons water
3 teaspoons vinegar
1/2 teaspoon cinnamon
1/2 teaspoon nutmeg
1 teaspoon (scant) oil of anise
1/4 teaspoon salt
1 teaspoon soda
1/4 teaspoon pepper
2 1/4 cups sifted flour
1 cup nuts, ground
Cream sugar and shortening. Add beaten eggs. Add water and vinegar. Combine spices, salt, and soda with flour and sift into creamed mixture. Add the oil of anise and nuts last. Chill dough for at least one hour. Flour hands and take up a pinch of dough, then roll in hands (should be about the size of a marble). Place on greased cookie sheet. Bake in a moderate oven (350 F) until done, about 10 to 12 minutes. Watch carefully to prevent burning.
1960: Honey cake
1960 Holiday Cookery first place: Mrs. Harold Borenstein of Madison. 
1 pound honey
1 cup sugar
4 eggs
4 cups flour
1 teaspoon soda
1 teaspoon baking powder
Pinch of salt
2 tablespoons (heaping) shortening
1 cup nuts
1 teaspoon cinnamon
1 teaspoon anise, crushed
Warm honey, then add soda and stir until light. Beat eggs and sugar, then add honey, shortening, flour, baking powder, cinnamon, anise, salt, and nuts. Pour batter into 9-by-13-inch pan. Bake in a moderate slow oven (300 F) for 1 hour. Makes about 20 servings.
Note: The cake can also be baked in small loaves and will yield about four.
1961: Merry Christmas pie
1961 Holiday Cookery first place: Mrs. Russell E. Wangsness of DeForest. 
1 envelope unflavored gelatin
1/4 cup cold water
1 cup sugar
3 tablespoons flour
1/4 teaspoon salt
1 1/2 cups milk
1/2 teaspoon almond flavoring
1/2 teaspoon vanilla
1/2 cup heavy cream, whipped
2 egg whites
1 1/2 cups shredded coconut
1 (10-inch) baked pastry shell
Soften gelatin in cold water. Combine one-half cup of the sugar with flour and salt. Gradually add the milk and cook over medium heat, stirring constantly, until thick. Remove from heat and add gelatin, stirring to dissolve. Chill until mixture begins to thicken. Add flavorings. Fold in whipped cream. Beat egg whites until foamy. Gradually add remaining sugar, beating until stiff. Fold into gelatin mixture. Fold in ½ cup of the coconut. Pour into pastry shell and chill until firm. Decorate with rest of coconut. Makes six to eight servings.
Note: If desired, pie may also be decorated with green gum drops and red candles, light candles at table.
Editor's note: Using raw eggs in recipes is no longer recommended because of the risk of salmonella. Substitute pasteurized eggs instead.
1962: Little 'great' cake
1962 First Grand Prize Winner of recipe contest: Mrs. John H. Figi of Monroe. "This is supposed to be the recipe Martha Washington used," Mrs. Figi explains. 1 cup butter
1 cup sugar
4 large or 5 medium eggs, separated
2 1/2 cups sifted flour
1 teaspoon mace
1/4 teaspoon nutmeg
2 teaspoons baking powder
1/2 teaspoon salt
1 cup candied fruit
1/2 cup golden raisins
2 teaspoons brandy flavoring
2 tablespoons red wine or fruit juice
Cream butter. Add sugar gradually, then egg yolks. Cream until fluffy. Mix and sift flour, spices, baking powder, and salt. Combine with fruit. Add wine and brandy flavoring. Beat egg whites until stiff and fold in. Bake in a tube pan in a slow oven (325 F) 1 hour and 15 minutes.
Frost and decorate as desired.
Serves 8 or 10.
1962: Caramel fruit cake
1962 Holiday Cookery first place: Mrs. Oswald Rodda of Platteville.
1 pound dates
3/4 cup candied cherries
1 slice green candied pineapple
1 slice red candied pineapple
2 slices white candied pineapple
1/4 cup orange peel
1/4 cup lemon peel
1/4 cup citron
1 cup chopped pecans
1 can moist coconut
1 can sweetened condensed milk
Candied cherries
Blanched almonds
Cut dates and cherries into thirds. Cut remaining fruits about the same size. Mix all but last two ingredients together thoroughly and press in a small greased loaf pan lined with greased brown paper or an 8-inch tube pan greased and lined with brown paper.
Bake in a slow oven (300° F) 2 hours. Turn out on cake rack. Decorate with candied cherries and blanched almonds. Cover with waxed paper and store in refrigerator. Will keep for several months. You can use mixed candied fruits if you wish.
1963: Chocolate fudge deluxe
1963 Candies and Confections second place: Mrs. Russell Fitzsimmons of Mineral Point.
2 cups sugar
1 cup light cream
3 tablespoons butter
1/4 cup white syrup
Dash of salt
1 teaspoon vanilla
1/2 cup chopped nuts
2 squares bitter chocolate
Cook all ingredients except nuts, chocolate and vanilla to the soft ball stage. Pour half of cooked mixture over cut up chocolate which has been placed in a bowl. Cool mixtures to lukewarm. Add nuts and vanilla to white mixture and beat until thick. Pour in a small buttered pan. Beat chocolate mixture and pour over white layer.
1966: Sandbakkelse
1966 Cookies second place: Miss B.L. Halverson of Dodgeville. Traditional Scandinavian cookie particularly popular around the Christmas holidays. They are baked in special tins and may be served plain or filled with fruits or jams. When served plain, they're usually piled upside-down pyramid fashion for passing.
1 cup butter (or 1/2 cup butter and 1/2 cup shortening)
1 cup sugar
2 eggs
1 teaspoon almond extract
2 3/4 cup flour
Cream butter and gradually add sugar. Add eggs and almond extract and beat well. Stir flour gradually into butter mixture until well blended. Press pieces of dough into cookie tart forms and place on cookie sheet. Bake in a moderate oven (350 F) until done, about 15 minutes.
Makes 3 to 4 dozen.
1970: Pumpkin crunch
1970 Desserts, Cakes first place: Mrs. Richard Hart of Sun Prairie.
1/2 cup brown sugar
1/2 cup chopped nuts
1 teaspoon cinnamon
1 tablespoon flour
1 tablespoon melted butter
1 package (18 1/2 ounces) yellow cake mix
1 cup canned solid pack pumpkin
1/2 cup water
3 eggs
1 teaspoon pumpkin pie spice
Combine brown sugar, nuts, cinnamon and flour. Blend in melted butter thoroughly. Set aside to be used as topping.
Prepare yellow cake mix according to directions, but use pumpkin beaten with water to replace liquid content of cake. Beat in eggs and pumpkin pie spice following directions.
Pour 1/2 of batter into a well-greased and floured 13-by-9-by-2-inch pan. Spread evenly. Sprinkle with half the topping. Spoon on rest of batter and sprinkle with remaining topping. Bake in moderate oven (350 F) 45 to 50 minutes.
Yield: 16 servings.
Note: This is a nice cake to serve in the fall and winter. It is enhanced with whipped cream or ice cream.
1971: Creamy white fudge
1971 Cookies for Company honorable mention: Mrs. Zelma I. Schuldt of Platteville.
3 cups sugar
1 cup sour cream
1/3 cup white corn syrup
1/4 teaspoon salt
2 tablespoons butter
2 teaspoons vanilla
1 1/2 cup nuts
Combine sugar, sour cream, corn syrup and salt. Stir over heat until sugar dissolves and comes to a boil. Cover and cook slowly 5 minutes. Uncover and cook rapidly to soft ball stage 235 degrees. Let stand until cold. Add vanilla and beat until gloss disappears. Add nuts.
Put in buttered pan. Top with candied cherries if desired.
Yield: 2 1/4 pounds.
1974: Moravian sugar cake
1974 Holiday Specialties first prize: Mrs. Richard Bienema of Monroe.
1 cup sugar
1/2 cup butter
1/2 cup shortening
3 eggs, beaten
1 cup mashed potatoes
1 small package yeast dissolved in 1 cup potato water
1/2 teaspoon salt
6 1/2 cups flour
2 cups brown sugar combined with 1/2 cup soft butter
Cinnamon, nutmeg
Evaporated milk or cream
Cream the sugar, butter, and shortening. Add the beaten eggs. Add the mashed potatoes and yeast that was dissolved in the potato water. Add the salt and flour. Mix all this well. Then let rise in a warm place.
When risen to double its size, divide into three parts and spread out on 10-by-15-inch jelly roll pans rather thinly. Be certain pan is well-greased. Let mixture rise until it again doubles in size.
Poke holes all over top of dough, about the size of your thumb and fill these with the brown sugar and soft butter mixture. Sprinkle additional brown sugar all over the top. Then sprinkle with cinnamon and nutmeg and dot all over with more butter. Drizzle with cream or evaporated milk.
Bake in moderate (350 F) oven for 20 minutes or until golden brown.
Yield: 3 cakes
Note: This is a 200-year-old recipe handed down from generation to generation. It freezes well.
1974: Seasons greetings popcorn
1974 Appetizers, Relishes, Sandwiches first prize: Lois Foss of Cross Plains.
1 envelope (2 1/2 ounces) tomato soup mix
2 teaspoons paprika
1 1/2 teaspoons oregano
1 1/2 teaspoons onion salt
1 1/2 teaspoons garlic salt
1 teaspoon chili powder
1 cup melted butter
6 quarts popped corn
Blend dry soup and spices. Set aside. Pour melted butter over popped corn. Toss. Sprinkle soup and spice mixture over corn. Toss. Serve.
Yield: 6 quarts snack food.
1976: Christmas casserole cookies
1976 Bars, Cookies and Candies honorable mention: Grace Schellenberger of Baraboo.
2 eggs
1 cup sugar
1 cup chopped dates
1 cup flaked coconut
1 cup chopped nuts
1 teaspoon vanilla
1/4 teaspoon almond extract
Sugar (for coating)
Beat eggs well, add sugar and beat again. With a spoon, blend in remaining ingredients. Spoon into ungreased 2-quart casserole dish. Bake in moderate oven (350 F) for 30 minutes.
Remove from oven and while hot, beat again. Let mixture cool.
Form into balls, using about 1 tablespoon of mixture per ball. Roll each cookie in sugar and decorate if desired.
Yield: 3 dozen cookies.
1979: Mock champagne punch
1979 Appetizers and Relishes honorable mention: Mrs. Alton Price of Madison.
4 6-ounce cans frozen lemonade
4 6-ounce cans frozen pineapple juice
6 cups water
2 quarts ginger ale, chilled
1 quart sparkling water, chilled
1 fifth Rhine wine
Combine juices and water. Stir to dissolve. Add ginger ale and sparkling water when ready to serve. Pour over ice in punch bowl. Add wine and stir gently.
Yield: 50 cups punch.
1984: Swedish nuts (spiced)
1984 Appetizers honorable mention: Ruth Petersen of Madison.
2 tablespoons cold water
1 slightly beaten egg white
1/2 cup white sugar
1/4 teaspoon cinnamon
1/4 teaspoon cloves
1/4 teaspoon allspice
1/2 teaspoon salt
2 cups pecan halves
Add water to slightly beaten egg white. Add spices, sugar and salt. Mix well. Let stand until sugar is dissolved, about 15 minutes. Dip nuts in mixture. Spread on greased cookie sheet. Place flat side of nut down. Bake in a very slow oven about 250 F until golden, about 1 hour. Store in airtight container.
1984: Cranberry dainties
1984 Candy and Unbaked Cookies and Bars honorable mention: Jo Schulte of Stoughton.
1 can (16 ounces) jellied cranberry sauce
1 1/2 cups sugar
1 package (6 ounces) orange gelatin
2 packages unflavored gelatin
2/3 cup finely chopped nuts
Beat cranberry sauce and 1 cup sugar until smooth. Heat to boiling. Remove from heat. Add gelatins. Stir until dissolved. Add nuts. Pour into lightly oiled 9-inch pan. Chill until firm. Cut into squares. Roll in 1/2 cup sugar. Chill 24 hours. Roll in sugar again. Yield: 7 1/2 dozen.
1985: Five-pound fudge
1985 Chocolate honorable mention: Candy Veenstra of Montello.
4 1/2 cups sugar
1/2 cup butter
1 can (14 1/2 ounces) evaporated milk
4 ounces unsweetened baking chocolate
2 bars (4 ounces each) German's sweet chocolate
12 ounces chocolate chips
10 ounces marshmallows
1 tablespoon vanilla
Combine sugar, butter, milk and unsweetened chocolate in a large saucepan. Stirring constantly, bring to boiling and boil 5 minutes. Remove from heat; add sweet chocolate, chocolate chips and marshmallows. Mix well, stirring until all ingredients are thoroughly melted and blended. Add vanilla; mix well. Pour quickly into a greased 9-by-13-inch pan or an 11-by-15-inch jelly roll pan. Chill until firm; cut into squares.
Variations: Add chopped nuts, coconut, raisins, rice cereal or brickle chips.
1986: Old-fashioned English toffee
1986 Holiday Foods and Edible Gifts honorable mention: Sally Jo Eaglin of Montello.
3/4 cup chopped pecans
1 cup butter
1 cup sugar
1 tablespoon white corn syrup
3 tablespoons water
1 1/2 teaspoons vanilla
3 small milk chocolate candy bars, broken up
Butter a 9-inch-square pan and sprinkle with half of the nuts. In a heavy pan, cook butter, sugar, syrup and water to 300 F on a candy thermometer. Stir constantly. Remove from heat and add vanilla. Stir to blend. Quickly pour mixture over nuts in prepared pan and spread evenly. Let cool slightly. Arrange chocolate candies evenly over mixture in pan. When chocolate is melted, or softened, spread evenly. Sprinkle top with remaining nuts. Chill. Crack into pieces when chilled. Store in air-tight containers.
Recipe can be doubled, using a 9-by-13-inch pan. Or it can be tripled, using a jelly roll pan.
1986: Berlina kransa (Norwegian yule cookie)
1986 Holiday Foods and Edible Gifts honorable mention: Bertha Christenson of Madison.
4 hard-cooked egg yolks, cooled
1 cup sugar
3 raw egg yolks
1 pound butter
5 cups flour
3 slightly beaten egg whites
Coarsely crushed lump sugar
Mash hard-cooked egg yolks. Add sugar and raw egg yolks. Add butter and flour. Roll out dough pencil-thin about 2-inches long and shape into loops. Dip each loop into the beaten egg whites and then dip into the crushed sugar. Bake at 350 F about 15 minutes. Yield: 100 cookies.
1987: Swedish pecan slices
1987 Holiday Foods first place: Ruth Everson of Fennimore.
1 pound butter
1 5/8 cups powdered sugar
2 1/2 cups flour
1 cup chopped pecans
2 teaspoons vanilla
1/4 teaspoon salt
Cream butter and sugar thoroughly. Add remaining ingredients. Mold into three 1 1/2-inch rolls and wrap in waxed paper. Refrigerate overnight. Slice, place on greased cookie sheets and bake at 350 F for 10 to 12 minutes. Cool 1 minute before removing from pan. When cool, dust with additional powdered sugar.
1988: Rum balls
1988 Holiday Foods first place: Kathleen Tissot of Brooklyn.
10 ounces milk chocolate
1/4 cup whipping cream
1/2 cup butter
2 tablespoons rum
Crushed nuts
Melt chocolate in cream in top of double boiler. Stir until smooth. Add butter. Beat with mixer until smooth. Add rum. Beat for 1 minute. Freeze 1 hour or until set. Scoop with teaspoon and roll into balls. Roll in crushed nuts. Refrigerate. Serve chilled. Yield: 3 dozen.
1989: Festive holiday salad with orange nut dressing
1989 Salads and Salad Dressings honorable mention: John Conroy of Highland.
Salad
1 large head lettuce
1 bunch leaf lettuce
1 bunch fresh spinach
1 cup mandarin oranges
24 large strawberries, halved
1 large kiwi, peeled and sliced
1 large banana, sliced
1 cup seedless grapes
Dressing
2/3 cup mayonnaise or salad dressing
2/3 cup fresh squeezed orange juice
1/4 cup honey
1 tablespoon fresh lemon juice
1/4 cup chopped English walnuts
1/4 cup chopped pecans
For salad: Core head lettuce and arrange three leaves on each plate. Hand tear leaf lettuce and spinach and arrange on top of lettuce bed. Decoratively arrange fruit on top of greens.
For dressing: Put mayonnaise in bowl. Combine orange juice, honey and lemon juice and slowly add to mayonnaise while stirring with a whisk. Add nuts and stir to coat. Divide equally by dribbling over individual salads.
Yield: 8 servings.
1990: Pretty peppermint pie
1990 Desserts and Pies honorable mention: Joan Howe of Monroe.
24 cream-filled chocolate cookies, finely crushed
1/4 cup butter or margarine, melted
6 cups miniature marshmallows
3/4 cup milk
1 1/2 cups cream, whipped
3/4 cup crushed peppermint stick candy
Combine cookie crumbs and butter. Press into a 9-inch pie plate; chill. Melt 4 1/2 cups marshmallows with milk in a double boiler; stir until smooth. Chill until slightly thickened; mix until well blended. Fold in whipped cream, 1 1/2 cups marshmallows and candy. Pour into crust. Chill.
1991: Grandma Schmid's butter cookies
1991 Bars and Cookies honorable mention: Chardel Johnston of Madison.
1 cup butter or margarine, softened
1/2 cup sugar
1/4 cup dark brown sugar
1 large egg yolk
2 cups flour
Mix the butter and sugars well. Stir in egg yolk and mix well. Add flour all at once and mix thoroughly. Dough will be soft. Form into balls on an ungreased cookie sheet. Flatten with fingers. Bake at 350 F for 10 to 12 minutes until light brown around the edges. Remove from sheets at once; cool completely. Better if made a day ahead. Store in covered container. Yield: 2 1/2 dozen.
1991: Holiday fruit sauce
1991 Fresh Express honorable mention: Lois Foss of Lodi.
2 pounds cranberries
3 apples, diced
3 pears, diced
2 cups raisins
2 cups sugar
1 cup fresh orange juice
2 teaspoons cinnamon
1/4 teaspoon nutmeg
1/2 cup orange liqueur (optional)
Simmer all ingredients, except liqueur, for 45 minutes in a Dutch oven. Remove from heat and add liqueur. Cool; store in refrigerator or freezer. Can be served with meat, poultry, or fish.
1992: Cranberry scones with cranberry cream cheese butter
1992 Breads second place: Mary Erickson of Madison.
Scones
1/2 cup fresh or thawed frozen cranberries, drained
1/3 cup plus 2 tablespoons sugar
2 1/2 cups flour
2 teaspoons baking powder
1/2 teaspoon salt
1/2 cup unsalted butter, chilled
2 large eggs
5 tablespoons heavy cream
1 teaspoon vanilla
Butter
1/2 cup butter
3 ounces cream cheese
1/4 cup powdered sugar
2 tablespoons chopped fresh cranberries
For scones: In a small bowl, stir together cranberries and 2 tablespoons of sugar. Let stand 5 minutes. In a large bowl, stir together flour, 1/3 cup sugar, baking powder and salt. Cut the butter into 1/2-inch cubes and distribute over the flour mixture. cut in the butter until the mixture resembles coarse crumbs. In a small bowl, stir together eggs, cream and vanilla. Add the egg mixture to the flour mixture and stir to combine. With lightly floured hands, knead in the cranberries. Pat the dough into a 9-inch circle. Butter a 10-inch circle in the middle of a baking sheet and place the dough on the circle. Cut into 8 wedges with a serrated knife. Bake at 400 F for 20 to 25 minutes. Serve with cream cheese butter.
For butter: Combine all ingredients in a bowl. Beat until smooth. Refrigerate until 30 minutes before serving.
1992: Cream cheese fudge
1992 Bars and Cookies honorable mention: Christina Norby of DeForest.
2 squares unsweetened baking chocolate, melted
2 cups confectioners' sugar, sifted
4 ounces cream cheese, room temperature
1 teaspoon vanilla extract
Optional: 1/2 cup chopped nuts, 1 cup coconut, or 1 cup flavored chips
Mix all ingredients and chill several hours before cutting. Yield: 1 pound. Freezes well.
1993: Frosty pumpkin squares
1993 Desserts honorable mention: Monica Alt of Plain.
1 1/4 cups ginger snap cookie crumbs
1/4 cup butter
1 cup mashed pumpkin
1/2 cup brown sugar
1/2 teaspoon cinnamon
1/2 teaspoon ginger
1/4 teaspoon nutmeg
1 quart vanilla ice cream, softened
Mix crumbs and butter. Put in a 9-inch pan. Beat pumpkin, sugar and spices until well blended. Stir in the ice cream until well blended. Pour over crumb crust. Sprinkle with some additional crumbs. Freeze for 4 hours. Take out of freezer 10 to 15 minutes before serving. Yield: 9 servings.