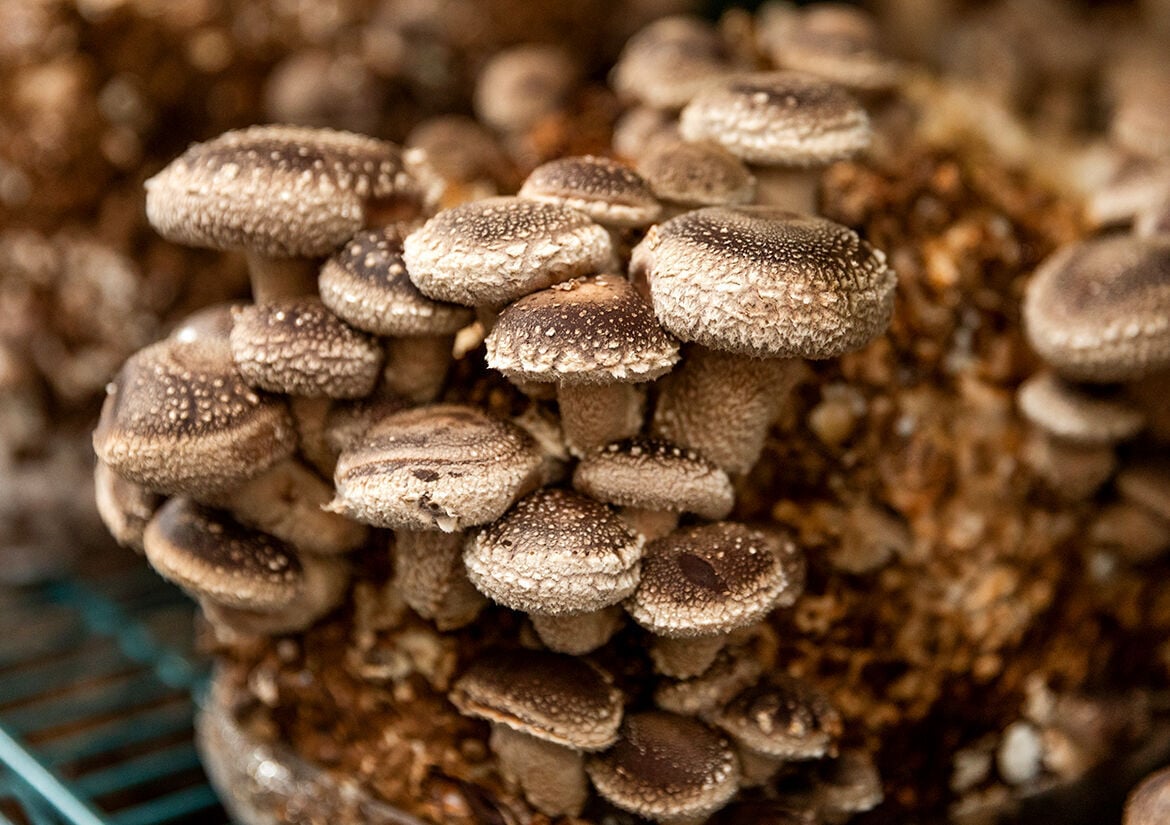 There are no barns at 1430 County Road C West in Roseville, Minnesota. No tractors or silos. Not even a hay bale. Just a nondescript, single-story warehouse on a commercial stretch in the Twin Cities' northern suburbs with a loading dock, flanked by industrial equipment suppliers.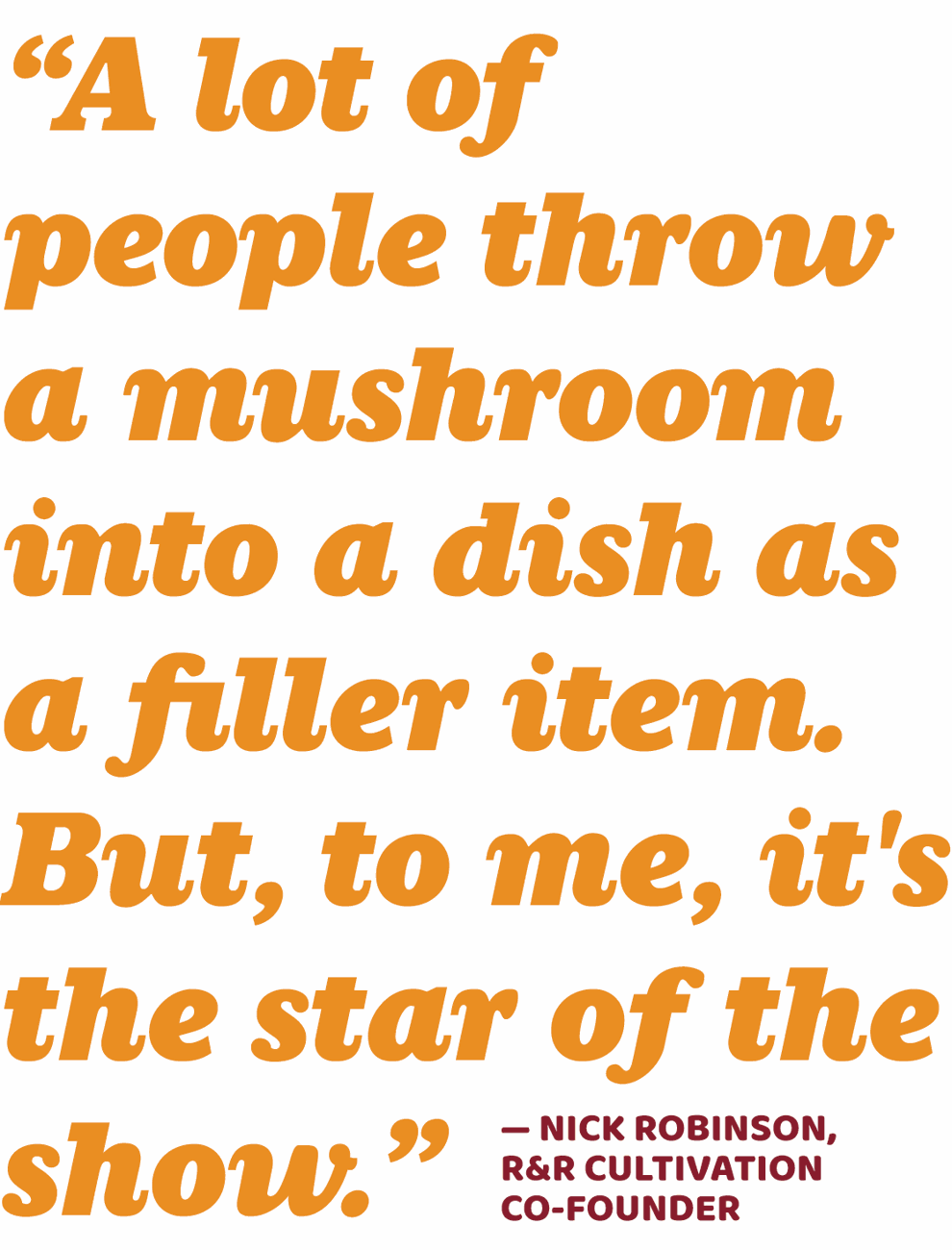 Out front, a folding sandwich board sign invites visitors to "Stop by our urban farm!" An arrow points toward the main entrance of R&R Cultivation, where big block letters spell out what awaits within: FRESH MUSHROOMS.
Inside, the scene is less pastoral than sci-fi. Air exchange systems hiss and whir as masked employees place sterilized blocks in metal tubs. Humidifiers pump mist into glass-doored chambers, where thousands of fleshy bulbs erupt from heavy-duty plastic bags under the glow of LED strands. Watching the harvest at R&R feels a bit like peering through the window of an alien maternity ward. The most terrestrial thing about the place is the scent: earthy, the way the woods smell after a fall rainstorm.
The fruits of this otherworldly labor — organic specialty mushrooms — are sought out by chefs and consumers from across the Twin Cities. Demand is so high that R&R is currently expanding the farm in order to triple its yield by year's end. That's remarkable growth for a company founded just three years ago by two buddies in a basement with a tiny tent and a big dream.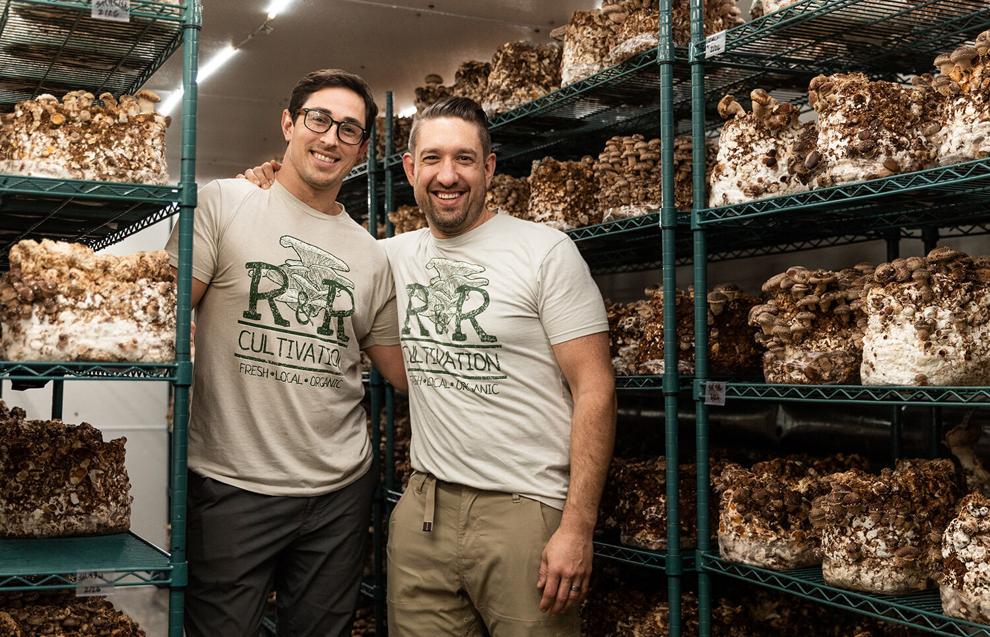 ---
A couple of fun guys
Nick Robinson and Lance Ramm are Minnesota natives and recent business school grads. For most of their lives, they admit that they knew nothing about fungiculture. "I didn't even eat mushrooms three years ago," Ramm says.
Before R&R, Robinson worked in school administration and sales for a martial arts gear company — he's a black belt in Brazilian jiujitsu — but he felt unfulfilled in his professional career and desperately wanted to start his own company. Ramm, originally an artist and graphic designer, was looking for a way to do meaningful work with his hands again. During a stint at an aquaponics company, he stumbled upon the growing trend of urban mushroom farms. He shared the idea with Robinson as a possible business venture, and the longtime friends agreed they'd found their calling.
In spring of 2018, they set up a small grow tent in Robinson's basement. After a short learning process and a few trial runs, the pair started selling their mushrooms within a month. "We were proud papas, for sure," Ramm says. By the fall, they were regularly producing a few dozen pounds a week that would quickly sell out at farmers' markets in St. Paul. Then, in January 2019, they took a leap of faith from the laundry room into a 750-square-foot warehouse space, where a friendly landlord let them rip up carpets and knock down walls to build out their indoor mushroom farm.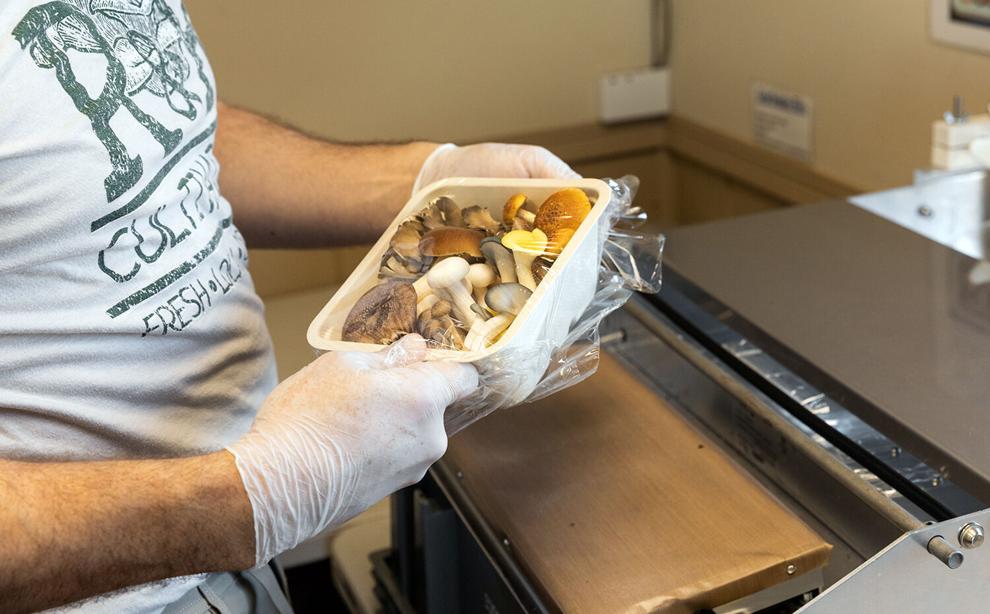 ---
The benefits of urban farming
Today, Robinson and Ramm both work full time at R&R Cultivation. With the help of 17 employees, they grow up to 1,500 pounds of mushrooms every week and distribute them to co-ops, restaurants and farmers' markets in the Twin Cities metro area. They also provide local deliveries direct to customers and offer a CSA option, which currently has about 50 members.
When the pandemic hit in early 2020, R&R lost nearly all of its restaurant accounts. But, by a stroke of good luck, the farm was tapped to be the main supplier for Lunds & Byerlys, a local chain of upscale grocery stores. "It's been what saved us this year," Ramm says of the Lunds account.
Being located in a dense urban area is a big advantage for growers of specialty mushrooms, which tend to have a short shelf life and can lose their zest within a week of harvest. "We're able to get stuff on the road and out to all of our partners really quickly," Robinson says. "There's not a day when it needs to wait in a warehouse and then get shipped to a large distributor. It's just fresh from us to the local community."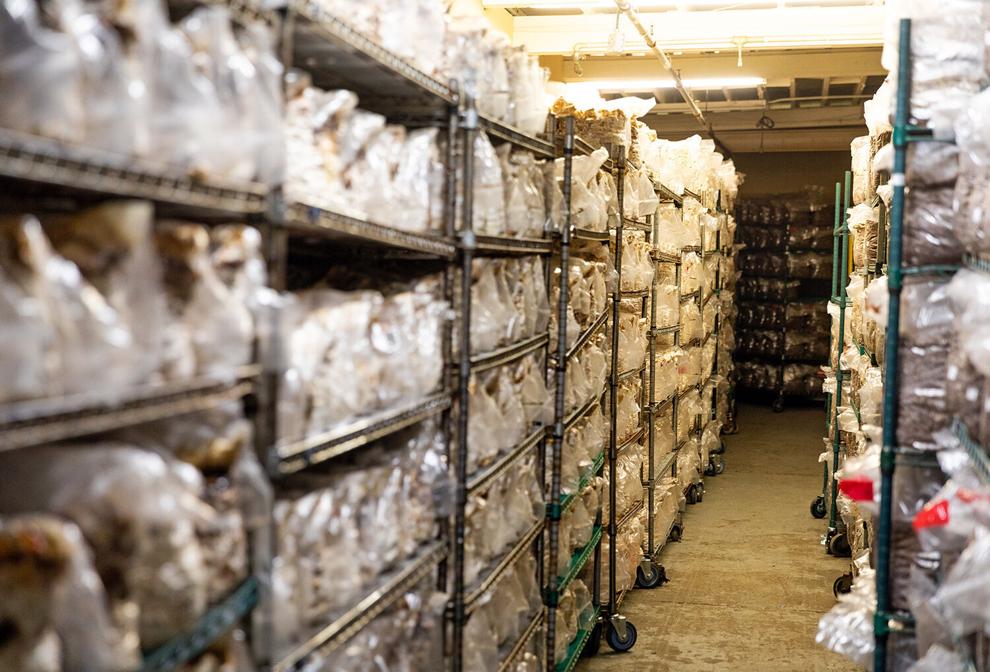 ---
Behind the scenes of organic fungiculture
While Robinson oversees R&R's "front-of-house" operations of marketing, sales and client relationships, the "back-of-house" production space is Ramm's domain. He's spent thousands of hours learning and refining the techniques of mushroom cultivation, where each step requires precise handling and tightly controlled conditions.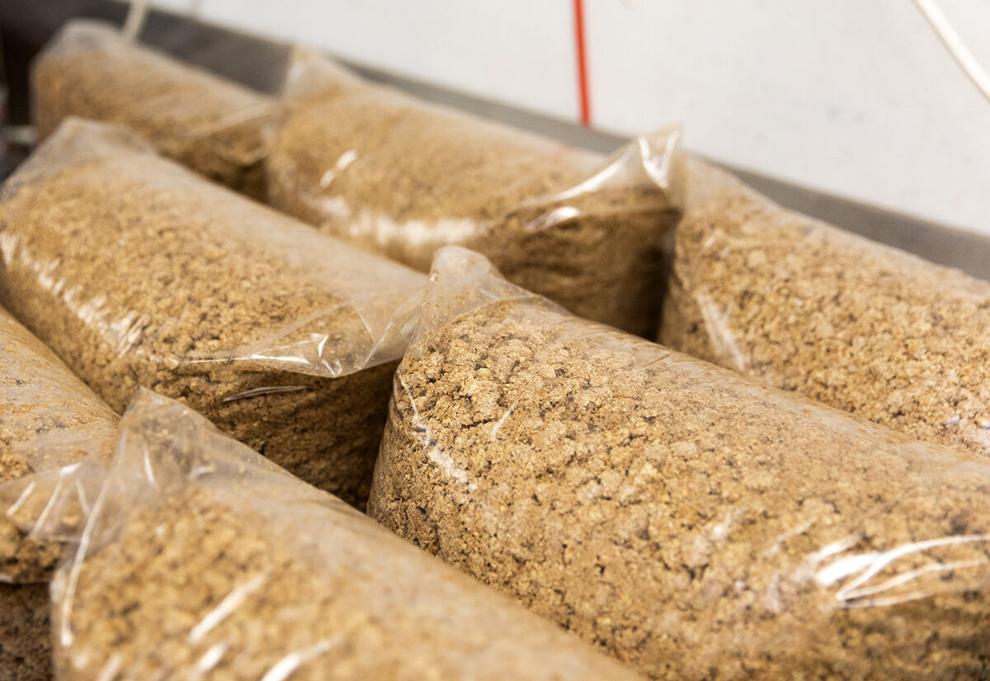 Ramm's tour of the farm begins with 10-pound blocks of organic substrate. "It's basically pelletized wood," he says, adding that his specific blend is a closely guarded trade secret. The substrate gets mixed with water and sterilized by superheating before being taken to the inoculation lab, where microscopic mushroom spawn is added to the mix. The bags are sealed and stored on shelves for up to eight weeks, allowing the spawn to feed upon the substrate's nutrients. 
Once a block is fully colonized with fibrous, white mycelium, the fungus equivalent of plant roots, it gets unsealed and placed in a climate-controlled grow room, where the mushrooms start to fruit under ideal growing conditions. "We're always inputting and exhausting air," Ramm says. "It's this constant dance between carbon dioxide, humidity and oxygen." Depending on the variety, the mushrooms can be harvested in as little as two weeks. Blocks are reprocessed to grow into a second "flush" before the organic matter is composted. With thousands of blocks in various stages of production at any given time, keeping track of every step of the process is critical. "I've got spreadsheets that you wouldn't believe," Ramm says.
R&R Cultivation breaks down how to grow mushrooms in 5 steps, from spawning to harvest.
Ramm's data collection also plays a key role in the organic certification process, which requires R&R to source only organic substrate and spawn, and to be held to high standards of cleanliness and proper techniques throughout the production process. While organic and conventional mushrooms may look, feel and taste the same, there's no guarantee that conventional products have been grown under strict standards of purity and cleanliness. For Robinson, the extra hours and expenses that go into USDA organic certification are worth it. "At the end of the day, it's made me run a better business," he says.
Unlike conventional mushroom farms, R&R doesn't spray pesticides or use harsh cleaning chemicals in its grow rooms. These organic source materials and processes increase the nutritional value of mushrooms, which are known for pulling in both nutrients and contaminants from their environment. "If you see a beautiful mushroom next to a road, don't ever eat it," warns Ramm, adding that oyster mushrooms are so effective at absorbing toxins that they've even been used to clean up hazardous waste sites.
---
Choosing a favorite child
Plastered along the wall of the front office are posters that detail the flavor profiles, health benefits, cooking suggestions and market rates for each of R&R's culinary mushrooms. The colorful lineup includes pink oysters, golden oysters, blue oysters, chestnuts, brown beech, white beech, black pearls, lion's mane, pioppinos, maitakes and their No. 1 best-seller, shiitakes. Chaga and lion's mane are also available in powder form. They will soon be joined by reishi, another popular medicinal variety that R&R has just started growing.
At the farmers' market, customers often ask Robinson and Ramm for their personal recommendations. Their reply is well-rehearsed: "How can you choose a favorite? I love all my children equally." It's a fitting response, considering the co-founders have both had to learn to juggle their roles as new fathers raising young families, while growing a new business and raising mushrooms at the same time.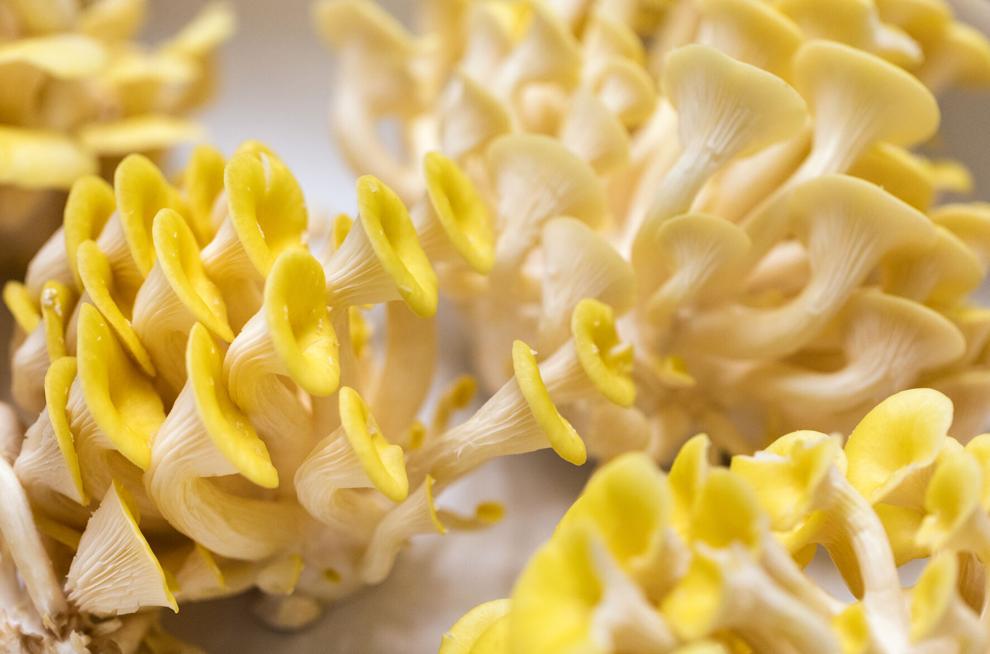 But, if you keep asking, Robinson will eventually reveal his love for the oyster mushroom. "I call it my 'gateway' mushroom. The taste is not too overbearing, and it goes into almost any dish. They're just so easy to use," he says. And his favorite way to eat them? Simply sautéed in grapeseed oil. "A lot of people throw a mushroom into a dish as a filler item," he says. "But, to me, it's the star of the show." 
Ramm's preference doesn't have to do with the specific variety so much as the growing conditions. "My favorite mushrooms are still the ones that get missed by the harvester," he says. "I've had a two-pound black pearl that was in the corner and got missed for three days. It just grew and grew and grew — it was the size of my forearm and hand. Those are the moments when it's like, nature rules."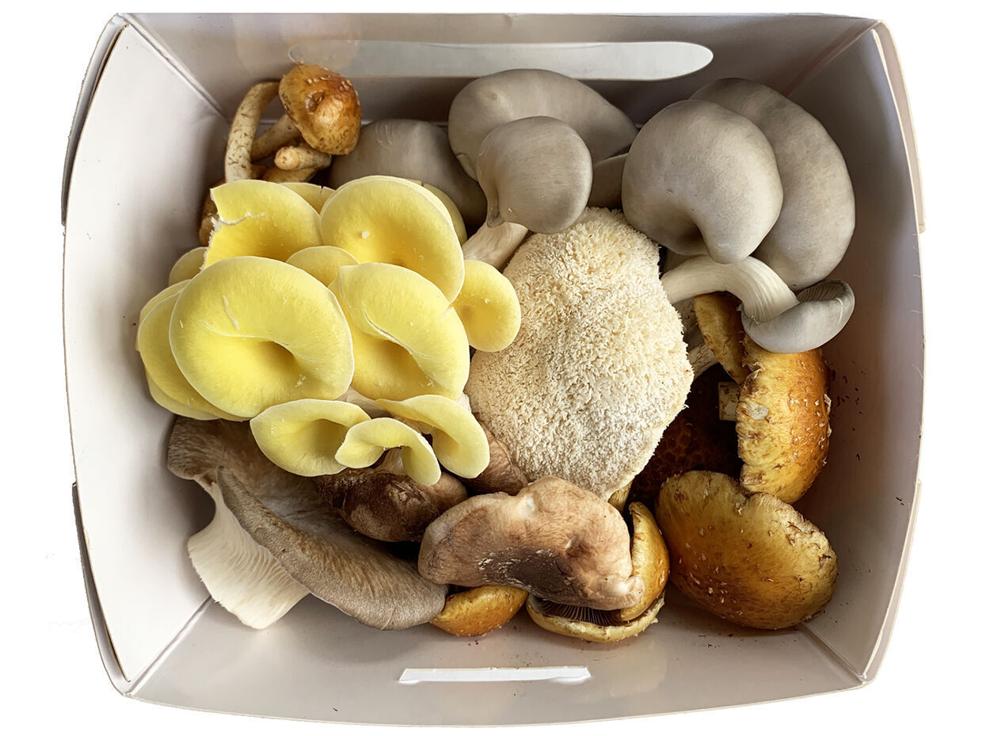 ---
The "ugly" mushroom: Increasing access to fresh, organic produce 
One night, when they were first starting to ramp up production, Robinson and Ramm found themselves with a 40-pound glut of lion's mane mushrooms a few days too old to take to market. "They got all wonky and weird," recalls Ramm. "That's not what we call prime mushrooms, but they were still very edible and fantastic." 
Inspired by the ugly food trend, they marked the imperfect mushrooms down to $15 per pound and put them out at the farmers' market, next to a homemade sign that read, "Ugly mushrooms need love too." They sold out within an hour, and the past-prime program became one of their most successful business ideas.
R&R currently sells hundreds of pounds of ugly mushrooms each month, some priced as low as $6 per pound wholesale. Their biggest buyer is North American Traditional Indigenous Food Systems, a nonprofit organization co-founded by James Beard Award winner, Sean Sherman, who is known in the region for his company, The Sioux Chef. Sherman developed the Indigenous Food Lab in Minneapolis, which includes a nonprofit restaurant and training center dedicated to revitalizing Native American foodways into tribal communities across North America. Here he incorporates mushrooms in soups and stews into the curriculum.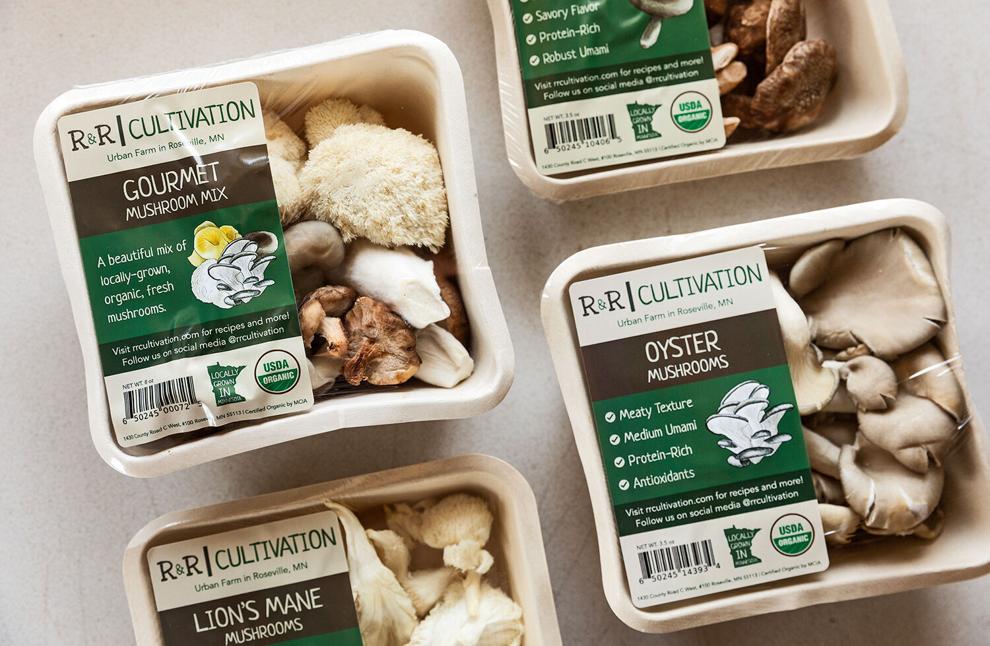 ---
A commitment to sustainable growth
To keep up with demand, Robinson and Ramm have started building more grow rooms. By year's end, they'll be able to harvest up to 5,000 pounds of mushrooms every week. They have big plans for their newly expanded space: converting the front office into a kombucha taproom. "I want to call it 'The Cap Room,'" says Ramm, who hasn't yet grown tired of mushroom puns. "As COVID lifts, we want to bring people in for tours and teach them about mushrooms — that's really where my heart goes."
Other plans for R&R's future include developing their own grain spawn and bringing as much of the production process in-house as possible. They also hope to start supplying produce beyond the Twin Cities and into neighboring states, while adding new specialty indoor crops to the roster. "We named the company R&R Cultivation because we don't want to just grow mushrooms," Robinson says.
Despite three massive expansions within their first three years of business, Robinson and Ramm remain committed to "scaling with care," their personal model for sustainability. "As we grow and are responsible for more people's livelihoods, we're making sure that we're always solvent, moving forward responsibly, and never cutting corners or compromising our integrity," Ramm says. For R&R, this means paying staff a living wage, financing with community-based lenders and constantly working to reduce waste. 
In a tough year for the local food economy, Robinson and Ramm are proud to have been able to hire so many new employees, most of whom worked in the restaurant industry before the pandemic. More than anything, the co-founders say they're still amazed every morning when they walk through the doors and reflect on the culinary venture they've built together, from the basement up.
"It's really exciting when you're growing food that people are eating," Robinson says. "It's so fun to know you're providing something that's actually useful. People are happy to buy what I'm selling, and it's just made me happy."