Colin Anderson, chef and owner of St. Paul, Minnesota's Eureka Compass Vegan Food, offered up several tips for preparing this creamy pasta recipe. He recommends choosing a pasta with plenty of flat surface area or nooks and crannies for the sauce to cling to, so avoid an angel hair or spaghetti. He adds, "Although it's not ideal, if you'd like to prepare this entrée last-minute and forgot to soak your sunflower seeds, add additional water to the pot when you heat it up to boil for the pasta. Pour enough boiling water over the sunflower seeds to submerge; allow them to sit at least 10 minutes before proceeding with the recipe."
Anderson loves this mild cream sauce because it's so adaptable. "The sunflower cream goes great with a more pungent green vegetable, so top the dish with grilled asparagus or roasted Brussels sprouts," he says. "Sprinkle with some fresh tomatoes or play with the herbs. Whatever's on sale or looks great at the market, throw it in!"
For his testing, Anderson used R&R Cultivation's one-pound discount ugly mushroom mix, but says they were anything but. "These are phenomenal mushrooms! Regardless, you are not displaying the produce on your wall," he jokes. "Maybe you are. I don't know, nor am I judging. But when you're at your farmers' market or working with a local grower, be that savvy, supportive patron who buys for flavor and nourishment, not for show!"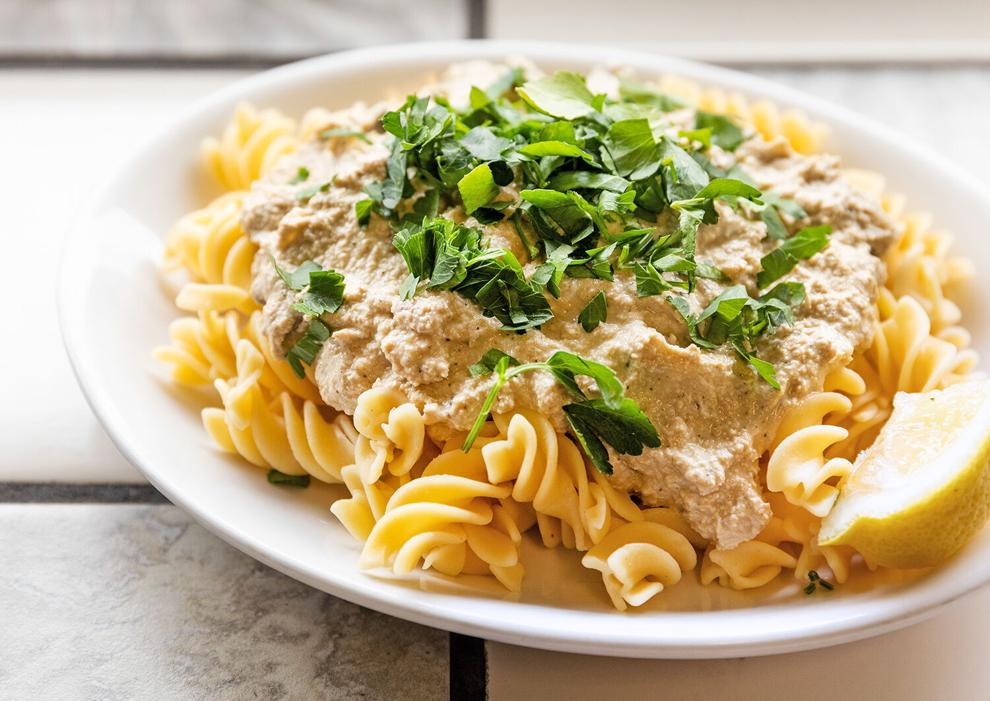 ---
Pasta with Mushroom-Sunflower Cream Sauce
salt
1 lb vegan pasta, such as fettucine, linguine, rotini, penne or shells
1 lb assorted fresh mushrooms, such as cremini (baby bella), trumpet, portabella, maitake, oyster or shiitake (stems discarded)
6 garlic cloves
1 large shallot
4 Tbsp extra virgin olive oil, divided
1½ cups raw sunflower seeds, soaked in water at least 2 hours or up to 24 hours
1 cup low-sodium vegetable broth, divided
½ cup plant-based milk, preferably a thicker variety, such as coconut or oat milk
¼ cup nutritional yeast
3 Tbsp white wine vinegar
2 Tbsp soy sauce or liquid aminos
2 tsp coarsely ground black pepper
1 tsp dried thyme
1 tsp onion powder
1 tsp granulated sugar (optional)
1 lemon, cut in half
1 cup fresh parsley leaves, chopped (½ cup)
Heat large covered saucepot of salted water to boiling over high heat. Add pasta and cook as label directs.
Meanwhile, coarsely chop mushrooms. Mince garlic and finely dice shallot, but keep separate on cutting board. In 12-inch skillet, heat 2 tablespoons oil over medium heat; add mushrooms and cook 5 minutes, stirring frequently. Add shallot and pinch of salt and cook 2 minutes, stirring frequently. Add garlic and cook 1 minute longer or until mushrooms are golden, stirring.
While mushrooms cook, rinse and drain sunflower seeds well, then transfer to blender. Add ¾ cup broth, milk, nutritional yeast, vinegar, soy sauce, pepper, thyme, onion powder and sugar, if using. Squeeze juice from 1 half of lemon into blender; add remaining 2 tablespoons oil. Blend on low, then slowly increase speed until mixture is smooth.
Add sunflower cream to skillet with mushrooms; reduce heat to low. Stir bottom of skillet to release any browned bits. Add remaining ¼ cup broth to blender; blend on high to "clean" the cream from inside of blender, then add to skillet. Cook sauce until heated through, stirring frequently. For a thicker sauce, cook a few minutes longer. Stir in salt and pepper to taste.
Drain pasta very well. Divide pasta between plates or shallow bowls; top with sauce. Or, if desired, toss pasta into sauce in skillet before serving. Cut remaining half of lemon into wedges; place on plate to squeeze over pasta. Sprinkle with parsley to serve.