History is making a comeback with themed weddings
Some brides have their eyes ever fixed on the pastel tones of Pinterest while others gaze longingly at the bodices and cloaks of yesteryear.
And while the typical wedding styles still reign supreme, the latter has become a more frequent wedding trend. From medieval attire to Victorian grandeur, historically themed weddings are popping up more often than ever.
For Raven Albrecht, who owns Ravenworks historical clothing store in Westgate Mall, inquiries for historical wedding garb increase from year to year.
"This isn't a wedding shop by any means," Albrecht said in late May. "But it's popular enough and becoming more so... I'd say I do about 10 or 12 weddings a year."
One such wedding is for bride Angela Rivera, of Milwaukee, on Aug. 19.
Rivera is having a Victorian-style wedding with a purple and black color palette. The small wedding party as well as Rivera and her groom William Michael Alexander were all outfitted by Albrecht.
After attending a Renaissance wedding, Rivera got the idea to theme her own big day in a similar way. It made the wedding an opportunity to have a bit more fun and dress up.
"I'm not really a traditional kind of bride," she said. "So I went to Raven and said, 'What can we come up with?' I wanted my colors to be purple and black, she found a Victorian dress and we went with it from there."
The men in the weddings, however, are not always immediately on board with the concept of historic attire.
With things like kilts in particular, not all guys are really enthusiastic about the getup, but sometimes when they try things on their attitudes change, Albrecht said.
According to Rivera, Alexander was one such man who wasn't thrilled with the idea.
"He was like, 'Ugh, I don't want to do this,' " Rivera said. "I told him to go see Raven. When I went to see Raven to pick up stuff, she put together a suit for him and he liked it. He was like a prancing peacock and he was all on board after that."
While historically themed weddings are still not all that common, the trend is undoubtedly growing — particularly with the Renaissance crowd.
In the last five years, the Bristol Renaissance Faire near Kenosha has averaged about nine weddings per operating season, according to Shawn Henry, whose job description encompasses numerous roles, including wedding coordinator.
Henry, with the company for 20 years, said weddings were not offered at the fair in the beginning, but now they are frequent.
"Out of the 19 days we are open this season, I have 16 days booked for weddings," Henry said via email. "I have about 20 couples that have inquired for the 2018 season."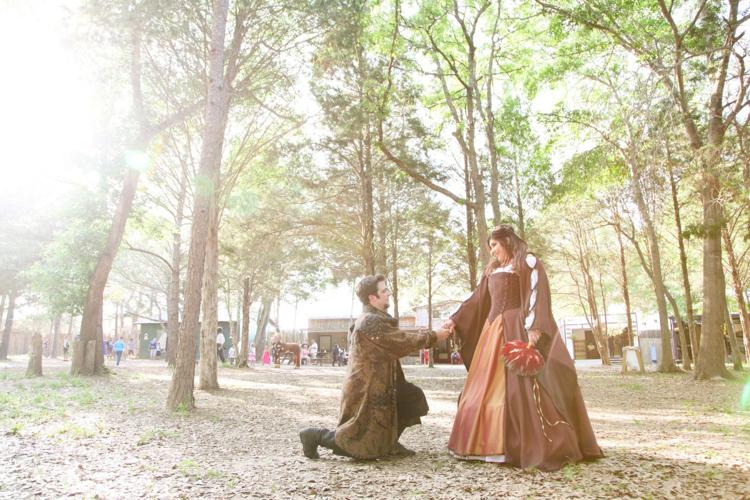 Catherine Clark, senior editor of Offbeatbride.com, said they received a boom of historically themed wedding submissions to their website when Renaissance fairs started hosting weddings.
Renaissance weddings were popular submissions for a while after that and have been about as frequent since 2010, Clark said.
Couples or vendors can submit their weddings to be featured on Offbeatbride.com.
Offbeat Bride was described by Clark as "the biggest weird wedding blog." Launched in 2006, the website offers alternative ideas for more non-traditional weddings and features similar resource guides as The Knot or any other popular wedding website.
Except, the vendors listed with Offbeat Bride are accustomed to — and welcome — unconventional ideas.
"Offbeat weddings in general indicate where the couple is embracing their interests and that is becoming more common," Clark said.
On a smaller scale, "it's easy to add in a small detail from a soundtrack from a movie or a reading that calls upon whatever their interests," she added.
For Albrecht's customers, that personal touch could be acquiring a dozen different hats for a photo booth area, which she said some of her clients have done.
While some betrothed couples aren't as interested in an elaborate historical shindig, there isn't a shortage of those who will go all out.
There was a point from about 2010 to 2013 when steampunk was a huge alternative trend and it "went a little crazy," according to Clark.
Historical submissions to Offbeat Bride range in time period, but Renaissance is the largest category with Victorian following close behind. Victorian-style weddings have, however, been popular longer, according to Clark.
Offbeat Bride has been posting submissions of Victorian-style weddings since its inception.
'We just got creative'
Rivera's Victorian August wedding will be a colorful garden party event at a nature center. It will incorporate as much Victorian culture as possible without going over the top.
There will be an archway decorated with purple lights and tulle which the couple will be married under and a traditional catering menu with color-coordinated table linens, Rivera said.
"We don't have a lot (of decorations), we just got creative," she said. "... We're doing hats as well as Victorian-style boots and I have a hoop skirt. The attire for us is the biggest element and we built everything else around that."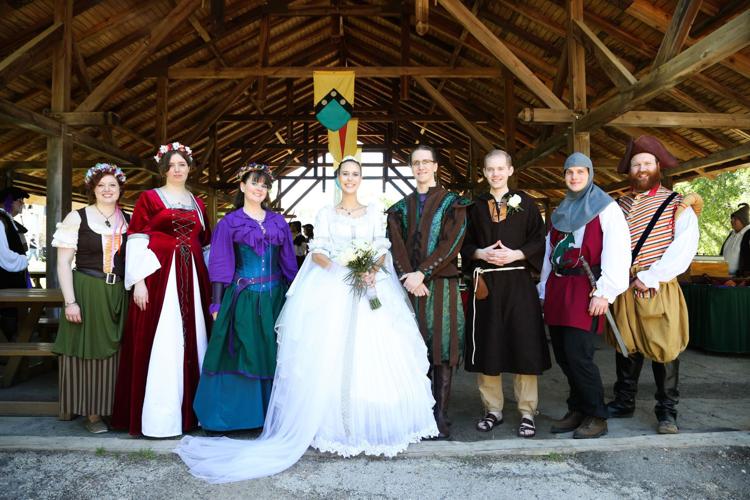 For many couples, attire can be one of the major wedding expenses, but that doesn't necessarily have to be the case with historical clothes.
It's easy for couples to price themselves out on what they're wearing, but even getting custom-made historical corsets or gowns can be cheaper than traditional outfits, Clark said.
Albrecht echoed that point and said that some of her dresses off the rack were $250 and custom-made Renaissance dresses were just shy of $1,000.
But with more couples getting married later in life, the cost comes with the chance to make their weddings unique.
"Couples are getting married a little older than they used to, which means they are partially or entirely self-funding, which gives them more control over the details," Clark said. "They are less pressured for traditions which might not fit.
"We love that couples are feeling more confident to embrace their interests and fandoms and what makes them tick as couples and individuals."
Doing something out of the ordinary was exactly what Rivera wanted; she encourages other engaged couples to do the same if they want to.
Because it's about celebrating and not being pushed into a traditional box.
"Go with whatever you're comfortable with and use your imagination," she said. "Your wedding day is about you and what you want to be special. That can be just about anything. Have fun and make it a joyous occasion."