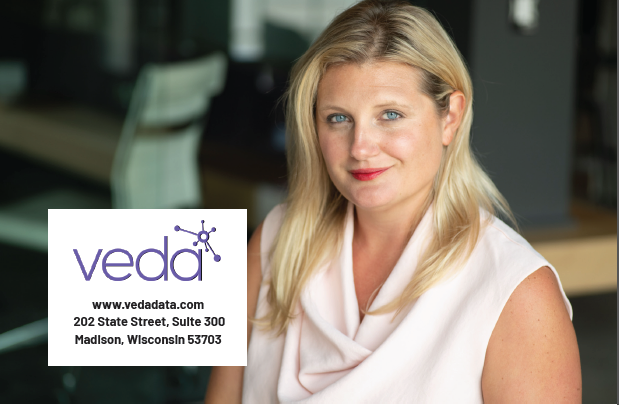 SPONSORED PROFILE 
VEDA CO-FOUNDER IS PASSIONATE ABOUT THE INTERSECTION OF ARTIFICIAL INTELLIGENCE, HEALTHCARE AND WOMEN IN TECHNOLOGY 
Veda Data Solutions co-founder and political en­trepreneur Meghan Gaffney was working in Wash­ington, D.C., while the sweeping Affordable Care Act was being crafted. It was an exciting time, with widespread anticipation among policy makers of finally seeing a "more modern" U.S. healthcare system.
But there was a giant elephant lurking in the room that few wanted to acknowledge: the $1 trillion spent annually just on administrative costs.
Seeing an opening, Gaffney in 2015 teamed with astrophys­icist and University of Wisconsin - Madison grad Bob Linder (who did some work for NASA) on a system using artificial intelligence to automate health care data for providers and payers. The start-up received $8 million in early stage funds, including backing from Madison-based HealthX Ven­tures in 2020, and recently landed another $45 million from a Connecticut venture capital firm.
Six of the nation's top 10 health plans already use veda and the company expects to grow its customer base seven-fold by the end of next year. Providers using veda can save from 70 to 90 percent in administrative costs.
A graduate of St. Louis University with a degree in political science and government, Gaffney is a passionate advocate for artificial intelligence and machine learning and believes it will create unprecedented economic opportunity for the U.S. and the world. She counts over 15 years of experience working with federal and state elected officials along with other key organizations consulting on various technology opportunities.
Veda is headquartered in Madison with nearly 50 employ­ees and expects to double that number in the next year.
So what makes Madison such an attractive place for healthcare IT? Did it all stem from Epic Systems?
For starters, Madison has the entrepreneurial spirit and grit for new businesses of any kind to grow and succeed. Epic certainly set the stage but it's just one example of the thriv­ing tech sector that's grown from the unique combination of cutting-edge research and a rich healthcare ecosystem coupled with an affordable, business-friendly community. University of Wisconsin Madison graduates are highly-mo­tivated workers from all backgrounds and veda owes much of our success to the university's investment in research. My co-founder and chief technology officer, Bob Linder, was a researcher in the astronomy department, where veda con­tinues to recruit alumni talent with top-notch data science skills. Madison is also home to quality healthcare systems, fueling innovation by providing access to clinicians and other stakeholders. This is important when you're looking to build relationships with – and solutions for – this incred­ibly complex industry. Additionally, Madison's affordability means companies can grow here and employees can thrive with a high quality of life. Our hybrid team is committed to building our home in Madison where we have our head­quarters and recently doubled our State Street office space.
Local start-ups have in the past found it difficult to raise venture capital (VC) in this region. Is that still an issue?
Money follows success and tech companies here are thriv­ing. Madison has produced a growing number of successful startups and exits, putting the area on the map for ven­ture capitalists. It's also increasingly recognized as a top contender to become a leading innovation center. In 2019, the Brookings Institution and the Information Technology and Innovation Foundation ranked Madison first out of 35 cities with the potential to become innovation hubs. All of this has driven interest in Madison from investors across the country who are increasingly looking beyond the typical coastal areas for investment opportunities and connecting with local VCs like HealthX Ventures to source their next major portfolio. That's exactly what happened to us and we wouldn't be where we are today without the HealthX team and support from the Madison community.
What attracted you personally to the Madison region?
For veda, Madison was an obvious choice with our ties to the UW. The area is very rich in culture and values and is unmatched when it comes to health IT talent. But beyond the business benefits, Madison has a vibrant art, music and food scene. I love grabbing brunch at Sardine or a bottle of wine from Square Wines. My aunt is a painter and I love visiting galleries and museums; the Madison Museum of Contemporary Art and Watrous Gallery are favorites of mine. I've also really grown to appreciate the area's natural beauty with plenty of opportunity for outdoor life. I'm even adjusting to the winters, although I'm still not quite ready for ice fishing!