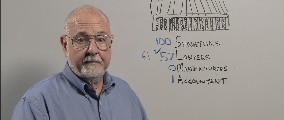 Q: In his TV ad, Republican U.S. Senate candidate Ron Johnson stands in front of a white board and states, "There are 100 US Senators, 57 of them, including Russ Feingold, are lawyers. There is one accountant and no manufacturers." What about the other 42 Senators? What are their occupations? —Erich Huelsemann, Mazomanie
A: It's hard to come up with an exact accounting since people do different things over the course of their lives. But a search of the Congressional Directory gives some answers.
First, if you count anyone with a law degree as a lawyer, we found 61 senators meeting that criterion. But four of them are better known for other careers so 57 is certainly a reasonable number.
The Directory also revealed the identity of the accountant. He's Senator Mike Enzi, Republican of Wyoming.
There's a tie for the next most common occupation after lawyer. We found seven senators with general business backgrounds, and seven who were state and local officials, elected and otherwise.
Third place: educators. There are five of them.
There are four legislative staffers, who used to work for a member of Congress.
There are two people who worked in financial professions, two people who sold real estate and two doctors.
One of a kinds? A career military officer, one social worker, one veterinarian, one comedian, and one journalist.
Add back in the four lawyers who Johnson counted some other way and that adds up get to 99 senators. That's where we spotted a problem with one of Ron Johnson's other claims.
The candidate says there are "zero manufacturers."
How does he solve the problem with Maria? That would be Senator Maria Cantwell, Democrat of Washington. She was an executive with a computer software company. A manufactured device won't work without it. In the early days of computing there was no software. Instructions were hard wired into the system. Several online directories of "software manufacturers" categorize by hardware and software. Thus, Senator Cantwell arguably is a manufacturer. And, we found two others who might qualify as such.
We counted Senator Ed Kaufman as a legislative staffer because he worked for Joe Biden who he replaced when Biden became vice-president. Kaufman is a mechanical engineer who formerly worked for DuPont, a chemical manufacturer.
And before he became one of the doctors, Tom Coburn of Oklahoma was, according to the Congressional Directory, manufacturing manager of Coburn Optical Industries, making eyeglass lenses. Like Ron Johnson, he was in the plastics business.