After feeling a bit out of sorts on the day before filming the latest episode of "The Holiday Baking Championship," Jennifer Barney surprised herself and rose to the occasion with a triple-layer dessert that wowed the judges.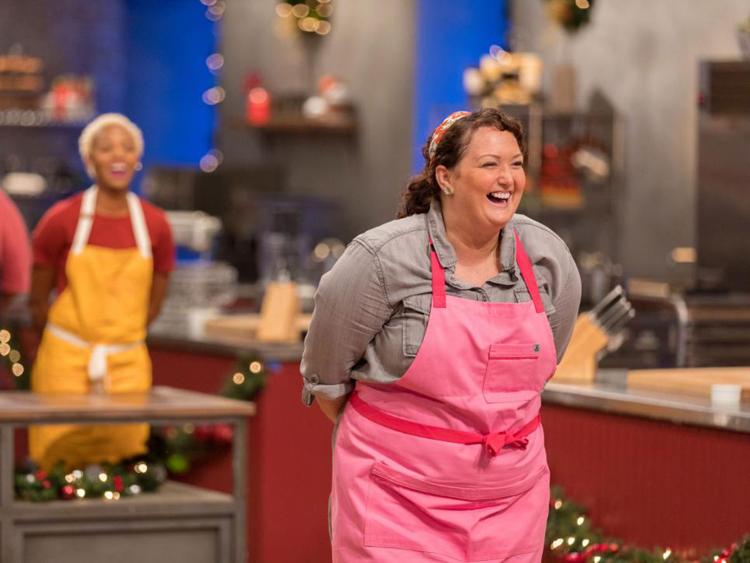 After being declared the winner of the Main Heat Challenge of the episode aired Monday night, the Stoddard baker acknowledged Tuesday, "I started crying. It had been a long day — very stressful. Then I thought, 'Holy moly, how cool.' I think it was a huge relief of negative energy, and a huge confidence builder."
As differentiated from the Pre-Heat contest, the Main Heat is the one in which the bakers in the Food Network show find out who has to go home and who gets to stand the heat of the kitchen for another week.
The episode required the bakers — don't call them cooks or chefs, or they'll beat you like an egg white — to work in teams of two.
The Pre-Heat did nothing to settle Barney's nerves, though, after she and partner Stephany Buswell of Santa Cruz, Calif., a pastry arts instructor at the International Culinary Center, produced the required dozen seasonally shaped hand pies within 90 minutes. Theirs were maple pecan apple pies the judges praised for taste but severely rapped for appearance, which Barney and Buswell had intended to be wreaths.
One judge stated bluntly that the pies looked like tornadoes, which prompted a disappointed Barney to observe later, "Nobody wants to hear that their plate looks like a tornado."
In hindsight, Barney said she and Buswell had worked well together, but both had a hand in the decorating. Their visions clashed, resulting in what even Barney described as "a hot mess."
The lesson she filed in her recipe Rolodex was that the pairs who did better split duties — one baking, and the other, decorating, said Barney, a Chippewa Falls native who operates her own business, Meringue Bakery, out of her home in Stoddard.
Pre-Heat winner was Joshua Livsey, an executive pastry chef who won the Main Heat last week and the other contestants view as wunderkind. He was entitled to pick the pairs for the Main Heat, and Barney, who still was chagrined from the tornado crack, lit up like a Christmas star when he chose her.
"Josh picked me, and that was a huge compliment," she said.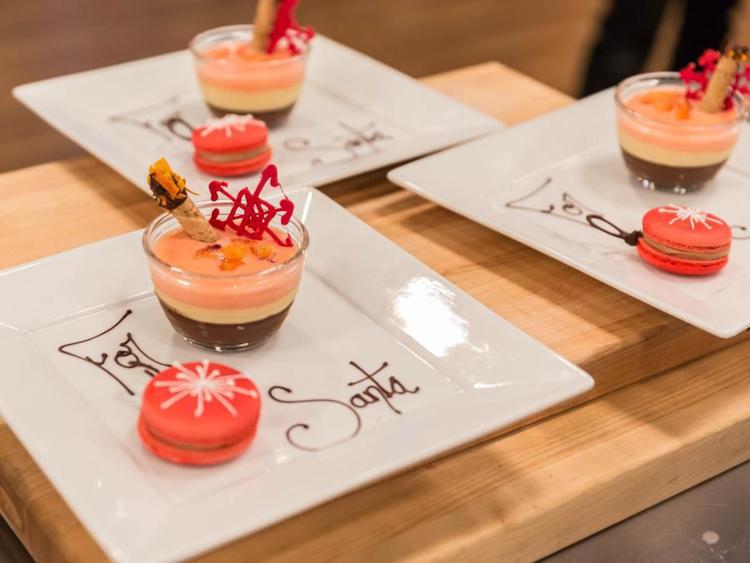 The assignment was to produce a complementary holiday dessert duo in 90 minutes, and Barney credited Livsey with the concept of portraying cookies and milk set out for Santa.
Livsey began making macaroons to portray the cookies, while Barney set out to craft a dessert that would be cast in the role of milk on the plate.
Host Jesse Palmer asked Barney to rate her stress level, to which she replied, "Ten — I've got a lot to do in a little time."
The contestants are learning the show's creators like to throw curves, and they didn't disappoint. The bakers were roughly halfway done with their desserts when Palmer announced that they had to include eggnog as further homage to the season.
That required some to pour out nearly finished mixtures and others, to adjust.
"After I got over the initial shock, it turned out to be one of the best twists for me," said Barney, a graduate of the internationally acclaimed Le Cordon Bleu College of Culinary Arts who was head pastry chef at The Waterfront Restaurant and Tavern in La Crosse before starting her own business.
"Eggnog, orange and chocolate go well together. Originally, I was going to make a fluffy meringue topping that was going to look like milk froth, but I had to scrap that idea and transition into an eggnog pudding," she said.
Thus, the three layers were a chocolate budino on the bottom, a blood orange pudding in the middle and the eggnog topping.
"It was a standard vanilla stovetop custard that had a lot of rum and nutmeg added to it," explained Barney, who also had intended to craft a handmade straw by pouring tempered chocolate into a plastic straw.
"I was hoping that the chocolate would contract when it set and it would pop right out," she said. "In my mind, it was supposed to be epic" — sticking out of the milk for Santa to use to sip.
Unfortunately, it was an epic fail, leaving her scrambling for a substitute. She opted for a rolled wafer cookie, which made the judges laugh from their bellies like bowls full of jelly — derisively.
"They told me it looked like Santa left his cigar in my glass," said Barney, who also was disappointed in the red snowflake she had crafted, saying on the show that it looked like a spider web.
Her ego was as deflated as a sagging soufflé when she stood before the judges, partly because she hadn't even had time to taste her dessert before sacrificing it to the arbiters of her fate.
"I was feeling very defeated, especially because I was standing next to Joshua, who is really talented and has quickly become the person to look out for," she said.
Her confidence wavered more when judge Lorraine Pascale, who was a chef in Britain, said, "I'm not really a pudding type of person."
After a dramatic pause, Pascale said Barney had done a fabulous job.
Judge Duff Goldman, aka the Ace of Cakes, hailed her dessert as "big, bold and pleasing."
And judge Nancy Fuller, known for recipes on her own show, "Farmhouse Rules," said simply, "It was like eating silk."
Barney shook off her glumness from her garnishes, knowing that she had found that the more direct route to the judges' hearts was through their stomachs rather than their eyes. On the other hand, she said, "They were very impressed with how the layers of pudding had perfect lines."
In the end, the ayes had it, as the judges pronounced her winner of the Main Heat, surviving another round that has whittled the original cast of nine bakers to seven.
But she remains rattled, knowing that her time on the show is only as good as her next creation. Of course, she and the other contestants already know who eventually wins the $50,000 as top baker, but they are sworn to secrecy.