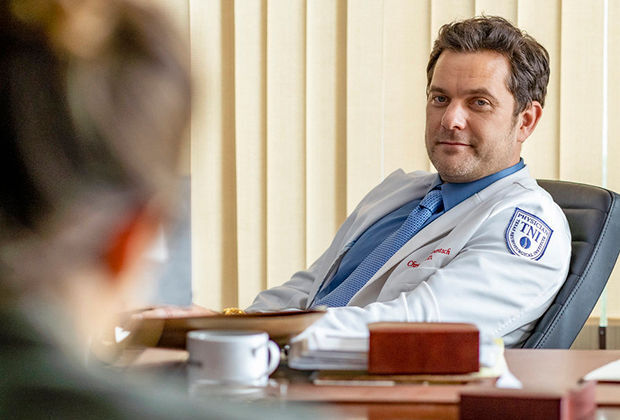 Sorry, "Candyman." Close but no cigar, "Old." Maybe next time, "A Quiet Place."
While this summer's horror movies are doing their best to scare us, none of them will come close to giving me the chills that the operating room scenes in the new Peacock series "Dr. Death" do.
And it's not even that scenes of Dr. Christopher Duntsch (Joshua Jackson) performing spinal surgeries are that bloody or gory. It's that Duntsch is dangerously incompetent. Using stomach-turning sound effects and the horrified faces of the nurses around the table, it's terrifying to watch Duntsch botch one surgery after another. At several points, I had to turn away as Duntsch was grunting and swearing like he was unclogging a kitchen sink drain rather than performing delicate surgery on an unsuspecting patient.
The eight-part "Dr. Death" is based on the hit true crime podcast from Wondery of the same name. It's visceral moments like these that bring the case to life, to make us understand how awful his deeds were. Duntsch was accused of killing or maiming 33 patients in a three-year period, somehow escaping scrutiny as he hopped from one Dallas hospital to another.
The show begins in 2012, near the end of Duntsch's reign of error, as two doctors (Alec Baldwin and Christian Slater) who are determined to stop Duntsch from entering an operating room again. But they face a health care system designed to protect doctors, and the charismatic Duntsch knows how to use it, how to present an air of confidence and certainty even with evidence piling up against him.
Later episodes dig deeper into Duntsch's life through flashbacks, but the show never quite answers the question posed by Baldwin's character early on: Was Duntsch incompetent, or a sociopath? Jackson's layered, canny performance suggests a bit of both: that Duntsch was a raging narcissist unable to face the truth that he was dangerously bad at his job, as well as more concerned with his reputation than the well-being of his patients.
Jamie Dornan of "Fifty Shades of Grey" was originally cast to play Duntsch, but had to drop out when production was delayed due to COVID. I think Dornan's history of playing dark characters would have worked against him as Duntsch. We need to believe that patients would put their trust in Duntsch, and Jackson, best known for the '90s teen drama "Dawson's Creek," still has an appealing boyish charm that garners immediate (if unearned) trust.
As we try to convince the reluctant to get the COVID-19 vaccine, it may not be the most opportune moment to release a show about a runaway doctor and the medical establishment that protects him. Yet ultimately, "Dr. Death" is a show not about distrusting all doctors, but about holding the bad ones accountable.
Also on streaming: It's "The Bachelor" meets "The Masked Singer!" That had to have been the pitch for Netflix's new dating reality show "Sexy Beasts," which premiered Wednesday. The show follows folks looking for love as they go on first dates in full prosthetic makeup, looking like a dolphin or a rooster or something. The idea, I guess, is that beauty is only skin deep. But what if somebody really likes the idea of dating a dolphin lady?
It's a big weekend for sports fans. The 2020 (not a typo) Summer Olympics get underway, and Friday also brings Season 2 of Apple TV+'s surprise hit "Ted Lasso," starring Jason Sudeikis as an indefatigable American football coach who takes charge of a flailing British football team. The show's first season was a welcome shot of heartfelt optimism in the lockdown summer of 2020, and the early word is that the second season delivers the biscuits (just like Lasso himself).