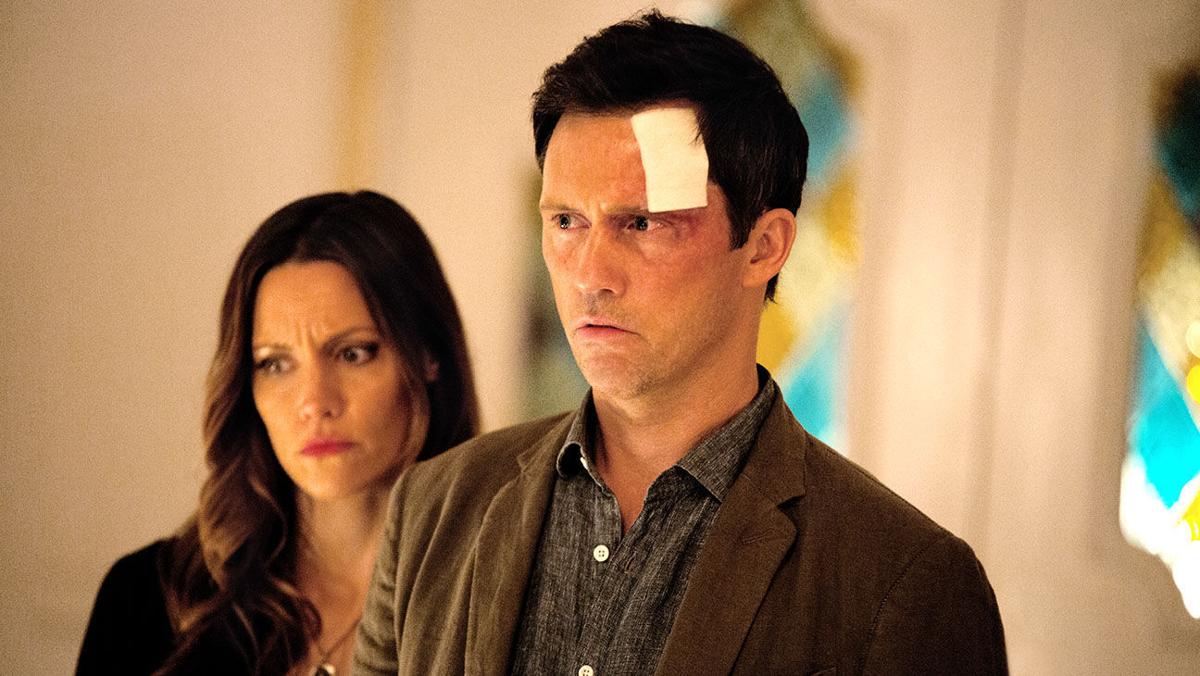 Do you like dramas with violence, sex, black humor and just a whiff of the supernatural? Do you subscribe to Hulu? If both are true, then I can confidently predict you'll give the new series "Shut Eye" a shot.
That psychic reading was free. But the characters in "Shut Eye" — which debuts its first 10-episode season on Wednesday — aren't so generous. They're fake psychics — con artists who break out the tarot cards and tea leaves to profess to tell people their futures.
Of course, it's all bunk, a combination of intuition, observation, misdirection and telling people what they want to hear. As Charlie (Jeffrey Donovan) says in the opening episode, the smart bet is to tell people under 40 they're about to meet their soulmate, and tell people over 40 that something bad is about to happen to them.
Charlie is a former Vegas magician who has adapted well to the world of psychic readings, working on behalf of a fearsome Romany (gypsy) family in Los Angeles. Charlie and his ambitious wife Linda (KaDee Strickland) are getting a little tired of turning over a big chunk of their ill-gotten gains to the family enforcer Fonzo (Angus Sampson) and matriarch Rita (a delightfully sinister Isabella Rossellini). So they start working their own side scam, planning to bilk a rich housewife (Mel Harris of "Thirtysomething") out of a fortune.
The big twist in "Shut Eye" comes when Charlie is beaten by the jealous boyfriend of a client. He sustains some brain damage and, apparently, starts having psychic visions for real. But unlike the phony visions he tells to his clients, he often can't make sense of these cryptic real visions. Why, for example, does he start seeing melting doughnuts everywhere in the second episode?
I really like Donovan, an actor who can slip easily from hero ("Burn Notice") to villain (the second season of "Fargo"). Here, he's somewhere in between, a bad-but-not-so-bad guy starting to have flashes of conscience that go along with his legitimate newfound gifts. When he's able to use his psychic powers to correctly diagnose a client's son, the look of satisfaction at actually helping someone is genuine. But he's also happily conning that rich housewife.
Some of the supporting characters on "Shut Eye" are too one-dimensional, especially the snarling Fonzo, who acts like he's watched "Scarface" one too many times. And the first four episodes that Hulu made available for reviewers felt bogged down in unnecessary subplots, such as Charlie and Linda's son's attempts to buy drugs for a girl at school.
I'm not a fortune teller, so I can't see whether these strands will come together in a satisfying way. But the series is entertaining enough — smart, sun-baked and nasty — to keep me watching for a while.
Also on streaming: My youngest daughter will be very happy to learn that the second season of "Fuller House" will premiere on Netflix on Friday. The series visits the grown-up daughters of the dads on the original '80s show "Full House," dealing with a lot of the same issues with a lot of the same jokes.
Acorn TV, the go-to streaming site for British and Australian television, has started creating its own shows. One of the first, "The Level," is a tightly wound, six-episode miniseries starring Karla Crome as a detective whose secret life threatens her career. Car chases, foot chases and gunplay ensue. It premieres Monday on Acorn.tv.
What's it like to be a Muslim in President-elect Donald Trump's America? The web series "The Secret of Life of Muslims" is a documentary series that tries to answer that question with humor and empathy. The program attempts to battle Islamophobia by profiling real Muslims, including a stand-up comedian and an Army chaplain, or highlighting a different aspect of Muslim culture. Episodes of the show can be found on Vox's YouTube page.