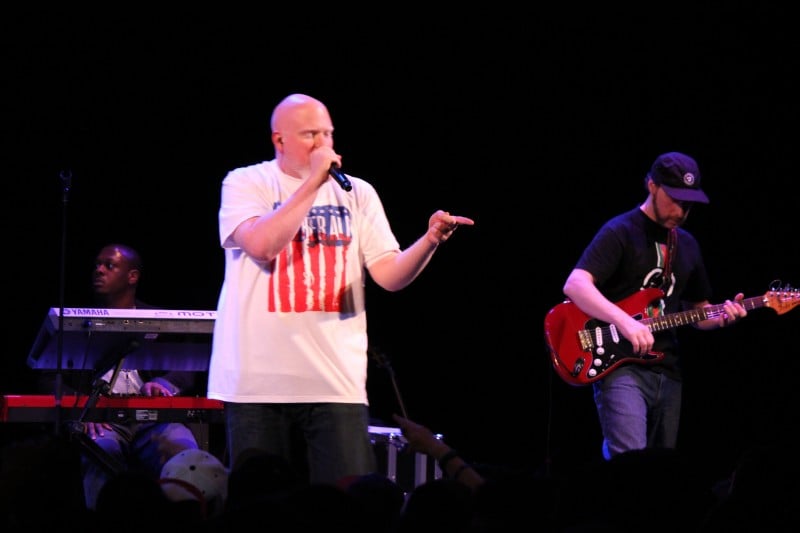 A prominent Midwesterner came to town yesterday preaching a message of hope and change.
No, not President Barack Obama, who stumped for a crowd of thousands under gray skies at UW-Madison's Bascom Hill Thursday afternoon. We're speaking instead of Madison-born, Minneapolis-based rapper Brother Ali, who performed for a mid-sized crowd at the Barrymore Theatre later the same evening.
Ali, touring in support of his politically charged new album, "Mourning in America and Dreaming in Color" (Rhymesayers), held court for nearly 90 minutes, dropping verses that touched on a litany of topics that have dominated the public discourse in recent months, including women's rights, the plight of the working class and the culture of corporate greed.
The rapper, decked out in one of his own tour T-shirts (here's hoping it was laundry day in the Ali household), didn't shy from expressing his unfiltered views on these topics and more — an unfailingly honest approach that gives him a leg up on most modern politicians.
On "Letter to My Countrymen," a song that could double as the MC's State of the Union Address, he laid out his platform in full. "I know that the masses want to sleep/And they would rather just hear me rapping to the beat," he rhymed atop a minimalist backdrop of keyboards and guitar. "But I want to pass this planet to my son/A little better than it was when they handed it to me."
In turn, many of Ali's songs took on a more humanistic, populist tone, with the rapper transforming even his most bruised declarations (the harrowing abuse tale "Babygirl") into inspirational rallying cries.
"All these songs are based on my pain and my suffering," he announced in one extended monologue near the close of his set. "By sharing that suffering we know we are not alone."
While the rapper's verses were meant to spark the brain, his agile five-piece backing band, which included a three-piece horn section, ensured the body was never forgotten, and songs flirted with everything from funk to soul to psychedelic rock. "Uncle Sam Goddamn," an explosive political screed, rumbled through like a passing artillery battalion, chunky guitar riffs hitting as forcefully as Ali's molotov cocktail flow. The band flashed a lighter touch on "The Preacher," dipping into strutting '70s funk that conjured images of Don Cornelius conducting the "Soul Train." "Say Amen" fell somewhere between the two, concrete slabs of guitar gradually giving way to a trippy keyboard solo.
Occasionally the music played counter to Ali's words (the tanker-heavy rhymes of "Babygirl," for one, were leavened by spacy guitar and weightless flute), but more often than not the instrumental flourishes doubled as aural punctuation marks. When the rapper dropped a line about America's "culture of deceit" on "Fajr," a feedback-drenched guitar riff rushed to greet him, acting as a snarling exclamation point.
While Ali's songs were rooted in hard times both personal (the shattered divorce anthem "Walking Away") and political ("Mourning in America," which eviscerated our country's long-standing culture of violence), even his darkest tunes contained kernels of optimism that glowed like embers amidst the ash. In that spirit, the rapper spearheaded inspirational call-and-response chants ("If you're happy to be alive say, 'Hell yeah!'") and spiked his verses with lines that hinted at a dawn set to appear following the long, cold night.
"I want to make this country what it says it is," he pledged on one number, sounding a bit like a would-be politician. This time the Barrymore. Next time Bascom Hill?