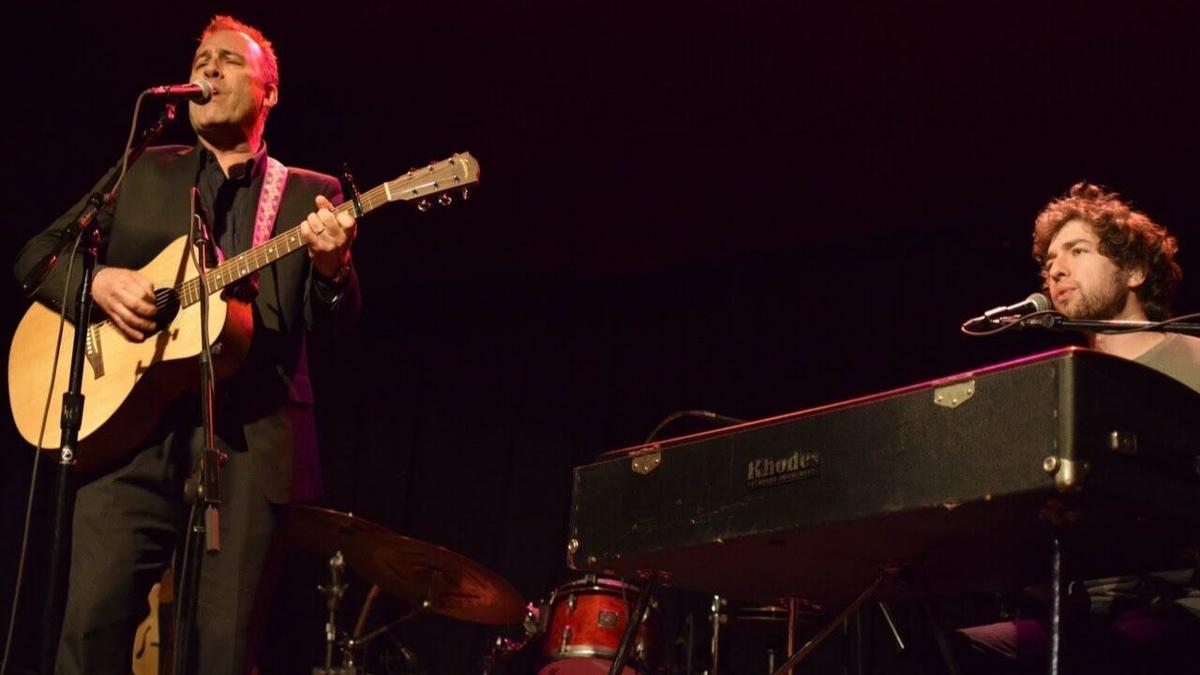 It's Monday morning on a back porch in Madison's Atwood neighborhood, with the usual east side soundtrack of screaming F-16 jets overhead and construction crews rumbling in the streets.
Then a new, sweeter sound rises against the cacophony. Musician Ritt Deitz and his son Wilder, with Ritt's niece Sophia Delaney harmonizing, play a lovely version of the gospel tune "When He Reached Down His Hand For Me" for an audience of one.
Music has been intrinsically linked with family in the Deitz household for generations. Deitz grew up in the Ohio River Valley in Kentucky; his great-great-uncle played in a popular Cincinnati band, his great-grandfather was a banjo player, and his father and uncle would harmonize together at family gatherings.
"We sing a lot at family gatherings, both on mine and my wife's side," Ritt Deitz said, then addressed Wilder. "I think it's fair to say there's a pretty good amount of music in your family that way."
Ritt Deitz, who also directs the Professional French Masters Program at the University of Wisconsin-Madison, is an acclaimed singer-songwriter who has been compared to Greg Brown and Bruce Cockburn. Wilder Deitz is an eclectic musician who plays jazz and hip-hop, and who founded the Wilder Deitz School for Creative Music in January.
They estimated they've played thousands of songs together over the years. But they've never made a proper father-son album together. Until now.
They used the pandemic year to arrange some songs, some written by Ritt and some written by Wilder, for an album they plan to record this fall. They will debut some of the songs when they play a backyard house concert on Friday night, their first proper live show since before the pandemic, not counting a socially distanced front porch show for family and friends.
Wilder said he started playing in his father's band when he was 8 years old, but by the time he became a teenager began exploring other music beyond Ritt's rootsy sound. "The neat trick about it is, looking back on how I got interested in music, the whole time it felt like my idea. I was given space to be into the music that I liked.
"I started leading my own bands and playing with my peers. And we were listening to all kinds of rock 'n' roll and hip-hop. My buddy Joe and I would listen to nothing but Smashing Pumpkins for a year-and-a-half. My dad would maybe wince at something he was not particularly into, but at the end of the day, it all came home."
Ritt said the breadth of Wilder's tastes and experience enriches the songs they write and arrange.
"It's like having an orchestra," he said. "I'll write a song and bring it in, and say, 'Here's how the chorus goes.' And he'll go, 'I know what the chorus is.' So the apple doesn't fall far from the tree. When you spend a lot of time together as a family, you start resembling each other a little bit."
Ritt and Wilder said being father and son, and having made so much music together, allows them to have an instinctive shorthand with each other when working on a song.
"There are probably a lot of ways in which we're not even really thinking about it," Wilder said. "We kind of know what the other's expecting, in some ways, so we don't even have to really talk much about it."
"It's great press when you have a Springsteen and his father dynamic going on, and there are guys getting drunk and fighting in the kitchen," Ritt said. "But frankly, there's nothing like that. Wilder believes in serving the song. I believe in serving the song. It's like we have a limited amount of time in the morning, and some really good new songs. And we want them to leave better than when they came in."
Ritt and Wilder plan to start recording the new songs in the fall, with the intention of releasing the as-yet-untitled album next spring. Ritt said it's imperative that they play the new songs live before an audience before they are recorded.
Wilder's other focus in 2021 is on his music school, which he envisions as a creative space where children can take music lessons and grown-ups can play together, with everybody drawing inspiration and energy from each other. Much like how different generations of Deitzes have inspired each other to play music.
"It's essentially a training gym for musicians," Wilder said. "These are mostly people who are elite amateur players, people who have a demonstrated investment in their instrument who want space, equipment and people to play on and with. Then we do classes and lessons sort of below that. Every kid who comes in is learning piano surrounded by older kids and adults who are doing creative music at a very high level."