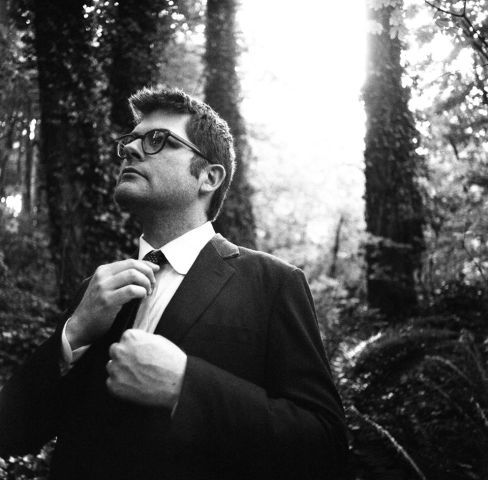 When Colin Meloy said he has a "long and checkered past" with Madison, he wasn't just talking about all the plaid shirts he and many audience members were wearing at the Majestic Theatre on Tuesday night.
Meloy and his band The Decemberists have been a favorite of Madison since they first played the Catacombs in 2004, and had to hunker down with the audience during a tornado alert. Since then they've sold out the Orpheum Theatre and Overture Hall, and Meloy has brought his solo tour to the Barrymore Theatre.
Meloy seemed a little cranky at that Barrymore show, but he was in high spirits before a packed Majestic on Tuesday night, leading sing-alongs of favorite old songs, debuting a couple of new songs, and exuding general merriment. Meloy said he was just taking a break from the Decemberists, and still loved them dearly, but a solo tour meant "all the more hummus backstage for me."
Holding court with an acoustic guitar and a bottle of red wine, Meloy leaned heavily on songs from the two Decemberists albums that came out since he last played solo in Madison. The folksy songs of 2011's "The King is Dead" were perfectly suited for a solo acoustic setting, starting with the lovely "January Hymn" and moving to the foot-stomping "Calamity Song." Before the song, Meloy said the melody originally came while he was singing to his son urging to eat his breakfast, and revealed the original lyrics, "Hank, eat your oatmeal."
But the songs off the 2009 prog-rock opus "The Hazards of Love" worked nearly as well, from the woeful twang of "Hazards of Love 4" to the jagged "The Rake's Song," which had the crowd singing merrily along as Meloy's narrator sang of murdering his children.
Fan favorites included a jaunty version of "The Sporting Life," which Meloy admitted was at least semi-autobiographical about his failed experience in youth athletics, and a flat-out beautiful coupling of "The Engine Driver" and "On the Bus Mall" off "Picaresque."
Meloy always releases a tour-only EP of himself covering another artist, and this time around it was a five-song EP of Kinks covers. He played the jaunty "Harry Rag" for the crowd, daring them to guess what Ray Davies was singing about. (Judging by the odor that could be discerned now and then, a couple already knew.)
Meloy also debuted a couple of new songs that will likely find their way onto a future album. "Why Would I Now" was an earnest declaration of fidelity, while the other song was a saucy entreaty from a young lad who wants to get to whatever the Victorian equivalent of third base is with his girlfriend.
Meloy joked that it could be a "hot summer jam," although the fact that the girl's name in the song is Philomena may dampen its chances of being the next "Blurred Lines."
If a musician named Eleanor Friedberger didn't exist, Meloy would have had to invent her as a character in one of his songs. One-half of the brother-sister duo The Fiery Furnaces, Friedberger played a bracing solo set on electric guitar.
While the Fiery Furnaces songs are often jagged, candy-coated art-pop nuggets, Friedberger's solo songs are warmer and more expansive, and the mix of the two made for an intriguing 40 minutes.