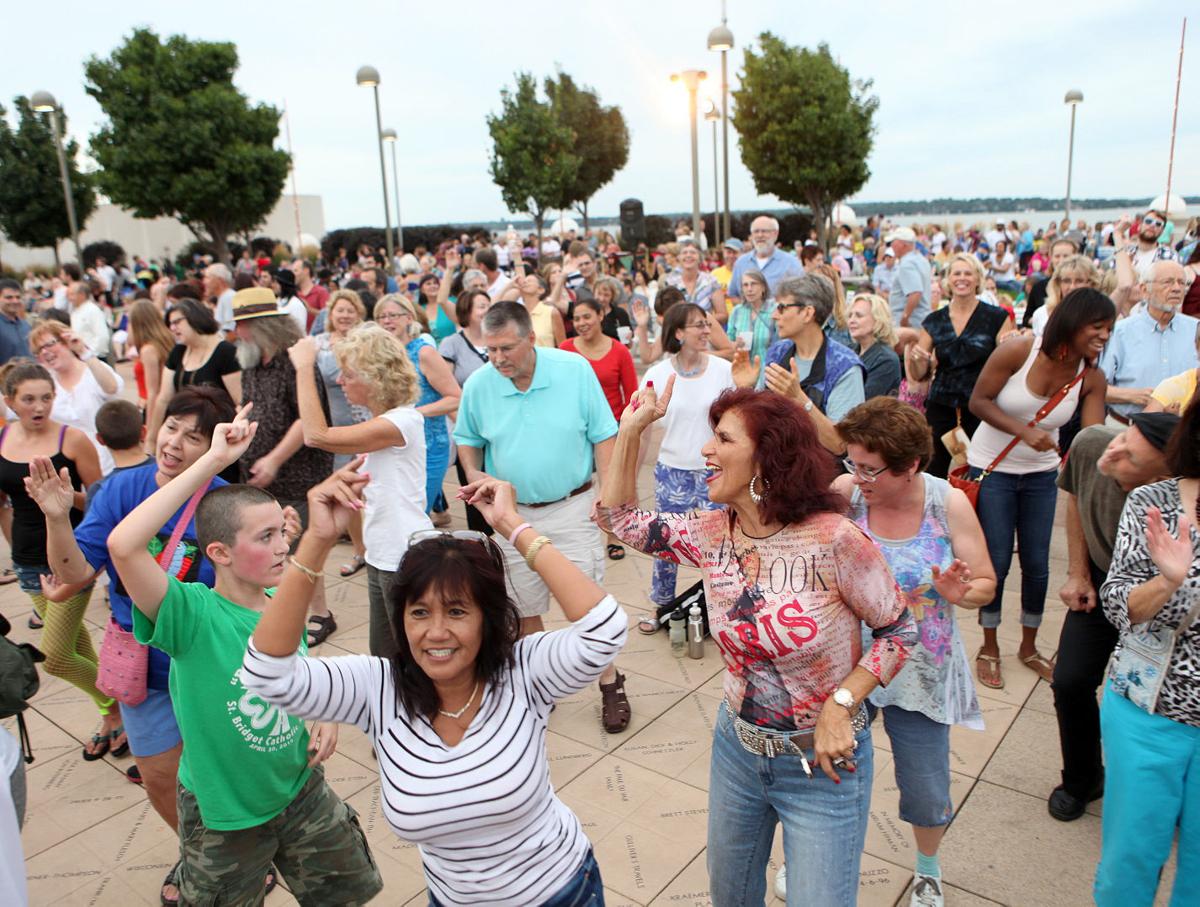 Dane Dances, the free Monona Terrace rooftop series, will be back at full strength on Friday nights in August.
"This is a great opportunity to bring the community back together for a joyous social event," said Al Cooper, Dane Dances board president for 10 years.
The first act plays from 6 to 7:30 p.m., and the second act from 8 to 9:30 p.m., with a DJ from 5:30 to 6 p.m. and 7:30 to 8 p.m.
Orquesta Mas-Madison All Stars/Sons of Chicago/DJ Pain 1
Eddie Butts Band/Orquesta Salsoul Del Mad/DJ Ace
VO5/Antone's Tribute to Barry White/DJ Chamo
Sounds of Slave R&B Band/Public Announcement/DJ Ace
In the event of rain Aug. 6, Aug. 20 and Aug. 27, the event will be held inside Monona Terrace, 1 John Nolen Drive. Cooper said he's working to use Alliant Energy Center for a backup for Aug. 13, but doesn't have it confirmed.
No tickets are needed for Dane Dances.
Dane Dances, now entering its 22nd year, is an outlet for people to celebrate not only getting through the COVID-19 pandemic, Cooper said, but overcoming a 2020 filled with unrest and hate crimes. The event is a place "where everyone has dignity and respect and decency for each other."
Cooper said Dane Dances board members weren't sure they'd be able to pull off this year's series, called "A Season of Love & Happiness," but it helped that six of the eight acts set for last year were able to be rescheduled.
Much of the legwork had been done last year to line up acts, but Cooper said there was still a lot of coordination, implementation and logistics as well as fundraisers, publicity and connecting with sponsors.
Organizers were able to rebook the same acts for the first three nights, but for the last night, they had groups from New York and Philadelphia that became too complicated to rebook, he said. They wound up instead with two Chicago bands.
The Monona Terrace rooftop has a 3,000-person capacity, but because Dane Dances is designed as a family-friendly event, Cooper said, some families with young children come for the early acts and when they leave it allows others to arrive later.
Thousands take part
Cooper said the events can attract 5,000 to 6,000 attendees throughout the evening. Dane Dances volunteers keep track of how many people are on the rooftop at a time.
"People come in and go out, or they've got other things to do," he said. "They go out to eat Downtown or they've got another activity to go to, but they come to Dane Dances because they don't want to miss it. They stay for a while and they leave ... or they leave and come back."
Cooper said by booking a cross section of performers, including soul music and Latin music, Dane Dances tries to appeal to all segments of the community.
"Most of the music can appeal to everyone," he said. "And most of the bands play a variety of music as well."
The goal of the nonprofit volunteer Dane Dances is to improve race relations in Dane County. It tries "to bring everyone together and make everyone feel welcome," Cooper said.
He sees it "as one group of human beings being able to celebrate our differences, rather than attacking each other for our differences."
Other series
The other free Monona Terrace summer concert series, Concerts on the Rooftop, normally held mid-June through mid-July, isn't happening this season, but will be back next year, said Monona Terrace spokesperson Kristen Durst.
Instead, Monona Terrace is offering a scaled-back concert series called Live @ Lake Vista. A June 17 concert will be limited to 300 people sitting at tables, but the capacity for a June 24 show has has been increased to 500, Durst said.
Durst said Monona Terrace booked smaller bands with the limited audience in mind. With table seating, 500 is the upper limit, she said.
The Concerts on the Rooftop season "is a huge production requiring a lot of lead time," Durst said in explaining why it won't happen this year.
The convention center hopes to continue Live @ Lake Vista in the future along with its larger concert series that can draw as many as 3,000 people, Durst said.
The free tickets for Live @ Lake Vista on June 17 and June 24 went fast online. Durst said more Live @ Lake Vista dates will be added soon, two for July and possibly some in fall. Those shows will continue at the 500-capacity limit.