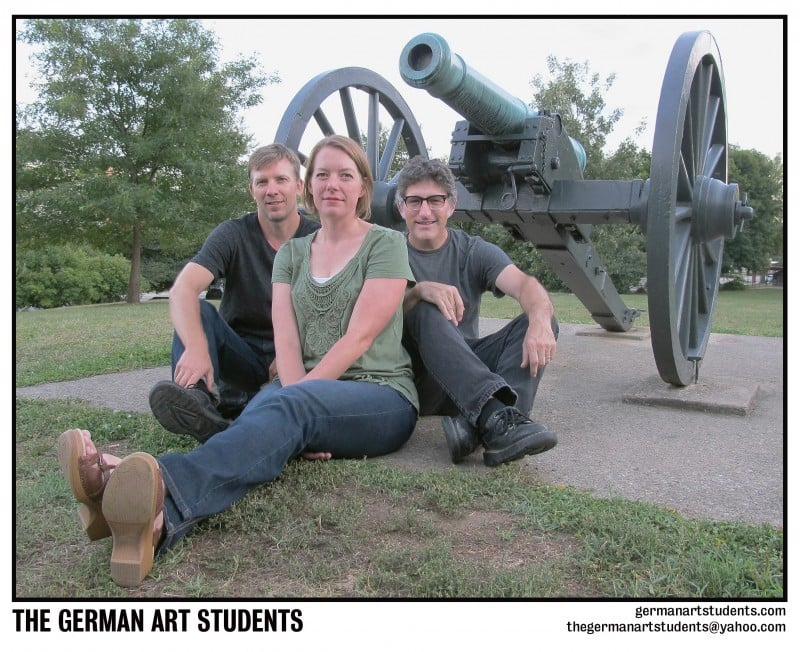 The release party for the German Art Students' latest EP, "The Power and the Trust," doubles as the local crew's coming out as a trio following the 2010 departure of bassist Andy Larson.
Longtime fans won't be disappointed. Though somewhat leaner, the EP finds the new wave punks giddily bashing away with their quirky sense of humor intact. Witness "Bible Camp," where singer/guitarist Annelies Howell unravels the tale of a camp-bound teen who "can't read 'Harry Potter' till (she) makes (her) bible quota."
In advance of the band's record release show at Mickey's Tavern on Saturday, Dec. 10, we spoke with drummer Randy Ballwahn about the decision to continue on after Larson's departure, how Scott Walker transformed him into an activist and what it's like to be in a band with a bunch of bookworms.
Has playing as a trio been a big adjustment?
It has been a little bit. It took us probably a good six months of practicing with just the three of us before we really felt comfortable with the new thing. Annelies and Kirk [Wall] are both guitarists by nature, and the bass isn't all that different. Usually if you can play guitar, technically you can play bass. But there's still a whole other feel to it, and Andy was a very distinctive bass player so there are some songs we can't play anymore because he just contributed so much to them through his vocals or whatever. So there was a certain amount of our catalog we dropped.
We also had a talk about bringing in a new bass player, but it just kind of seemed like, you know, the chemistry that the four of us had and the three of us have now is just so good that it didn't seem like it'd be the same band if we brought in someone else from the outside.
When you guys had those conversations was there any talk of retiring the name or even calling it quits altogether?
It became apparent in the last year or so that (Andy) wasn't quite all there 100% all the time. Even though he wanted to be, he seemed to be moving on to different things. So when he called a meeting it was pretty apparent...that he was going to let us know he wasn't going to be playing anymore.
I personally thought that was going to be the end of the band. But the three of us were sitting there after Andy left and Annelies said, "I still want to play." And Kirk said, "Well, I still want to play." Then I said, "Well, if you guys still want to play I'll definitely still play." Then we talked about, "Well, do we want to have a new name or do we still want to be the German Art Students?" Kirk was in favor of starting over, but in the end it seemed like we had put so much time and effort into the band...that it was like, "Well, we might as well continue being the German Art Students because that's really what we're going to be anyway."
When did you hit on the title track for "The Power and the Trust?"
Well, we were all kind of involved in the protests last spring, and Annelies came to practice with the song and kind of played it acoustically for Kirk and I. She's a teacher, and I'm a state employee and also married to a teacher, so we were all pretty involved. We were just sitting there listening to her play the song and my mouth dropped open, like, "Wow."
I liked how subtle it was. It doesn't actually mention Scott Walker at all. Kirk and I were thinking, "Man, that sounds so powerful you should just play it acoustically." But she wanted us to quirk it up...so we left the first verse more acoustic then had the band kick in and make it more of a rocker.
Had you ventured into politics much as a band previously?
Not really. I mean, we all have had our political views, but musically we haven't done that political stuff, per se. We kind of comment on different things through song, but as far as day-to-day politics go - and specifically with the Wisconsin situation - that was really the first thing that motivated us to write a song around a political topic.
Was it just a matter of how close the issue was to all of you?
I think so. It just really hit home with us. I think I posted on Facebook after the first week of protests, "Thanks, Scott Walker. You turned me from a mild mannered citizen into an activist."
Even so, you don't completely abandon your senses of humor.
And that's important to us. That's basically who we are. I don't know if we ever go and say, "We need to make this funny." Or "We need to be weird with this." That's just what comes out when we sit down to write something. That's just us coming through.
In the past you've always been drawn to the ridiculous, so I guess modern politics is a logical next step.
[Laughs] That's a good point.
Over the course of this EP you mention a quartet of books - "1984," "Fahrenheit 451," "Harry Potter" and the bible - in general, do you consider yourselves bookworms?
Actually, we have exchanged quite a few books at practices, and that stuff comes up a lot where we talk about what we're reading and loan each other books and things like that.
What's one book you think everyone should read?
The book we most recently passed around that I know we would all recommend was "Petal Pusher" by Laurie Lindeen of the band Zuzu's Petals. She's a Madison native and there's a lot of stuff in there about the Madison/Twin Cities scenes in the early '90s.
Considering that the record release party takes place at Mickey's Tavern, I'm curious what drink you think goes best with your music?
Well, there are a couple of band spouses that would say a Jaeger bomb goes best with the German Art Students. They have a little spouse Jaeger bomb tradition. Otherwise I know Kirk is partial to PBR when we play out, mostly because it's usually the beer the band can get for free.
When: Saturday, Dec. 10, 9 p.m.
Where: Mickey's Tavern, 1524 Williamson St.