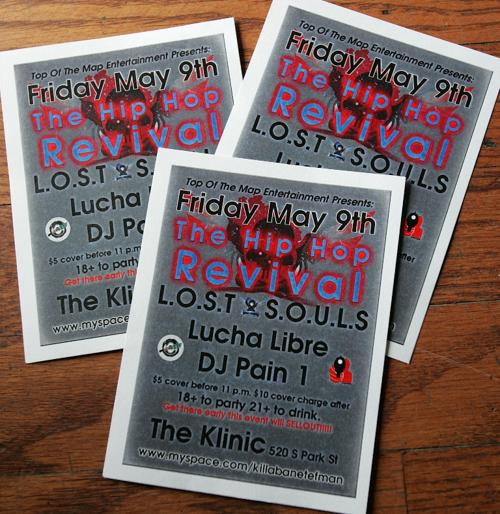 Potential city-sanctioned guidelines for "hip-hop best practices" raised broader questions than the Alcohol License Review Committee could feasibly wrap up during its monthly meeting on Wednesday night.
After getting the go-ahead at November's ALRC meeting, local hip-hop promoter Mark Evans, aka Shah of the Midwest Co-op, presented the committee with a draft of "hip-hop best practices" he developed with alcohol policy coordinator Katherine Plominski in response to discussions with Police Chief Noble Wray. The guidelines are targeted at venues looking to host hip-hop shows.
The impetus for these guidelines goes back years in Madison. Rare but ugly fights and other problems at clubs hosting hip-hop shows have again and again raised a heated discussion in town over the role of hip-hop. (I wrote a lengthy article about this in May of 2008, after a couple of club closings brought the issue once more to a fever pitch.)
The guidelines Evans presented on Wednesday night stem directly from an incident in February at the Brink Lounge that led the venue to immediately ban hip-hop. The Brink then quickly rescinded an outright ban, but as far as I can tell has not hosted a hip-hop show since then.
A few months after that, I was invited to sit in on a large forum on hip-hop, organized by a graduate student at the UW. That group eventually disintegrated, but Evans was one of the most dedicated members.
The main point of discussion on Evans' guidelines at the ALRC meeting Wednesday was not whether the guidelines are necessary, but whether the committee -- which also grants entertainment licenses as well as alcohol licenses -- should be breaking it down to a specific genre. In other words, should the City of Madison condone guidelines for a specific music genre or make general "how-to" guidelines that could apply to any genre?
Evans argued that even though he "would love not to single it out," the reality is that "hip-hop has a bad name in Madison" and requires special attention.
"Hip-hop is looked on now like heavy metal was looked on in the '80s, like Elvis in the '50s," he said.
District 4 alder Mike Verveer said he worried that genre-specific guidelines "give us a perception problem, maybe even racist" because it plays into the stereotype of the genre. But committee member Tom Farley said that guidelines on hip-hop would show that "we're progressive and that we care about these things." (Capital Times reporter Pat Schneider wrote an article recently that delved into some of these issues.)
Verveer suggested that Evans' guidelines be incorporated with a mailing going out to all entertainment license-holders in Madison in anticipation of a new law approved at Tuesday night's Common Council meeting.
This new ordinance tightens rules for all entertainment license holders and -- in response to growing problems at several smaller establishments that sometimes host entertainment, like Africana Restaurant and Lounge on Atwood Ave.  -- now requires any establishment with a capacity of 50 to 99 to apply for an entertainment license. Previously, the city didn't require businesses with a capacity lower than 100 to apply for entertainment licenses.
This means that a place like The Frequency, which has a capacity of 99, will now need to develop a security plan and pay the city $250 per year for an entertainment license. (The council made an exemption for establishments that host karaoke nights and acoustic music.) The law goes into effect on April 15.
The ALRC didn't discuss Evans' guidelines very long on Wednesday night, maybe 15 minutes or so. In the end, there was no clear direction on what the committee should do. Plominski invited "off-line" comments from committee members and said she would work more with Evans on the guidelines and look into posting them on the city website.
It's likely the topic will come up again on Jan. 20 at the next ALRC meeting.
Here are Evans' suggested "hip-hop best practices":
1. Get to know the promoter. Ask for references from previous shows. Check the references and ask if the venue would be willing to work with that promoter again. If you are not familiar with booking hip-hop acts, then network with someone who is familiar with the genre.
2. Research the headline act. All headline acts should have a press kit which includes music samples, photos, previous show listings, and a bio. Check the content to see if it adheres to the vision of your establishment. You might also consider asking radio stations about the artists and promoters.
3. Seek a diverse demographic. Offer different types of shows and aim for a diverse demographic. If you do the same genre over and over again, you may attract the same crowd which may result in future problems. The more diverse the crowd, the less likely you are to have problems. If you are distributing flyers, don't focus exclusively on certain areas or certain populations.
4. Market carefully. Carefully review all promotional materials for your establishment to assure that they adhere to your establishment's vision.
5. Create your on set of rules that every promoter has to follow. For example, decide if there will be a dress code, and if so, make sure it is enforced consistently. If applicable, consider putting rules into a contract.
6. Recognize the difference between live music performances and DJ parties. Live performances are typically marketed more aggressively and may bring in a much larger crowd than anticipated. As a general best practice, do not overload the capacity of the venue.
7. Security. Hire your own licensed and bonded security personnel. Feel free to ask the promoter to contribute to the security costs. Make sure that security staff is clearly identifiable.
8. Anticipate your crowd. For example, ask about the projected age of the crowd. If you anticipate large numbers of underage people in a venue that serves alcohol, staff accordingly.
9. Network. Network with venues that host successful hip-hop events.