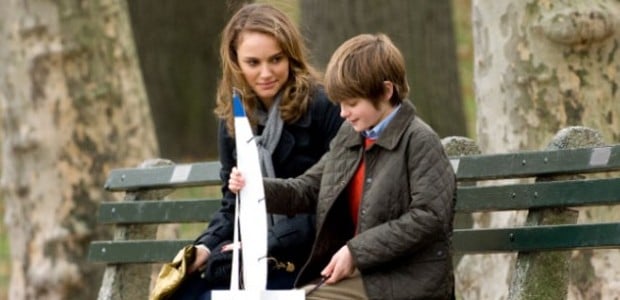 It's a question that, as a moviegoer, has arisen in my mind over and over again over the last 20 years or so, in several different films. And it's one that I can never figure out a satisfactory answer to.
The question is this: What are you doing in this movie, Natalie Portman?
I think Natalie Portman is a fine actress, able to do comedy (her "Saturday Night Live" appearances are great) and drama (her Oscar for "Black Swan," whether she danced every step or not, was deserved). But every once in a while, I see her pop up in a movie and am just gobsmacked. What is she doing there?
This year, she seems to be in a ton of movies, prompting the question over and over again. One Internet blogger speculated that Portman was planning her pregnancy, and signed on for a slew of big-money roles beforehand so she could take some time off to raise her baby.
But what's the first thing she appears in after the triumph of "Black Swan"? "No Strings Attached," an R-rated romantic comedy with Ashton Kutcher. Ashton Kutcher.
Then, I was just bewildered to see her in the absolutely awful fantasy-comedy flop "Your Highness," playing a warrior opposite Danny McBride and James Franco. It's at best a Megan Fox-worthy eye-candy role, way underwritten and not funny, and yet here's this critically acclaimed actress wearing a thong and swinging a sword like she was Xena.
And there's "Thor," the superhero movie hit, where she plays a driven scientist who falls for the beefcake hammer-tosser from Asgard. I suppose I get why the dollar signs of a big summer movie appealed to her, but she seems like a weird fit for the hunky Chris Hemsworth. She strikes me as more of a Spider-Man kind of gal.
Plus she's also in an independent movie called "Hesher" (which hasn't made it to Madison yet) in which she tries to hide her attractiveness. The A.V. Club recently put her at the top of their "inventory" list of failed "de-glamorized" movie roles. "It's downright impossible to buy her as a sad sack in mom jeans and giant old-Jewish-man glasses whose greatest ambition in life is to finally work 20 hours a week at a small-town grocery store instead of the 15 she's currently working."
On top of that, she's in a new drama called "The Other Woman," which opened and closed quickly in theaters in February but never made it to Madison theaters, and was released last month on DVD. Portman is good in it, abrasive and even unlikable at times, but the movie makes a hash out of trying to adapt the plot points of Ayelet Waldman's novel "Love and Other Impossible Pursuits" to the big screen.
Portman plays Emilia, a woman living unhappily with her husband Jack (Scott Cohen) and occasionally with his precocious 9-year-old son (Charlie Tahan). In a rush of backstory, we find out that Emilia met Jack while he was still married to Carolyne (a brittle Lisa Kudrow). They had an affair and Emilia got pregnant, Jack left Carolyne for Emilia, but then their baby died of SIDS.
That's a lot of different threads to try and pull together, and at times we're trying to figure out which crisis Emilia is depressed about in a given scene — her grief for her baby, her exasperation at her stepson, her estrangement from distant Jack, her anger at her philandering father, or her antipathy for Carolyne.
It's a downer to watch, and writer-director Don Roos' strategy for making us root for the prickly Emilia seems to be making everyone around her even more hateful, especially Kudrow's Carolyne, who spits out even the most innocuous line with undisguised venom. The ending unintentionally succeeds at being emotionally uplifting, primarily because we're relieved we don't have to spend more time with these people.
A look back through her IMDB page reminds you of how many good roles Portman's been in ("V for Vendetta," "Closer," "Garden State"), roles that really seem to suit the intelligence and humanity she can exude on screen. But then again, what to make of the kids' movie flop "Mr. Magorium's Wonder Emporium"? And what was the deal with her appearance in the short film prequel to "The Darjeeling Limited," spending the movie naked and bruised in a Paris hotel?
The mother of all "Why are you in this movie, Natalie Portman?" of course, is the "Star Wars" prequels, where she delivered George Lucas' terrible dialogue like she was eating cardboard. Seriously, try watching the love scene in "Attack of the Clones" in the meadow with Hayden Christensen ("You're soft and smooth") and not just feel very, very sorry for Portman.