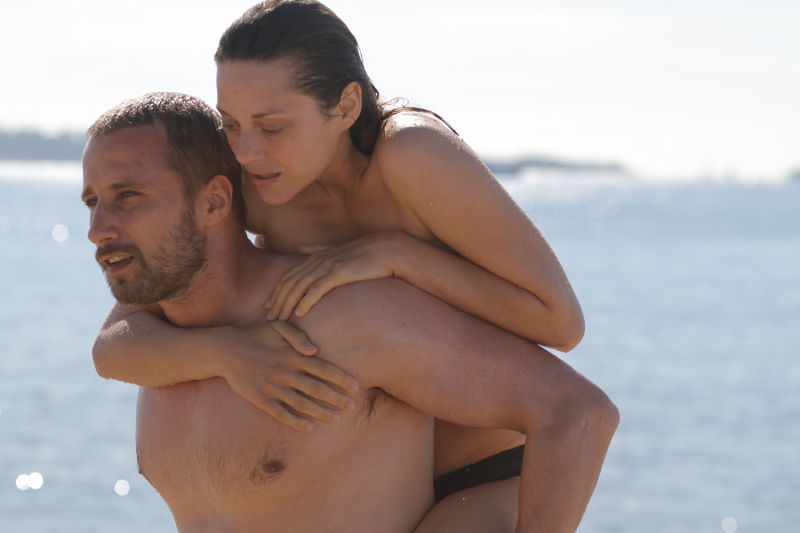 The first glimpse of both main characters in "Rust and Bone" is of their lower legs. We see destitute father and extreme fighter Ali (Matthias Schoenaerts) walking with his son on the sidewalk, his sandals slapping against the wet pavement. And we first see the lower legs of Stephanie (Marion Cotillard), a trainer at a SeaWorld-like water park, splayed on the floor of a nightclub where Ali works as a bouncer.
Those seemingly innocuous shots come to have a chilling significance. French filmmaker Jacques Audiard, known for the crime thrillers "A Prophet" and "The Beat That My Heart Skipped," brings his gritty yet lyrical style to a romantic drama. The result is an emotionally raw film about redemption and connection that avoids clichés.
Ali takes Stephanie home after an altercation at the nightclub, acting the perfect gentleman, although he slips her his number when her boyfriend isn't looking. When she finally calls, months later, she's no longer the glamorous, brash woman he remembers; a horrible water park accident involving a killer whale has left her without her lower legs.
The accident has left Stephanie in a deep depression, surrounded by friends who don't know what to say. The two-fisted Ali is perhaps too self-centered to worry about saying the wrong thing; at any rate, the two strike up an unlikely friendship, and he gets her out of the house and reconnecting with life. They dance around the possibility of becoming more.
Audiard plays on the symmetry between the two; a man who uses his fists to survive, a woman trying to put her life back together after losing her legs. But the film is much darker and messier than we expect. Ali is no saint, but an arrogant, sometimes brutal man, and Stephanie is prickly and tempestuous. But the film makes clear that they need something they can find in each other, and Audiard's direction and the layered performances by Cotillard and Schoenaerts show us the finer parts of each person along with the worst.
Cotillard is especially resonant as Stephanie. Computer-enhanced effects make us believe that she's legless, but it's her performance that really makes her long, slow road to emotional recovery hit home.
Audiard often uses hard-edged, real-world locations, but he also works in moments of transcendence, such as a lovely scene where Stephanie goes back to the park to visit the whale that maimed her. Instead of being angry, she reconnects with the animal, moving her arms to give the whale commands, the giant behemoth dutifully moving back and forth in response.
Because "Rust and Bone" has been so defiantly unsentimental up until that point, it makes those moments feel well-earned.