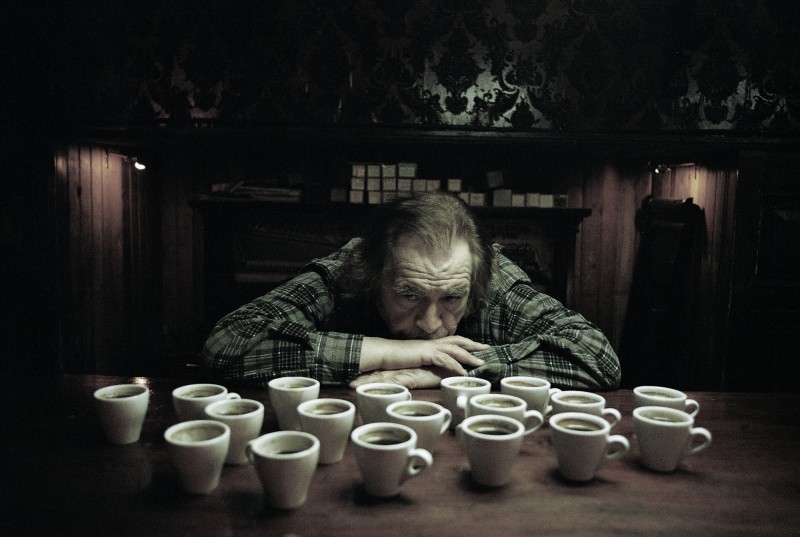 Sometimes you want to go where everybody knows your name. And they're always glad you came.
The bar in "The Good Heart" is emphatically not that place.
Run by a foul-mouthed misanthrope named Jacques, the House of Oysters (which hasn't sold oysters for decades) is a quintessential New York bar, the kind of place that, to quote "It's A Wonderful Life," "serves hard drinks to men who want to get drunk fast."
Jacques, played by the wonderfully acidic character actor Brian Cox, couldn't care less about his patrons or their problems, and seems to live for the chance to berate them and throw them out into the street. "We're not here to save people," he tells his young protégé. "We're here to destroy them."
Jacques is the rotting heart of Icelandic writer-director Dagur Kari's jet-black comedy, such an unrelentingly unappealing fellow that he's kind of hilarious. At the beginning of the movie, he's listening to a relaxation tape, and gets so agitated at his failure to relax that he rips the tape into shreds and suffers a heart attack. The film is suffused with the surreal downbeat humor that's a hallmark of the Scandinavian films that the Wisconsin Film Festival loves to book each year.
While in the hospital, Jacques runs into a homeless young man, Lucas (Paul Dano), who has attempted suicide. Lucas is as sweet and guileless as Jacques is dour and conniving, but they connect in a way, and Jacques takes him back to the bar as a trainee. Jacques tries to teach him the ways of the bar, to be "familiar but not friendly" to the customers.
One of his many bizarre rules of the bar is "no walk-ins," which you'd think would hurt business a little. When a customer who isn't a regular wanders in and asks for a Bloody Mary, Jacques gives him a shot of vodka with a squirt of ketchup. But Lucas can't help but be kind, and with him tending bar, the joint can't help but warm up a little.
Kari ("Noi the Albino") fills the movie with deadpan comic moments, but at the center is the tug-of-war between Lucas the eternal optimist and Jacques the perpetual pessimist. Dano has played the eccentric man-child many times before (frankly, it seems like the only role he ever takes), but he's appealing here, especially when Lucas falls for a homeless French girl.
And Cox gives a master class as Jacques; with his downturned, craggy face and scraggly hair, Jacques rules over his dingy little bar like a tyrant king. He lets Jacques warm up to Lucas -- slowly, unwillingly -- in a way that feels believable, even when Kari's screenplay takes some unbelievable turns.
The film is in English, though Kari shot most of "The Good Heart" in his native Iceland; much of the film looks dark and murky, like it was shot through the bottom of a whiskey tumbler. By the end of the movie, the confines of the shabby bar feel strangely comfortable.