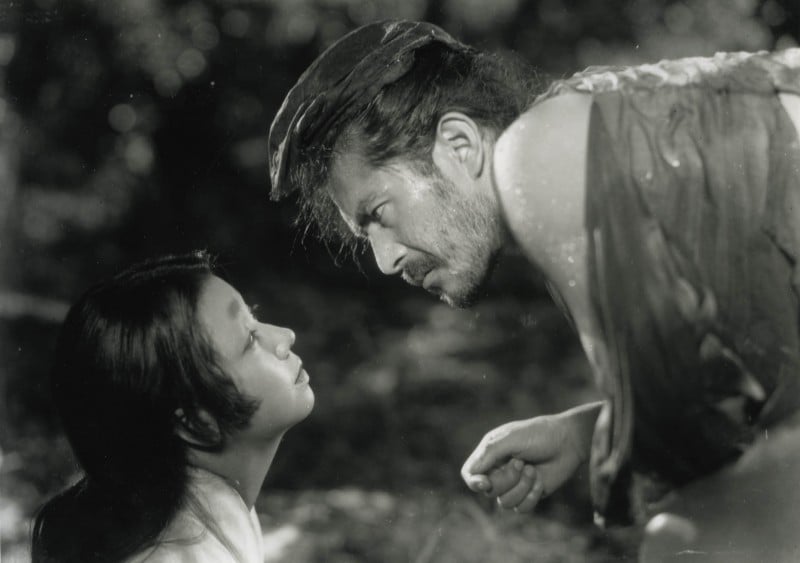 "I don't care if it's a lie, as long as it's entertaining," a gruff peasant says near the end of "Rashomon," Akira Kurosawa's 1950 masterpiece. He's in luck, because Kurosawa's beautiful, twisty and enrapturing film is all about lies and the lying liars who tell them. And it's incredibly entertaining.
The Orpheum Theatre is bringing in a beautiful 35mm restored print of "Rashomon" through next weekend in honor of what would be the great Japanese director's 100th birthday. It's an ideal movie to see on the big screen; the lustrous black-and-white images of shifting trees and driving rainstorms leap off the screen, and at times the characters seem to gaze straight into the audience as they tell their stories.
And what stories they tell. The framing scenes of "Rashomon" take place amid the ruins of Kyoto's Rashomon Gate, where three men have gathered for protection from a powerful storm. As dark rain (supposedly black ink, according to Imdb.com) pours off the roof in torrents, a priest mutters "I don't understand" over and over.
He's just been to a trial, where a thief named Tajomaru (Kurosawa favorite Toshiro Mifune) has been captured and charged with murdering a samurai (Masayuki Mori) and raping his wife (Machiko Kyo). The crime happened deep in an ominous forest, as cut off from civilization as those three men at Rashomon Gate.
His wild eyes gazing into the camera, Tajomaru tells one version of events, in which the wife begs the two men to duel, so that two men don't know her shame. He claims he killed the samurai after a fierce but fair battle.
Then the wife testifies, and tells a completely different story. Then a medium is summoned to conjure up the spirit of the dead samurai (a very eerie scene that recalls Japanese Noh theater), and he tells another completely different story. Where does the truth lie?
Decades before "The Usual Suspects," "Vantage Point" and the television show "Boomtown" delighted in fooling viewers with unreliable narrators, "Rashomon" was very daring, and remains a fascinating film. We see each suspect's version of events, trying to puzzle out what seems believable and what doesn't, weighing it against the scant physical evidence of the case.
In the end, there is an answer to be found in "Rashomon," although even that explanation stands on shaky narrative ground. Interestingly, there's more truth to be found in the lies themselves, because they reveal the essential character of the liars in unexpected ways.
In Tajomaru's story, the mad, cackling thief remakes himself as a charismatic lover and a powerful warrior. The wife sees herself as a devoted, powerless servant of her husband, helpless in her fate, when her true self may have been more manipulative. And the husband paints himself as a noble leader among men, devoted to the samurai way.
"Rashomon," then, really isn't about who killed the samurai, but how people filter events through their own self-images, or, to be blunter, how they lie to themselves to get through the day.
The protagonist of the film really turns out to be the priest, whose faith is shaken by the knowledge that no heart, even his own, is pure and honest. "I don't understand," he repeats at the beginning of the film. "I don't understand my own soul," he says at the end.
While the complex screenplay alone would make it a great film, "Rashomon" is a brilliant piece of filmmaking; the acting is intense, especially Mifune as the unhinged thief, and the poetic images and hypnotic score work together in perfect concert to create a forbidding world. "Rashomon" may be a prosecutor's nightmare, but it's a film lover's dream.