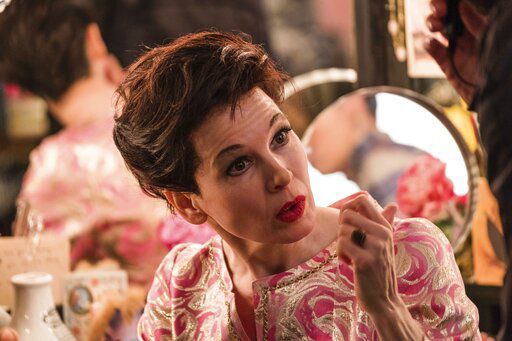 "Judy" takes us from one end of the rainbow to the other.
The film opens in 1938 on the set of "The Wizard of Oz," as studio head Louis B. Mayer (Richard Cordery) leads young ingénue Judy Garland (Darci Shaw) down the Yellow Brick Road. His voice purring, he talks about the normal, unremarkable life waiting for her back in the Midwest if she doesn't give her soul to the studio.
The pills, the starvation, the verbal abuse, being treated like a prize show pony by Mayer and others rather than as a human being — all part of the price of stardom. It's a deal with the Devil. But how could Judy refuse?
Most of "Judy" focuses on the fallout of that choice and the end of Garland's life in the late 1960s — addicted to pills and alcohol, desperate to make money, desperate not to be forgotten. But it's those quick flashbacks to the young Judy, and the trauma that warped her career and her sense of self, that add such a tragic undercurrent to the film.
This is a career-defining performance by Renee Zellweger as the older Garland, capturing her larger-than-life persona while moving beyond mere imitation to create a complex, sad and funny human being. And she's got a heck of a singing voice. Director Rupert Goold insisted she sing live during scenes rather than overdub her vocals later.
Tom Edge's screenplay, based on Peter Quilter's play "The End of the Rainbow," focuses on a run of sold-out shows Garland played at a London nightclub, the Talk of the Town, in 1969. Garland needed the work — destitute in Los Angeles, she had plenty of friends to stay with but nowhere to live. Going halfway around the world meant a lot of money, but it also meant parting with her two young children, who she doted on despite her demons.
The scene where Garland first takes the stage at the Talk of the Town is a stunner, a single-take performance of, fittingly, "By Myself." Zellweger starts off slow and hesitant, then builds in force and bravado as Garland feeds off the audience's attention. It's an unforgettable moment that pierces at the heart of Garland, both her gifts and her neediness, and instantly elevates "Judy" above the typical musical biopic.
"Judy" takes us from the loud, brassy highs of Garland on the stage to the devastating silence of Garland offstage, alone in her dressing room. She can't sustain hitting those heights night after night, especially addicted to pills that put her to sleep at night and more pills to wake her up the next morning. She starts missing cues, forgetting lines, showing up late to performances. A notorious real-life incident in which disgruntled audience members hurled bread rolls at her is faithfully recreated.
Offstage, Zellweger captures Garland's wild mood swings, her penchant for self-pity and shutting out those around her (including a manager played by Jessie Buckley, herself brilliant as a troubled singer in "Wild Rose"). But we also see her charming and warm side, her ability to deflect the concern around her with a well-practiced one-liner. Asked by a doctor if she's ever taken anything for depression, she quips, "Four husbands. Didn't work."
There's also a lovely scene where, alone on Christmas Eve, she impulsively asks a couple of fans (Andy Nyman and Daniel Cerqueira) waiting for her at the stage door if they want to have dinner. It could be a pathetic moment showing Garland's loneliness, but she has a wonderful connection with the fans, a gay couple who until Britain's sodomy laws were repealed had to hide their true selves from the world. Garland was an icon for the gay community at the time, and that connection is poignantly represented here.
Above all, "Judy" treats its subject with profound empathy. Those flashbacks to the "Oz" years show how Garland was traumatized and bullied on the road to stardom. As Mayer, Cordery is all the more terrifying because he never raises his voice, so secure in his knowledge that he completely owns this teenage girl.
The miracle is that Garland lasted as long as she did, still pouring her all out on stage, still hoping for love from the audience. But there wasn't enough applause in the world to fill the emptiness inside.
"Everybody has their troubles, and I have mine," she says. "I probably have everybody else's, too."