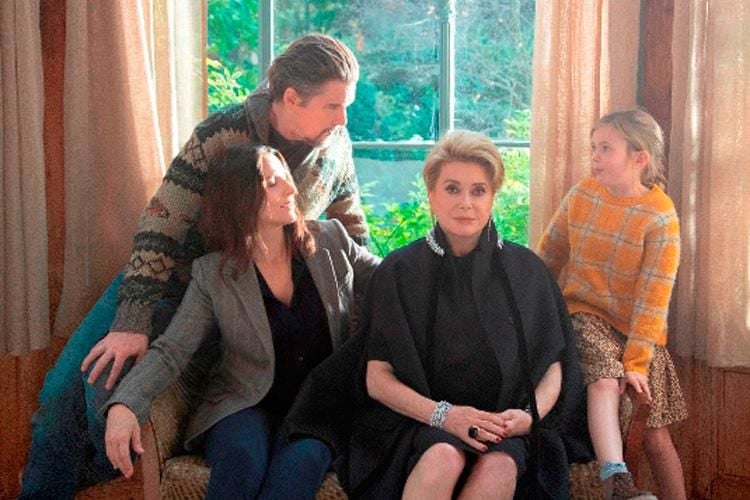 "The Truth" contains a tense dinner scene between an estranged mother (Catherine Deneuve) and daughter (Juliette Binoche). As the wine flows, the longtime bitterness and resentment between the two spills out, each saying things they can never take back.
Most filmmakers would put that scene at the dramatic climax of their movie. But Hirokazu Kore-eda puts it in the middle of "The Truth." Kore-eda's deeply humane films ("Shoplifters," "After the Storm") are less interested in moments of high drama and conflict, and more interested in how people move past those moments and learn to reconcile and live with each other.
"The Truth" is available Friday on video-on-demand through IFC Films, including available for rental on ITunes, VUDU and Amazon Prime.
"The Truth" is the Japanese writer-director's first movie set outside of Japan, using a heavyweight cast of French and American actors. But the heartbeat remains the same, as Kore-eda empathetically observes these characters and their complex relationships with each other.
The formidable Deneuve, fittingly, plays a great French actress, Fabienne Dangeville, about to release her memoir. The publication brings Fabienne's daughter Lumir (Binoche) home to Fabienne's lavish country estate, along with her American actor husband Hank (Ethan Hawke) and their sweet daughter Charlotte (Clementine Grenier).
They're there ostensibly to celebrate the release of the book, as well as watch Fabienne shoot her latest movie. But Lumir also wants to know exactly how Fabienne has characterized her childhood in her memoir; she's outraged that Fabienne writes fondly about picking Lumir up from school, something that in real life she was always too busy to do. "My memories, my book," Fabienne responds curtly. "I'm allowed to pick and choose, aren't I?"
There's also some unfinished business between mother and daughter over a woman named Sarah, an actress who was a rival of Fabienne's when she was younger, and who acted as something of a surrogate mother to Lumir. Sarah died under mysterious circumstances, and Lumir blames her mother for sabotaging Sarah's career.
The movie that Fabienne is filming is, in some ways, a metaphor for their charged relationship. It's a gimmicky but heartfelt sci-fi film in which a terminally ill mother goes into suspended animation in space to halt the progress of the disease. She returns to Earth every seven years, exactly the same age as she was when she left, to visit her daughter, who has continued to age.
Fabrienne plays the daughter at 80, in essence playing Lumir, the daughter who has learned to live with an absent mother. Complicating matters is that the actress playing the mother (Manon Clavel) bears an uncanny resemblance to Sarah. We see Fabrienne's insecurity at playing opposite a younger, more popular actress, and are also reminded of her old rivalry with Sarah.
The chance to see Deneuve and Binoche, two of France's greatest living actresses, go toe-to-toe in a mother-daughter drama is unmissable. As the good-natured Hank, Hawke agreeably stands on the sidelines. (In one restaurant scene, Hank is literally at the kids' table while the adults spar at the grown-up table.)
But eventually, Fabienne and Lumir move past their bitterness, and their relationship starts to thaw a little. Kore-eda resists a more overt emotional reconciliation between mother and daughter (the sort that plays out in the sci-fi-movie-within-a-movie) but it's still sneakily affecting to see Deneuve's imperious actress soften a little, and Binoche uncoil herself in response.
Kore-eda is depicting a relationship that's more authentic than we're used to seeing in movies, while letting us know that he gets the reflexive irony of presenting such a relationship in a movie that's itself about the making of movies. And yet, digging through the layers of artifice to get to "The Truth" is still a touching endeavor.
Stay up-to-date on what's happening
Receive the latest in local entertainment news in your inbox weekly!