Balanced Rock Winery is open for business and your ideas.
"We'll listen to everybody," owner Matt Boegner said of what the public should expect at the Baraboo business he opened Monday with his wife, Kristin Boegner. Their winery is now open from 10 a.m. to 5 p.m. Sunday-Tuesday and from 10 a.m. to 8:30 p.m. Wednesday-Saturday but would stay open later on any day for private events.
"We're ever-evolving," Kristin Boegner said of malleable scheduling and offerings that already include live music on Wednesdays and Fridays. "We could host wine waddles, which are silly 5Ks — we could host paint nights, trivia nights and bingo nights. We're also planning to offer charity nights, where a percentage of our sales would go to a local charity.
"We're really excited about the possibilities."
In addition to featuring local musicians through the end of August, Matt Boegner said the winery features the work of local artists on its bottles of wine. "We want as much community involvement as we can get."
The Boegners currently offer five cold-climate wines they produced using grapes from Wisconsin vineyards and expect to add three more varieties to their menu by the end of the month. Balanced Rock Winery will offer 12 varieties of wine by mid-July and they'll start planting their own vineyard for estate red wines in the spring of 2020.
Their food menu soon will include shareable plates of cheese, charcuterie, pub pretzels, olives, hummus and chips and salsa.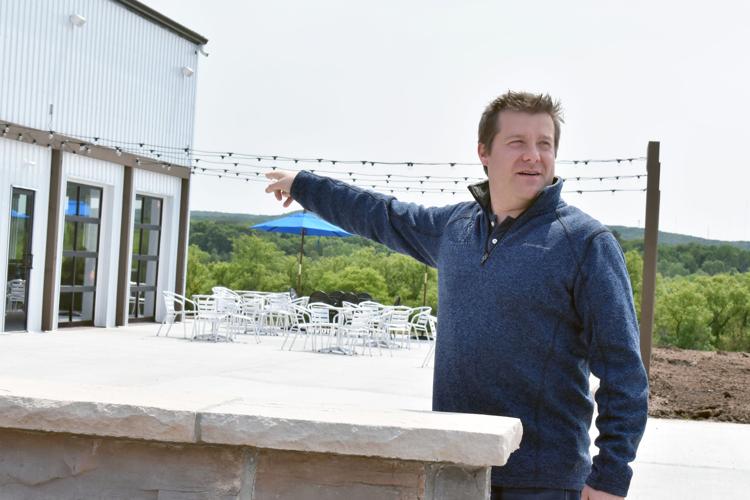 "We'll keep adding as we go," Matt Boegner said.
The Boegners — winemakers with extensive experience working in the food and beverage industry — also sell local Wisconsin beers and might eventually manufacture hard cider as they acquire more equipment.
They broke ground in November on 23 acres of land they purchased from the city off Walnut Street near Baraboo Country Club. Their building is 6,000 square feet including the 1,800-square-foot tasting room and 4,000 square feet for production.
Spacious, kid- and pet-friendly outdoor seating supplements the winery's vast lawn space the Boegners eventually will offer for wedding ceremonies after landscaping is completed.
"We're also building an outdoor stage and a storage facility," Matt Boegner said of the construction.
The Boegners considered nine spots in four different municipalities including Lake Delton, Fairfield and West Baraboo before purchasing the property adjacent to Baraboo Country Club. By mid-July, the country club is expected to use the south side of Balanced Rock's property for a driving range in exchange for maintaining that portion of the property.
The driving range gives Balanced Rock visitors "some extra entertainment to watch from the patio," Matt Boegner said with a laugh.
"It's such a unique property," Kristin Boegner said. The winery is located across from the city of Baraboo's Pierce Park, it's on a bike path and is not far Devil's Lake State Park. "There's so much space."
The business plan the Boegners developed three years ago leaned on their impressions of various Michigan and California wineries, Matt Boegner said. "We visited wineries where we just felt like they really had it all figured out. They don't want you to leave — they offer so much. That's what we want here.
"We want to bring people to this area. We want to promote Baraboo."