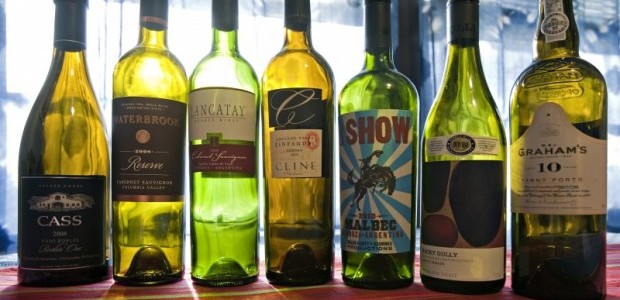 Whether you're a romantic on Valentine's Day or just glad it's all over, there's only one thing to do with those remaining candy hearts and truffles: eat them, preferably as dessert with a glass of wine.
My wine group celebrated the holiday for lovers last weekend with a wine and chocolate pairing. We made some surprising discoveries about matching wine with candy bars, cupcakes and dark chocolate tart.
The first eye-opener was a light-bodied white wine, the '09 Maso Canali Pinot Grigio from Italy ($16 at Woodman's East). A milk chocolate bar with bits of dried strawberry brought out the wine's creaminess, and the acidity cut through the chocolate.
Two tasters brought the '10 Cline Ancient Vines Zinfandel ($14-15 at Barriques and Steve's), a very fruity, slightly peppery wine. It went perfectly with basic brownies (I believe they were made from a box mix) but dark chocolate ones overpowered the wine, killing the nuance.
My personal favorite pairing with a trio of cabs was a candy bar I brought, a Zzang bar made by Zingerman's in Ann Arbor (sold at Fromagination for $3.95).
Of the two cabernets available locally, we preferred the excellent '08 Waterbrook from Washington ($20 at Woodman's East), a dark, toasty wine with flavors of dried berries and velvety tannins.
The '09 Lancataya Cabernet Sauvignon from Argentina ($16 at Barriques) was almost as good, a full-bodied wine with flavors of cured tobacco ("like a cigar not in a humidor," one friend said) and a lingering finish.
I liked my slice of creamy dark chocolate tart with almost every wine we tried. That included the '10 The Show Malbec ($11 at Woodman's East), which had a strong, raisiny, port-like aroma but finished a bit too candy-sweet and tart.
Better was the '10 Rocky Gully Shiraz-Viognier ($14 at Barriques), a full-bodied, fruity wine that one friend called "peaty" and another called "buttery."
The '08 Cass Rockin' One ($27 online including shipping) is a big Rhone-style red blend from Paso Robles, made with syrah, mourvedre, grenache and petite sirah. It had a great chocolatey-port aroma but it was hot, meaning it didn't carry its alcohol well (15.5 percent). It will likely mellow with more time in the bottle.
One friend brought both chocolate-cayenne cupcakes and the nonvintage Rosa Regale ($18 at Steve's on sale), a low-alcohol sparkling rosé about as close to red wine in color as we've ever seen.
It had a very sweet, floral aroma but pleasantly tart/sour flavors of red raspberry. When I tried them together, the cupcake seemed to mute the wine.
We concluded the tasting with the classic chocolate pairing: port. The Graham's 10 year Tawny Port ($32 at Steve's) was rich and caramelly, excellent by itself and with a chocolatey angel food cake.
Even non-port lovers in the group loved it, describing savory flavors like mushrooms or kombucha, a nuttiness and barrel-aged balsamic vinegar notes. An ounce of the 1985 Gould Campbell Vintage Porto ($40 at Steve's), a beautifully smooth dessert wine with flavors of raisin and licorice, was the perfect way to finish.
Some wines went better than others with the treats we brought. But one thing became obvious: chocolate-dipped spiced bacon candy doesn't go with any wine at all. But it is delicious.
Prices are approximate. Lindsay Christians occasionally pours tastings at Barriques.