Some grapes we think of as soloists: Chardonnay. Pinot noir. Sauvignon blanc.
Syrah often has grenache and mourvedre on the tour, but she likes to solo. Cabernet sauvignon may sing a pretty duet, but especially on the U.S. west coast, she's usually the headliner.
For my wine group's most recent tasting, we wanted to focus on the backup singers of the wine world. Since we gathered in the lingering winter months, that turned out to be a tasting of mostly red wines, grapes usually found in Cotes du Rhone or Bordeaux or simply not mentioned on the label at all.
My friend Katie picked up the 2014 Les Jamelles viognier ($14.99 at Table Wine), a white from the Pays d'Oc region of France, because she likes floral whites. This one delivered nicely, with strong lavender and rosemary notes on the nose and a pronounced minerality.
Another friend, Max, imagined the wine as a hardboiled detective novel: "Slate Grapefruit."
I adore Champagne, so I dug in my cellar for the 2013 La Follette pinot meunier (about $25),  a Sonoma County red that I picked up for a story last December about the Vinfluence wine club.
Pinot meunier is the third grape in many Champagne blends after pinot noir and chardonnay. Based on this bottle, pinot meunier might add both cherry and raspberry flavors, as well as a dose of earthiness and smoke. Have spicy salami around when popping this bottle.
We followed up with two wines made from what appeared to be the same grape: a charbono from Napa Valley and a bonarda from Mendoza, Argentina. It's complicated, but bonarda from Argentina is actually douce noir, which is different than bonarda from Italy.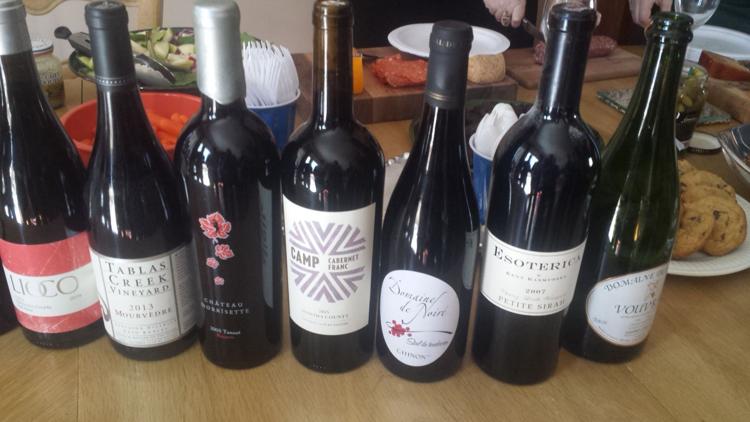 But to the details: the 2012 Duxoup Frediana Vineyard charbono ($18.99 at Steve's on University) turned out to be an approachable Napa Valley red with blueberries, a bit of spice and a dry mid-palate.
The 2012 Tilia Bonarda ($9.99 at Steve's) from Mendoza, Argentina, was much darker in color. It had an assertive herbaceous quality, with flavors of rosemary and sage along with white pepper.
The tannins were what my friend Joseph likes to call "grippy," an astringency in the back of the mouth.
By contrast, the 2014 Cline Ancient Vines carignane ($15.99 at Steve's on PD) was hot and bothered, like a vodka drunk out of a not quite empty blueberry jam jar. Tasters found hits of cinnamon and white pepper.
"This would be like a bicycle pump for grenache or syrah," one friend said, offering body, fruit and booze.
Another carignane, the 2014 Lioco Indica from Mendocino County ($22 at Square Wine Company) had more acidity than any red we'd had so far. The brightness was almost fizzy, with pretty cherry fruit.
My friend Joseph picked up his wine at Tablas Creek's wine tasting room in Paso Robles, but these wines — mostly the blends — are easily available in Madison. The 2013 Tablas Creek mourvedre ($40) is worth seeking out, a ruby-colored beauty with cherry fruit flavors and a lighter body that would make it excellent with dinner.
Cabernet franc on its own is also one of my favorite food wines, and the two we tried bore out that theory. The 2015 Camp cabernet franc ($17.49 at Table) had cranberry and herb flavors, with a slightly dusty quality and medium body. It had that slightly barnyard-y thing that can be very appealing in small doses.
Also just a little bit dirty: The 2015 Domaine de Noiré Chinon Soif de Tendresse ($17 at Steve's on University), a 100 percent cabernet franc from the Loire Valley. This is the kind of wine that will leave a rusty stain on your lips, with classic cab franc bell pepper, red currant, rhubarb and cranberry fruit in the palate.
Our last wine was an oldie, drawn from my friend David's extensive cellar. For a 14-year-old wine, the 2003 Chateau Morrisette tannat reserve ($45 when purchased at the winery) from southwest Virginia. Impressively savory and intensely herbal, this wine had flavors of eucalyptus, mint, bay leaf and cocoa.
This Friday, check out the Cap Times' new food podcast, The Corner Table. Bob Hemauer, a partner at Cork and Bottle on East Johnson Street, brings two less-than-$15 wines into the studio for us to taste.