Eating at the new Caspian Grill feels like you've entered a fairy tale. The sweeping space, formerly HuHot Mongolian Grill on Madison's Far West Side, is dramatic and elegant.
The Mediterranean restaurant that Emin Buzhunashvili and Irene Gelfand opened in November is about as far removed as you can get lookswise from their original Caspian Grill by Woodman's West on Gammon Road.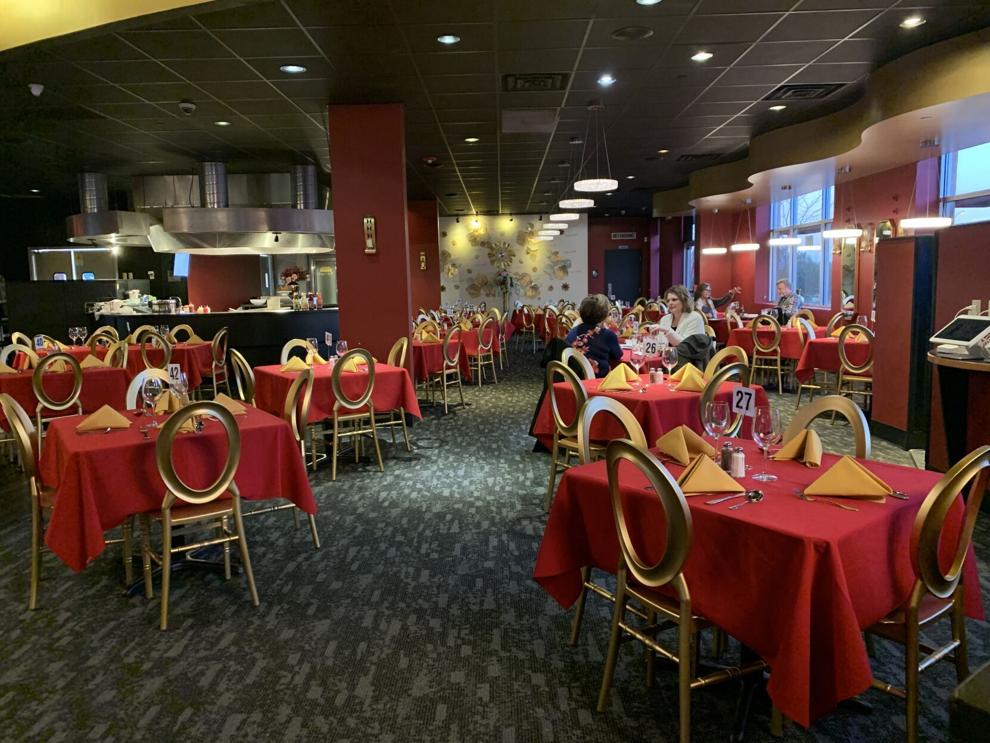 However, the new place keeps its prices in check, with most items only a dollar or two more than at the Gammon location.
That restaurant, which is still open, is cramped and modest, while the new place is a showpiece, done up with red tablecloths and gold linen napkins that match the gold chairs. Soft, moody music plays when there's no live music, think Sade ("Smooth Operator," "The Sweetest Taboo"), and the chandeliers sparkle.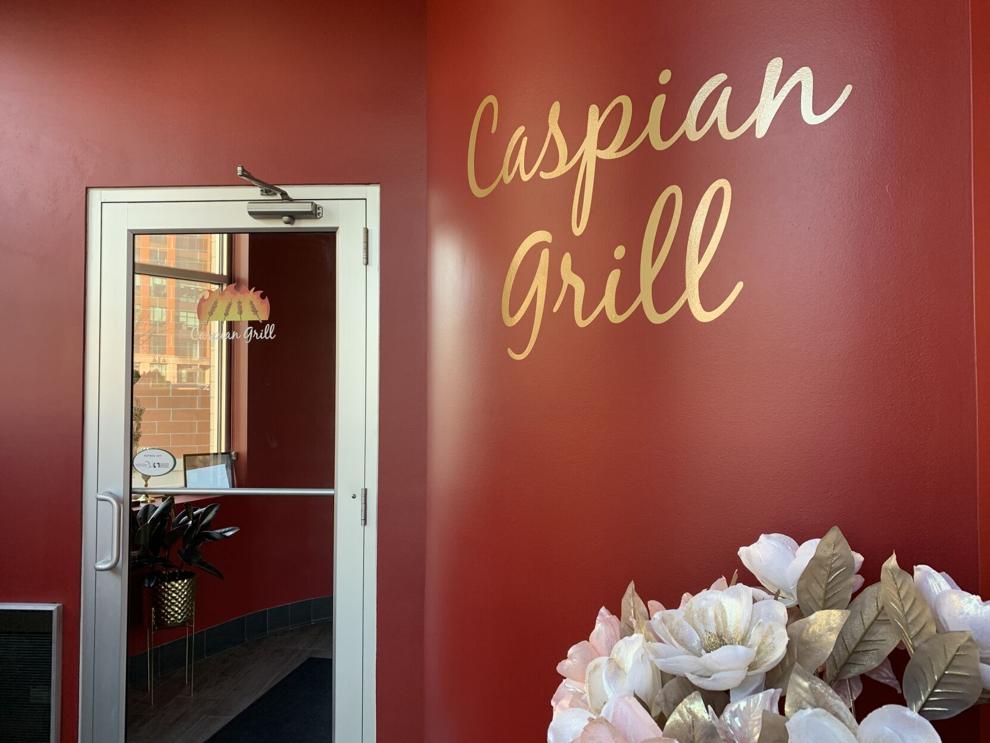 Most of the Gammon Road menu, even the casual fare, carries over to Junction Road, with a few additional dishes.
One of those added dishes, fried potato with mushroom ($14.90), is such a huge plate of food it's overwhelming for two people. You need a big group to do it justice. Gelfand agreed it's a lot, but said it's designed as one order. The diced potatoes and sliced mushrooms were rather plain, subtly seasoned with garlic and dill.
Still, it's worth ordering, as are the pelmeni dumplings stuffed with ground beef ($9.99 for 14 pieces) and served with plenty of sour cream and hot sauce, two critical touches. The hot sauce was also useful on the potato and mushroom dish.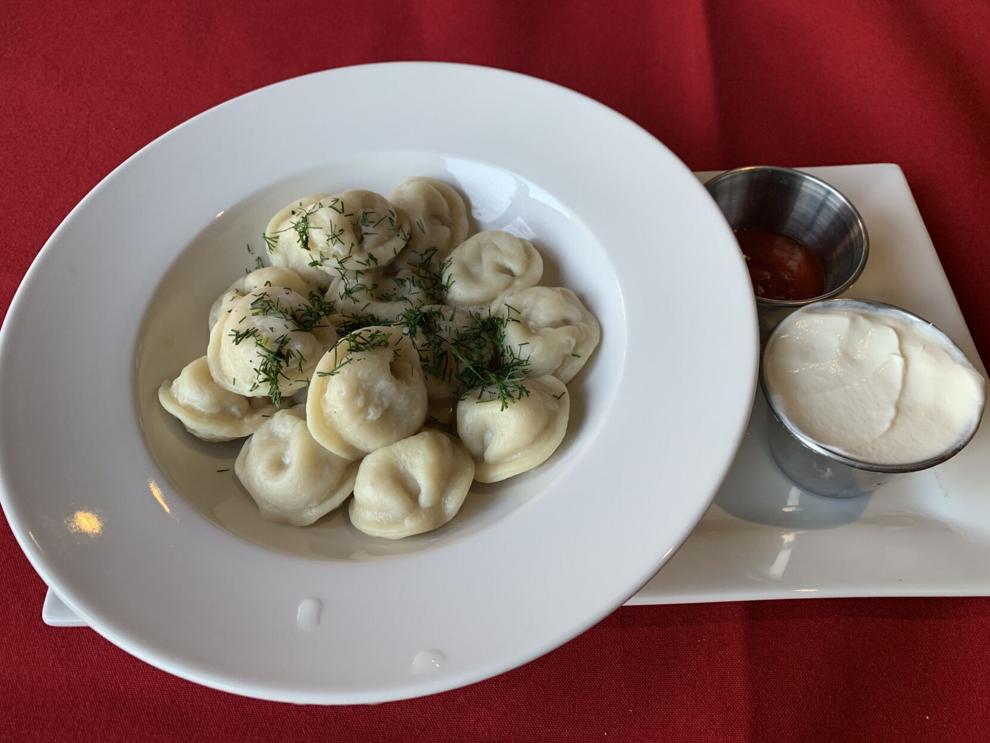 The grilled meat and vegetables under the "from the grill" section of the menu come as single shish kabobs or as a plate with rice or fries, plus the house Caspian salad and the soup of the day.
The chicken breast kabob is $7.50, but it's worth ordering as a plate for $20.99 since the salad is entrée-sized and normally goes for $11.99. It had a great combination of greens, tomato, cucumber, feta, onion, dill, parsley and cilantro, perfectly dressed with olive oil. A pickle was included.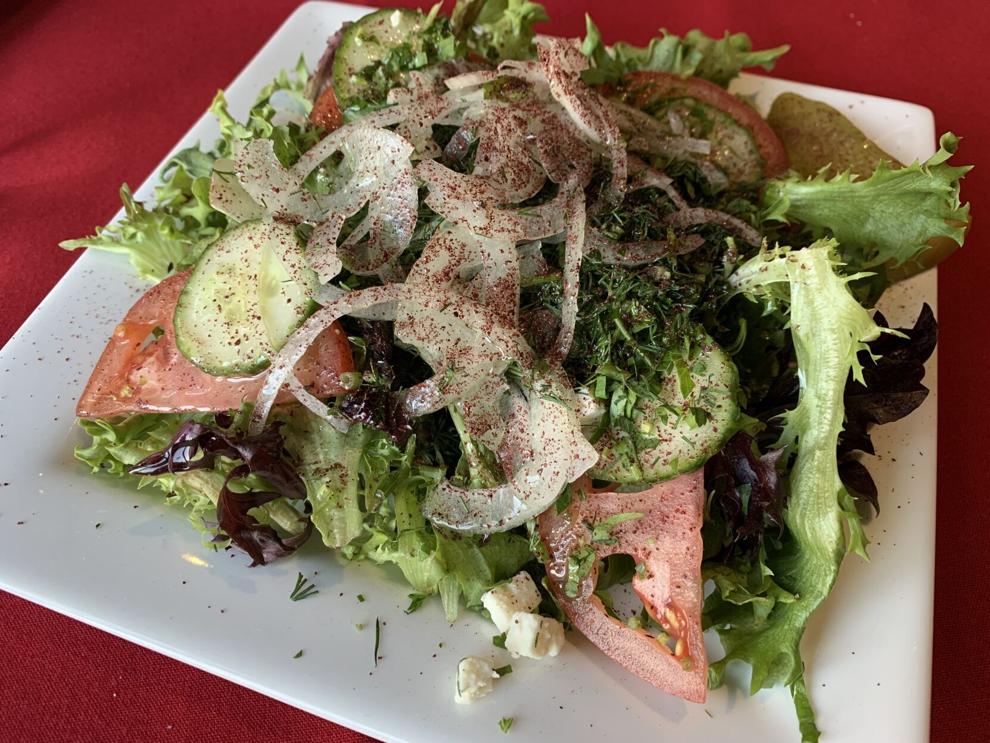 The chicken, marinated with mayonnaise and turmeric, was flame-grilled and not at all dry. The meat came on a thin slice of lightly grilled pita and was topped with onions, cilantro and parsley. The excellent, hand-cut, medium-thick fries were lightly seasoned with salt and pepper.
There's a charcoal grill in the middle of the restaurant that Gelfand said customers see but don't smell. "You enjoy the show," she said.
Included was the day's soup, a flavorful lentil, with dried pomegranate and spices at its center.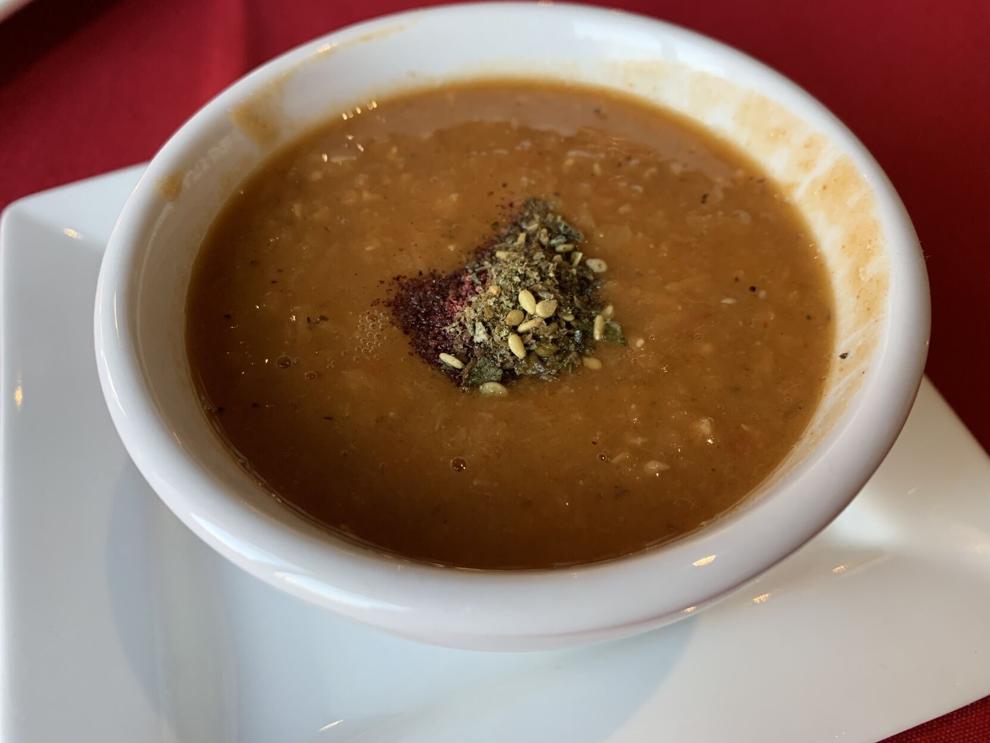 I'm partial to Caspian's carrot salad ($9.99) from the original location, so I ordered it here. Made with raisins, walnuts, dried pomegranate, cream and a little mayo, it's the most decadent treatment of carrots outside a carrot cake.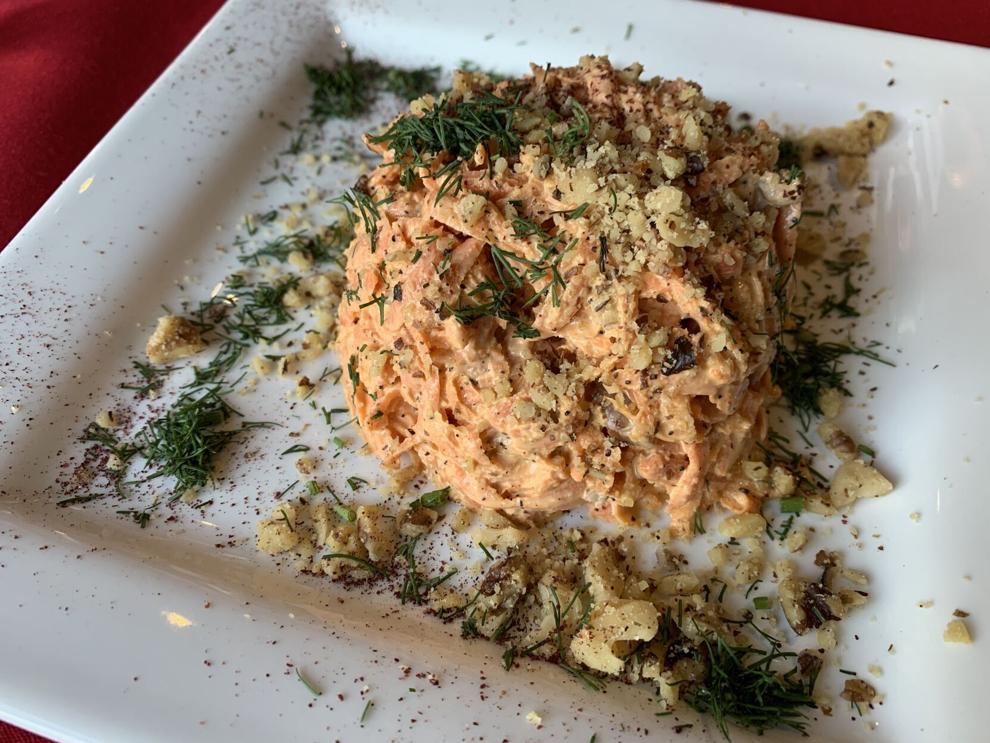 For dessert, Caspian's homemade baklava ($6.50) with walnuts had a crispy phyllo shell and came on a plate zigzagged with caramel sauce. It was a nice way to end the meal.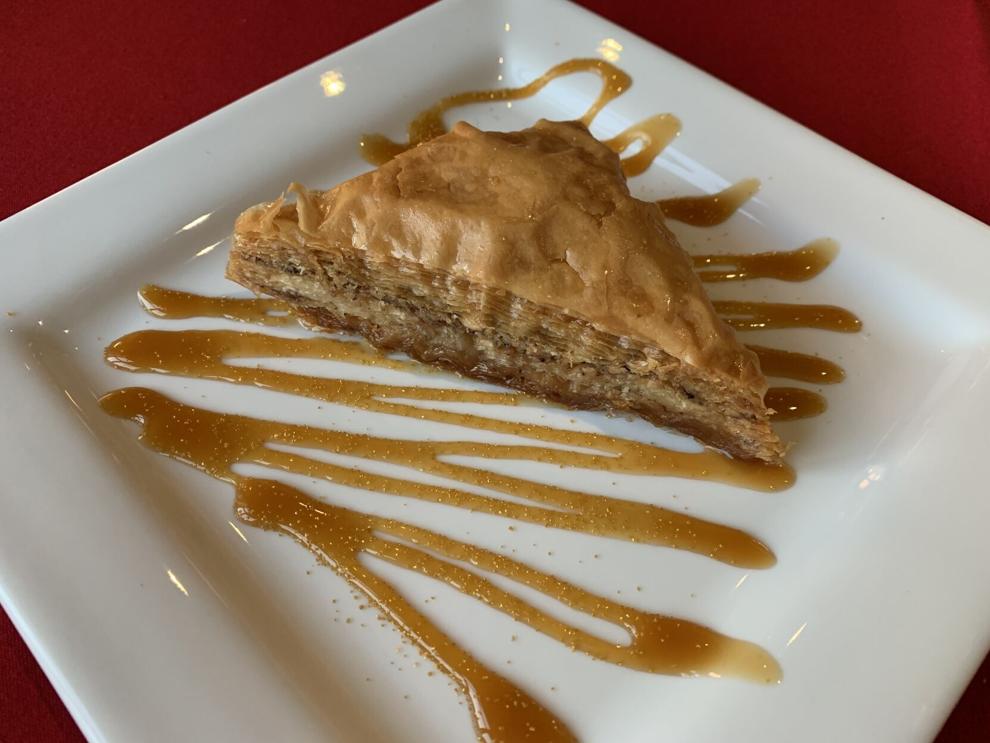 Our server brought bread while we waited. It was basic but appreciated.
The glamorous room can seat 250 and is a great event space. Mayoral challenger Gloria Reyes chose it as her election night venue. Gelfand said they're fully booked for Saturday dinner next weekend for UW-Madison graduation, and people are now looking at alternative days and times.
There's live music Thursday through Saturday evenings, with tango dancing on Mondays. The dancing started this week and was a big success, Gelfand said.
Buzhunashvili greeted us at the door and asked if we had a reservation, which seemed irrelevant with the room almost empty on a Wednesday night. He said we could pick our seats and brought some of the food out.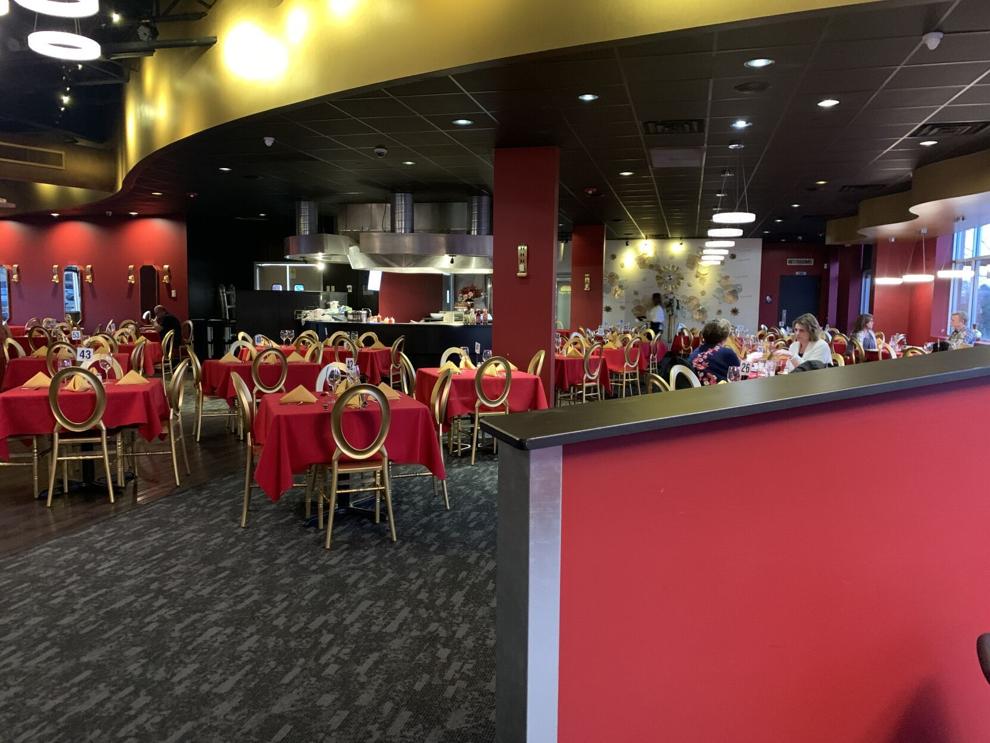 He and Gelfand, both 50, moved to Madison in 1996 from their native Azerbaijan to help run the acclaimed Russian House, which Gelfand's father and sister owned near State Street for 5½ years.
In the intervening years, Buzhunashvili worked in the food delivery business, and in 2007 bought a franchise that became Mr. Delivery and is now delivery.com. He also owns a printing company called Irene Galleries.
Gelfand left her 22-year banking career in September to run the restaurant full time. "Now is a new chapter in my life," she said. "We need both of us to be here. Emin told me, 'I cannot run this without you.'"
The couple will keep the original Caspian Grill, which they opened in September 2019. The five-table restaurant does a lot of takeout and delivery and is always busy, Gelfand said.
Here's to exciting new chapters and keeping what works.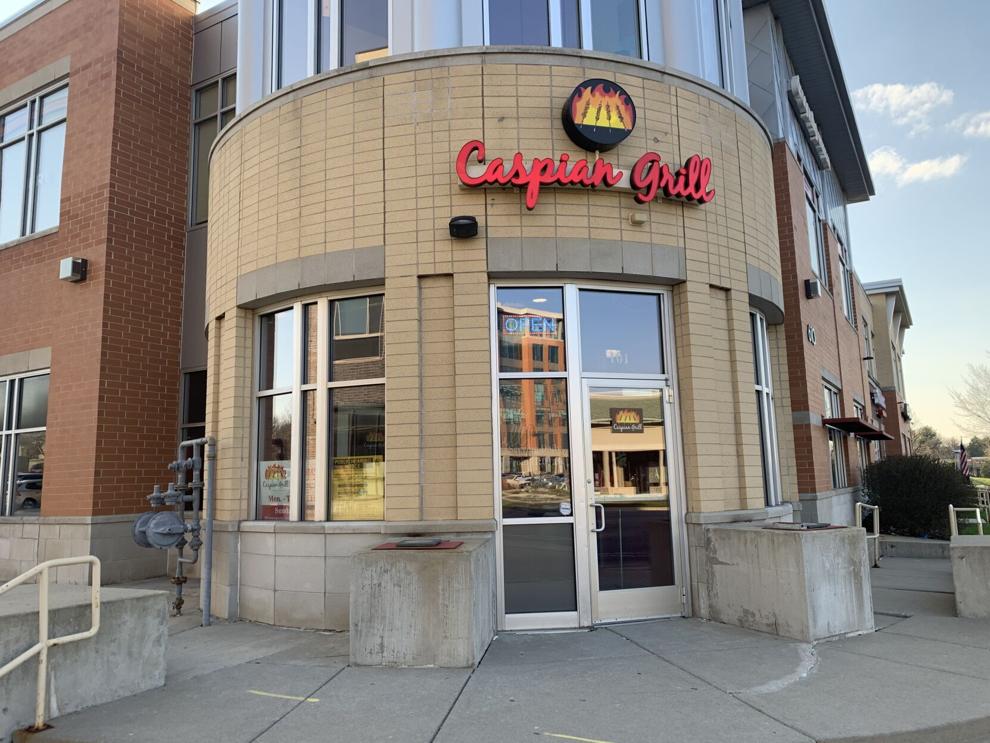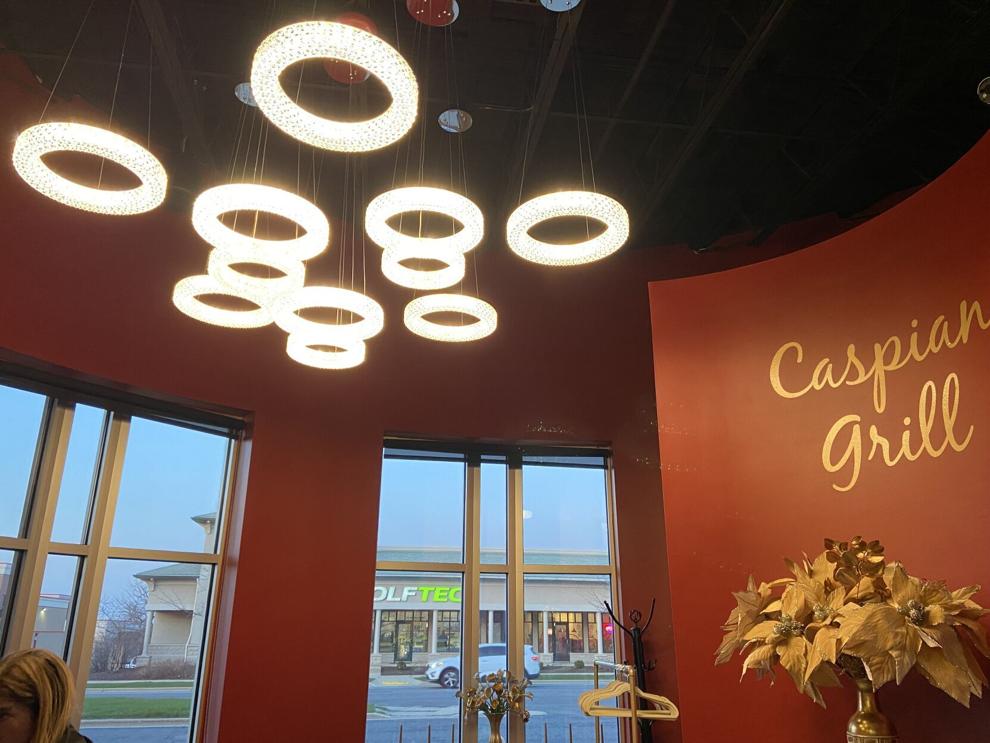 The 16 best-reviewed restaurants in the Wisconsin State Journal from 2022
So many restaurants reviewed in the Wisconsin State Journal this year were exceptional, which is how I wound up with a top 16, when I was shooting for 10.