The new Williamson Street home for Taqueria 3 Amigos let Juan Cazares expand his menu and seating. His friendly, sincere personality is the main thing that remains the same.
"See you, my friend," he called out to a customer leaving the restaurant after a recent lunch. It was a slow Saturday, so he did the cooking and also helped his wife, Gloria Lopez, wait tables. She's a positive presence, too, outgoing and warm.
This spring, when I initially talked to Cazares about the move, he told me about his habit of calling everyone a friend. "I call everybody amigo — 'Hey, how are you, amigo?' every time the people come and eat," he said.
Cazares, who like many Mexican restaurateurs in Madison cut his teeth working at Laredo's, opened his original Taqueria 3 Amigos in October 2016 on Henry Street. The location, just off State Street, only had 10 seats, at two small counters, and did a mostly take-out business.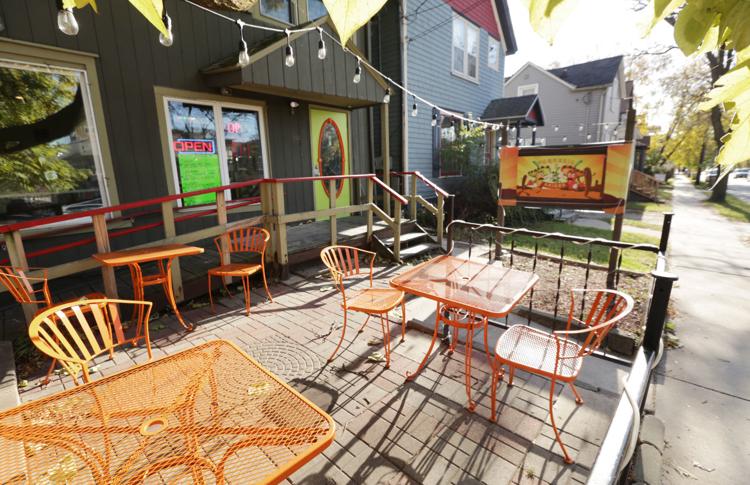 The new Willy Street location opened June 22, and had been El Sabor de Puebla, and before that, Cafe Costa Rica. It has plenty of tables, and Cazares has gone from a limited menu to a giant one displayed over many pages.
We had the best luck with fajitas del mar ($18.50), with shrimp and scallops, something Cazares was excited to be able to serve on a sizzling pan in the new location.
At first, I was disappointed to see those tiny scallops that are as big as a pencil eraser, but the more I ate of them, the more they became a fun novelty. The shrimp had been perfectly grilled, and sautéed with well-seasoned onions and red, green and yellow peppers.
A separate small plate held shredded lettuce topped with a thin sour cream and rice and beans. They were pretty standard, my friend noted.
Tacos ($2.75) are another strong suit at 3 Amigos, particularly the asada, or steak taco, with excellent quality lean meat, and the carnitas, generously filled with juicy, tender shredded pork that had a salty bite.
The only disappointment was the pastor taco, which had a fantastic sauce, but pork chunks that were more fat than meat. The tacos came on a double corn tortilla, with plenty of onions and cilantro.
Tamales are only served in pairs as part of a plate ($10.75) with rice and beans. The chicken with salsa verde was unexpectedly and wonderfully spicy, and the meat plentiful. That was another surprise since tamales are often meager on filling. The masa was unusually light, dry and crumbly. I didn't mind, but it put off my companion.
There's a short lunch section on the menu that's made up mostly of egg dishes, and since it was the first meal of the day for both of us, we were excited to see huevos rancheros ($8.50). Unfortunately, it turned out to be the low point of the meal, three fried eggs, cooked hard, drowning in an unappealing deep red sauce.
We were happy to have complimentary chips and salsa to start, except the salsa was about as mild and bland as it comes. My friend didn't care for the chips, but I appreciated that they were homemade.
Guacamole ($4) is served as a small appetizer, or comes made at your table for $7. Table side, although somewhat awkward and trendy, might be the way to ensure it's chunky and a little more interesting. The underseasoned guacamole was so creamy it was as if it had gone through a blender, which Cazares later confirmed it had. It was as smooth as some store-bought brands, although there were a few hints of tomato.
Salsa verde and hot sauce with a hotter aftertaste are served in large squeeze bottles, and are worth asking for.
The horchata ($4.75) came in only one size, in an enormous glass mug. It was delicious, but it's hard to drink that much.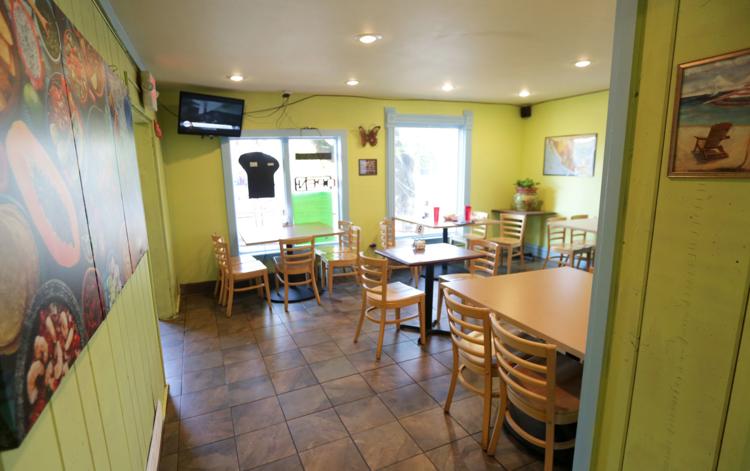 Cazares, who is from Jalisco, Mexico, has done a lot to make the main dining room inviting. The Badgers football game was on two wall-mounted TVs without sound, while music from a Mexican radio station was piped in. A large, three-paneled art piece with vibrant Mexican food really punched up the atmosphere.
3 Amigos is a comfortable, appealing place to eat. Bring a friend — or make a friend. Cazares will see to that.