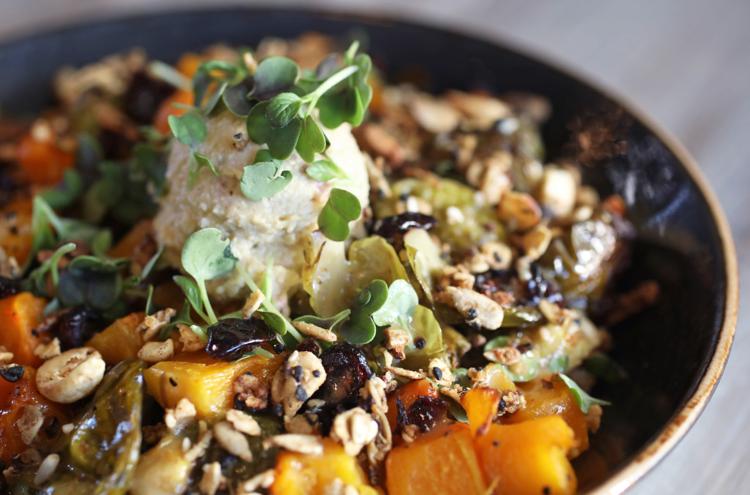 Chef Lauren Montelbano couldn't call Surya Cafe a vegan restaurant when it opened in Fitchburg in April 2017, because half the year it wasn't.
There was a small caveat.
Montelbano, a vegan herself, had ducks as pets and, not wanting to waste the eggs, made a duck-egg quiche during the months her ducks were productive.
The new Surya, which opened in the newly-renovated Garver Feed Mill behind Olbrich Gardens on Sept. 30, doesn't use eggs of any sort, so the restaurant is strictly vegan, and now the Fitchburg location is, too.
"It pains me to say that I no longer have my ducks," Montelbano said. "They are very happy elsewhere right now. So we are actually entirely plant-based. There's no dairy, no honey, no eggs."
The whole menu is gluten free, too.
The food at the new Surya on a recent visit was as consistently excellent as it was when I ate in the Fitchburg Surya, which means "sun" in Sanskrit.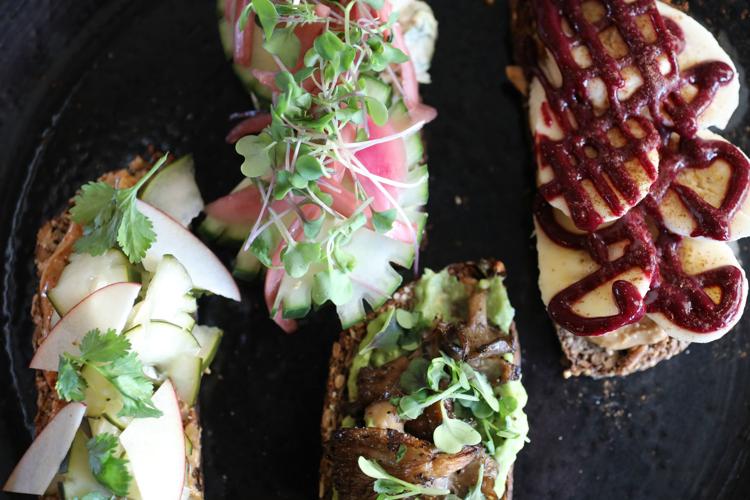 The zucchini noodle alfredo ($13.50) and the samosa tartlets ($7.50 for two) were the most memorable dishes from my Fitchburg experience, and I was glad to have those memories refreshed.
The entrée had spiralized zucchini and seasonal vegetables tossed in a thin sauce made from roasted cauliflower and cashew cream. It was topped with a vegan "Parmesan" cheese made with pecans.
The samosa tartlets, meanwhile, are a creative take on the Indian appetizer. The cakes look like little muffins, and, instead of a fried shell, they have a light cauliflower-cornmeal crust, putting the focus on the sweet potato and chickpea filling with the occasional golden raisin. I had forgotten that they were mildly spicy, and one of my companions thought they were too hot.
My favorite dish was the harvest salad ($13), a perfect fall meal with kale, roasted butternut squash, Brussels sprouts, savory granola, spiced pepitas, dried cranberries, and perfectly dressed with a maple-mustard vinaigrette.
Since it's hard to get enough roasted Brussels sprouts ($7.50), I ordered Surya's small plate version with shiitake "bacon," maple-mustard vinaigrette, and the same Parmesan substitute made from pecans. I'm happy my 14-year-old daughter shares my love of cruciferous vegetables, so I didn't get upset when she polished them off before I could get seconds.
The soup of the day was an unusual artichoke dill ($3.50) topped with crispy artichoke leaves. One of my companions found it too salty, but I liked it for its novelty.
Surya offers four types of "toasts," or you can cleverly get a "toast flight" ($15) and sample them all. I found each of them artistic and worthwhile, but one friend complained about the gluten-free seed-and-nut bread, that's the base for all the toasts.
She said it tasted "too healthy" and overpowered the toppings. She eats healthfully at home, she said, so when she goes out she likes to "splurge."
My favorite was Christian's toast with herbed cashew cheese, cucumber, pickled red onion and micro-greens. Two others featured peanut butter. The Wild Card toast, had a spicy peanut butter, elegantly-cut house-pickled carrots, apple and cilantro. Montelbano said the vegetables change. Sometimes it's carrots, but it could be zucchini or cucumber.
The other, Lauren's toast, was more of a dessert PB&J toast, with banana, berry sauce and cinnamon. Last, Megan's toast, featured avocado, lemon juice, cherry tomatoes, microgreens and salt/pepper. What's not to love about a fun riff on avocado toast?
The smoothies, while pricey, are so hearty they could stand in for a meal. The mango golden milk ($8.50) makes a mango smoothie more interesting by adding coconut milk, cinnamon, turmeric, ginger and black pepper. I'll be craving that for awhile.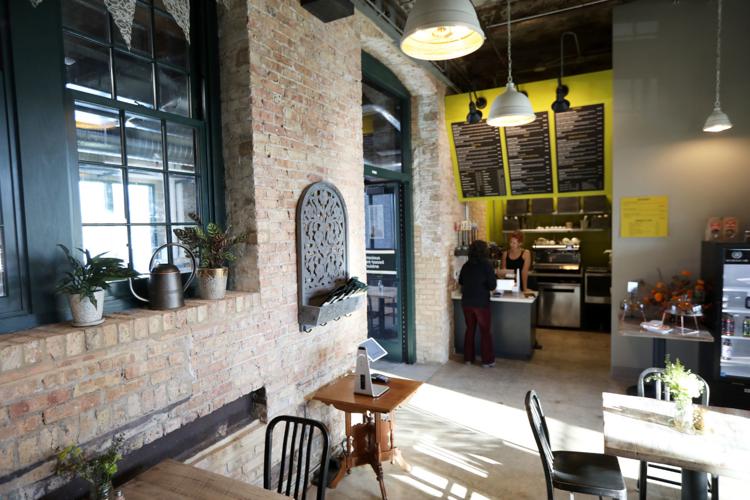 The chunky monkey ($8.50) won't let you down with banana, peanut butter, almond milk, cocoa powder and vanilla. The young woman working the counter said she comes in to get it on her days off, and recommended the "bowl" version, where it's topped with granola, banana, cocoa nibs and peanuts.
The Surya website, and the restaurant's social media activity, doesn't explicitly tout its veganism. Montelbano and owner Megan Grace use the more subtle, "conscious, plant-based cuisine" to describe the restaurant.
They also don't boast that the entire menu is gluten free, but it is.
"When people walk into the restaurant, if it screams vegan, some people are quite turned off by that," Montelbano said. "Probably over 50 percent of my customers aren't actually vegan themselves. They're either gluten free or they just want to eat healthy food."
She doesn't want to push the vegan angle so as not alienate anyone, she said.
"We absolutely talk about what we do and why we do it," Montelbano said. "But we don't want to be off-putting with it at all to anybody. We want it to be very inclusive."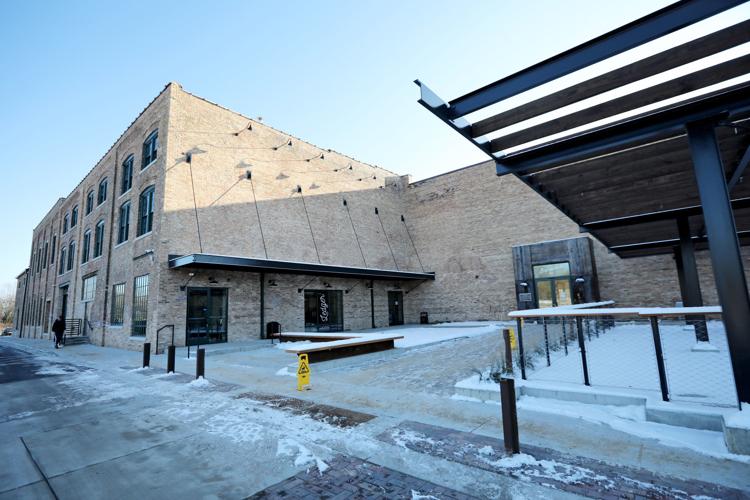 Putting a Surya Cafe on Madison's East Side is a natural fit, and its spot in the newly-renovated, 113-year-old mill is fresh and attractive.