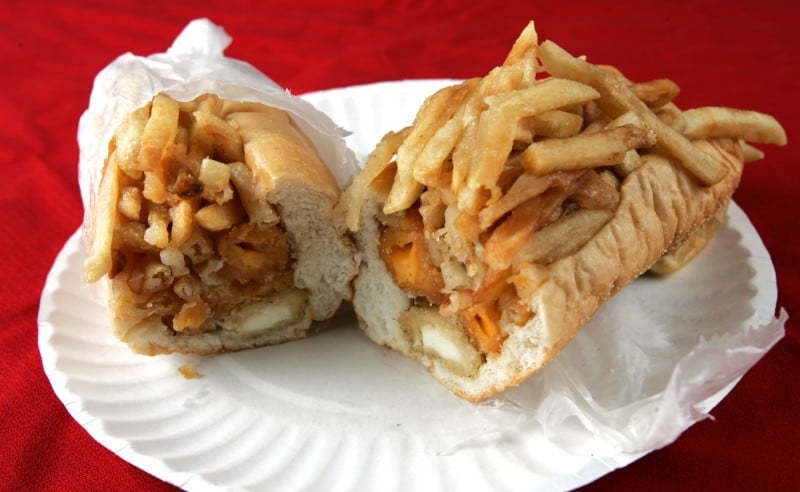 Fat Badger. Fat Sorostitute. Fat Idiot.
No, these aren't insults - although drunken customers may get confused. They're just a few sandwich options at Fat Sandwich Company, 555 State St.
Fat Sandwich opened mid-August ready for the arrival of college students. The restaurant caters to the inebriated and hung-over crowd just as Loveshack did, the calzone eatery that went out of business before Fat Sandwich moved into its old spot.
Unlike Loveshack, Fat Sandwich doesn't have much competition in the 2,000-calorie sandwich department. The restaurant's "fat sandwiches" are just as their names promise. Each sandwich is full of true Wisconsin-fried ingredients, from cheese curds to chicken fingers to mozzarella sticks. And you know when there are fries inside the bun that you've hit a serious sandwich - and they all have fries on top.
The Fat Cheesehead is not for the faint of heart … or anyone with a serious heart condition. The 8-inch roll is stuffed to the brim with cheese curds, mozzarella sticks, mac 'n' cheese bites, ranch and topped with fries as usual. Be wary of tackling any of these in one sitting; they make for a giant meal considering their modest price - this one only costs $7.25.
The sandwiches are wrapped up for a reason, kind of like Chipotle burritos. You need to unwrap them slowly as you eat to avoid losing the fries. Since the ingredients are packed tightly together, they aren't as crispy as they should be. Separately, all of the ingredients are good, even the soft roll. The sandwich was missing a little flavor, but maybe a bit of ketchup for all those fries would've done the trick.
If you're looking for something even more heartwrenching, try the Chicken or Burger Donut, both of which come on a glazed donut bun. These options are so cheap you can afford a side like hash browns for a $7 meal.
The bacon cheeseburger is much smaller than the fat sandwiches, but how much of a donut sandwich could you really eat? It was surprisingly less disgusting than it sounds, since the donut is cut in half and grilled first for a firmer bun. It has a sweet and savory contrast that actually works. Just don't try this one at home.
Both students and businesspeople are now enjoying the sandwiches on their lunch hour, and soberly it appears. Besides the calorie-laden classics, the restaurant also offers cheap salads (shocking, but true), wraps and burgers, almost all of which are under $6. These fried and filling sandwiches are definitely worth trying at such a reasonable price.
Hours: 11 a.m. - 3 a.m. every day