The main item on the menu at the new HungryBadger Cafe on State Street is the momo, a Himalayan-style dumpling. Momos are familiar yet unmistakably different from the jiaozi found at Chen's Dumpling House or Russian dumplings at Paul's Pel'meni right around the corner. 
Culinary paths diverge most significantly when it comes to what to dunk those dumplings in. According to HungryBadger's Nepali-born owners Deepak, Archana and Neelam Shrestha, the secret to a good momo is a juicy filling and an exceptional sauce. 
The sauce is the secret, and so is the cafe itself. Hidden on the second floor of State Street above IT'SUGAR, customers haven't been finding their way into the restaurant since it opened Dec. 1, Deepak said. But HungryBadger Cafe at 540 State St. is ready and waiting for customers to discover its handmade momos, samosas and more.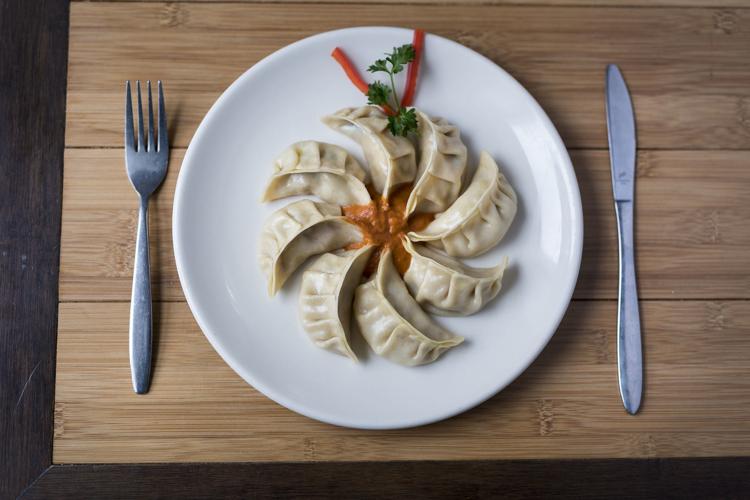 First, a momo primer. The skin is like a standard dumpling wrapper, handmade with flour, water and salt. To get the perfect chewiness, the Shresthas carefully time the steaming process for their dumplings. Fillings are seasoned with garlic, ginger, onions, cumin and turmeric.
At HungryBadger, each type of steamed momo is color-coded. Spinach turns the wrappers of veggie momos ($8.50) green; they are filled with cabbage, zucchini, broccoli and almond butter. Each Badger momo ($9) with bratwurst, onions, scallions and cilantro, is dyed orange with carrot juice.
The spicy alu momo ($8) with potato, scallion, red pepper, cilantro and cumin seed, is made yellow with tumeric. The wrapper of the beef classic momo ($9.50) is red with beet juice, while a classic chicken momo ($8.50) retains its au naturel color. 
The fun comes in with the sauces. Classic momos are served with tomato sauce. For a chili momo (an additional $1.50), HungryBadger pan-fries the dumplings in "zesty chili sauce," as well as veggies and garlic. Order a jhol momo (an additional $1) and the Shresthas will bathe your dumplings in tangy sesame sauce.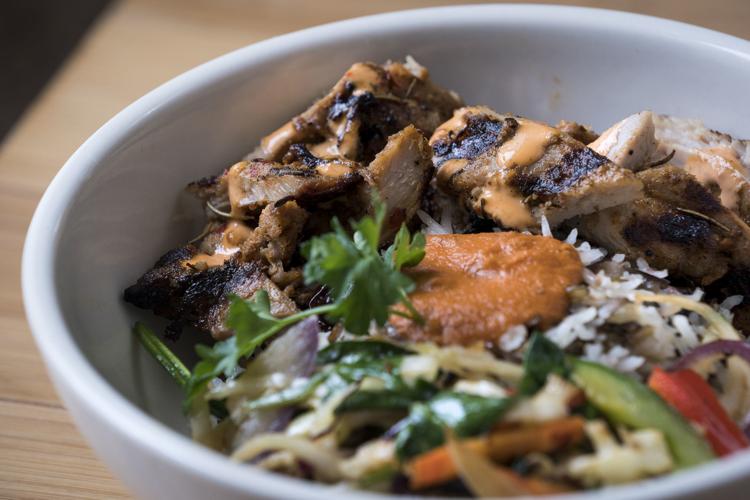 As good as the momos are, don't skip the rice bowl ($9.50), made with tender chicken, sweet cranberries and garlicky spinach. Samosas ($7 for two, plus a salad) are also restaurant best sellers.
As we tried them, we understood why. Neelam deep fried each samosa perfectly and the sauces were sublime. Check out the mint sauce and tamarind sauce with cranberry and chili flakes, both winners. 
For even more punch, try a few shakes of Badger Heat, the bright orange housemade hot sauce. Deepak has long made his own hot sauce and personally likes food extremely spicy, but wanted to make HungryBadger "palatable for everybody." Bottles are available for sale in the restaurant.
The HungryBadger trio — Deepak and Archana are married and Neelam is Deepak's sister — opened this restaurant because they had free time and wanted to spend it together. On the tongue-in-cheek "about us" on their website, Deepak and Archana describe themselves as bored empty nesters whose kids "moved and refuse to give us grandchildren."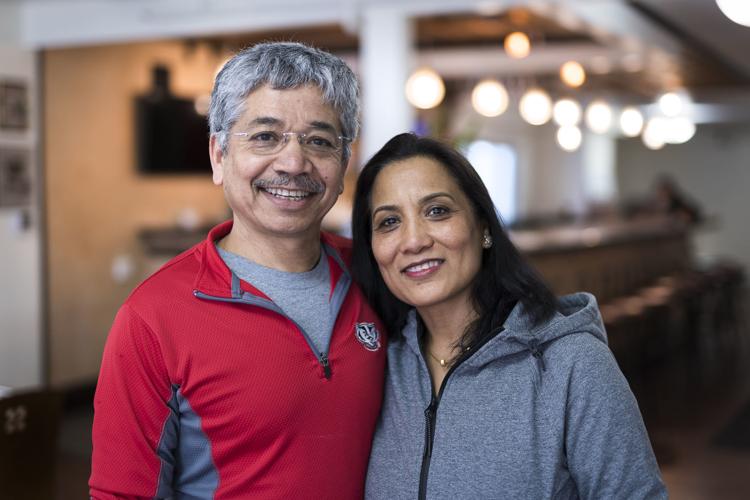 They definitely spend time together now. Every other day the Shresthas fold chicken momos to freeze for future use.
"We have lots of free time, thought it would be fun to hang out together and have something we enjoy doing," Deepak said. Neelam was the one who made the restaurant happen, he said.
"We knew what we wanted to do, but she's the one who really pushed," Deepak said.
The Shresthas all came from Nepal to the United States in the 1980s. Deepak got his Ph.D. in civil engineering from the University of Wisconsin-Madison. Archana earned a business degree at Washington State University and Neelam picked up nursing and psychology degrees at Edgewood College. At various times, all three worked at restaurants around town, at places like Himal Chuli (owed by another Shrestha relative) and the former Peppino's on University Avenue.
Today, Deepak works as an engineer, Neelam is a nurse and Archana is a financial specialist. They all have active hobbies as well; Deepak recently completed an Ironman, Archana has a passion for hot yoga and Neelam runs the Madison Marathon.
Even with packed schedules, the three find themselves at the restaurant every day, where they have learned to work with each other's strengths and weaknesses. When I asked who had the best momo folding technique, Deepak and Archana immediately pointed at Neelam, who was already raising her hand.
Asked if they have many momo memories from Nepal, they said no. Momos aren't a Nepali staple, Deepak said, they are more often a side dish or a snack. But when momos are made, families gather to make them together, a perfect activity for rainy days, Deepak said. 
"Pretty much all the recipes that we have, we've been making at home and feeding our kids for years," Deepak said.
HungryBadger makes food for hungry Badgers. It's inexpensive food for students, Deepak said — "you can't go wrong with a plate of momos and a chilled beer."