The owner of SoHo Gourmet Cuisines learned much of what he knows about cooking from his uncle, who, until recently, ran a "hole in the wall diner" in Hong Kong, where nothing was more than $4.
"His food is some of the best I've eaten. It's more like soul food," said Rocky P.H. So, who just opened a sitdown version of his popular food cart, SoHo. "And I've eaten at five-star hotels."
So's curry recipe at SoHo Gourmet Cuisines, an Asian-fusion restaurant which opened Oct. 21 in the same Fitchburg strip mall as the Great Dane, is from his uncle.
While the Hong Kong curry ($9) was fine, it was a side of garlic green beans ($3), another recipe from his uncle, that made me swoon. The perfectly-cooked beans were sautéed with Thai chilis.
So told me he added the spicy beans, which are a popular street food in Hong Kong, two days earlier. He noticed a number of customers who tried them would then request another order to take home. In a follow-up phone conversation, So noted he's been having trouble buying beans lately.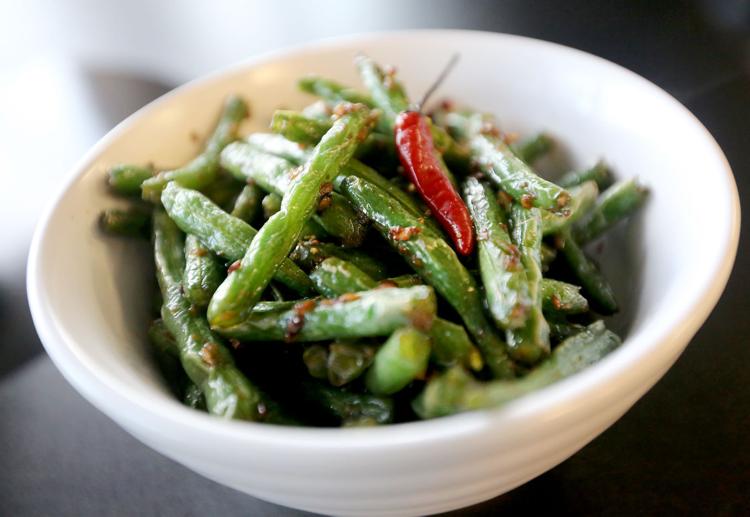 On the menu, So — whose Chinese name is So Pak Ho, hence SoHo — describes his dark yellow curry as a hybrid of Thai and Indian curries. It comes with thinly sliced potatoes and carrots, and a choice of tofu or chicken. My dining partner is vegetarian, so we went with the tofu, which was plentiful and served in tender little rectangles.
An even better entree was the charbroiled chicken ($8.50), the meat perfectly grilled. It came with small cups of ginger scallion oil and soy sauce infused with garlic, green onions and chilis.
SoHo was offering a calamari broccoli ($10) special the night we visited, and I ordered it because the squid was stir-fried, not deep-fried. The regular menu has a lightly battered and deep-fried calamari dish for $8.50. The special was composed of large, twisted chunks of squid and huge pieces of broccoli, in a light brown ginger garlic sauce.
All three plates had a huge mound of rice and thinly-sliced pickled cucumbers.
The menu boasts three salads and you can't go wrong with the lemon balsamic ($6.50), especially if you add smoked salmon for an extra $2. The thin slices of salmon were super fresh and the amount was extremely generous. A spring mix of lettuce was sprinkled with elegant cherry tomatoes, cucumber, feta, and Parmesan. The dark vinaigrette was just right.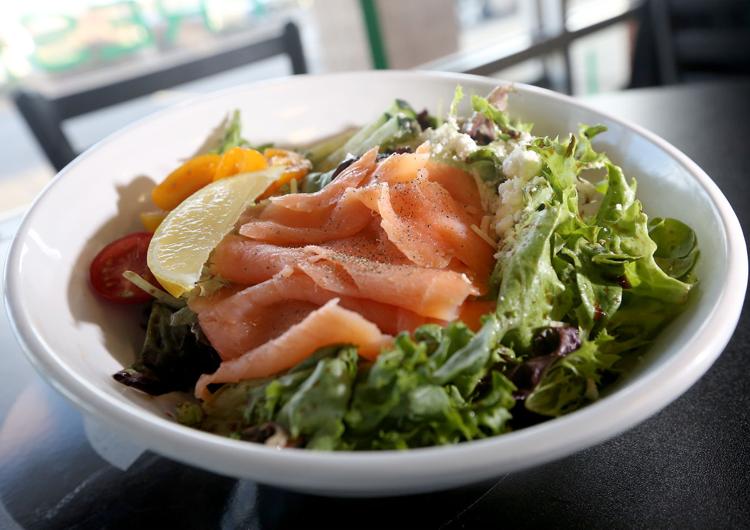 You can't leave SoHo without an order of the slightly greasy pan-fried dumplings that have fueled So's cart for three years and enabled him to open the restaurant. They come in two sizes: six dumplings for $6, or 10 dumplings for $9. Customers can mix two types per order, and ours was a combination of spicy chicken and mac n' cheese. The latter came with a thick cheese sauce and the chicken ones came with spicy cucumber ranch.
So is in the process of downplaying dumplings in his food cart and becoming more focused on rice bowls and salads, because people think of dumplings as an appetizer instead of as a meal, he said.
At the restaurant, the dumplings have been played down from the start, and only a few varieties are offered each day.
The large kitchen, visible behind the counter, dominates the space, with SoHo's menu attractively displayed on large, flat-screen monitors above.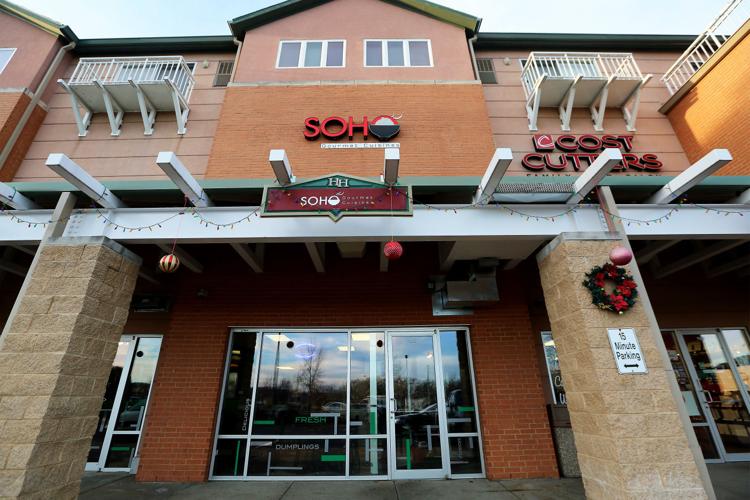 Sometimes you might find yourself needing to eat at an unconventional time, and on our visit to SoHo we were looking for a place open at 4:30 on a weekday. The restaurant is accommodating that way, and there were two other tables of people eating or waiting for food when we arrived.
So was out running an errand when we arrived, and his two employees were in the middle of switching the screens over from lunch to dinner. They were not only kind and helpful, but So has obviously trained them well on executing the menu.
A comfortable gray and green banquette sits beneath a wall with a mural of the Hong Kong skyline. So, 29, was born in Hong Kong and moved to the Madison area with his family when he was 8.
I've long sought out SoHo's cart on Library Mall and at festivals, so I'm thrilled to have the restaurant version. I dined with a friend who was unfamiliar with the cart and afterward said that SoHo was better than all the expensive, fine dining restaurants we've been to together.
That's true. I just wish I'd asked for an order of those street-food beans to go.