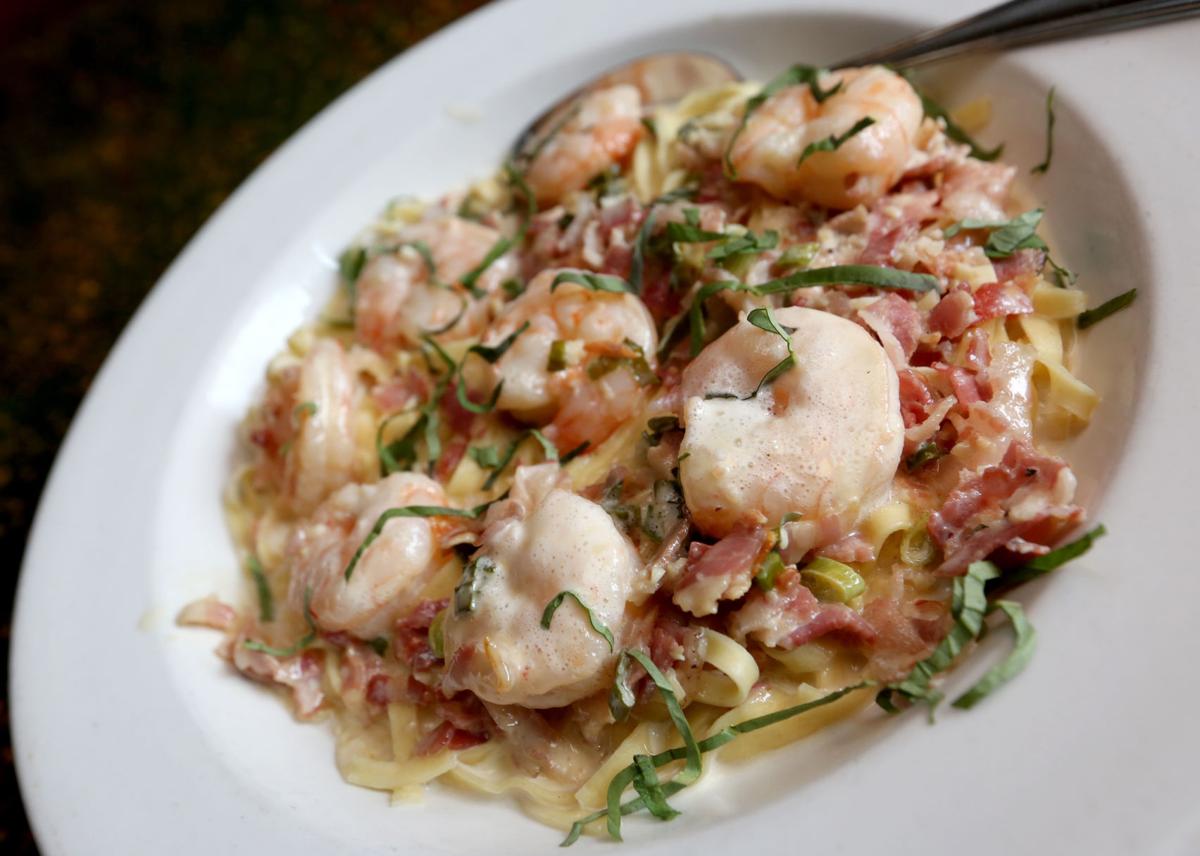 It wasn't until the pastas landed on the table that it finally clicked what Vin Santo, a little Italian place in Middleton, really is.
This is dining in, disguised as dining out.
Vin Santo, a 19-year-old staple on Hubbard Avenue, has been reviewed a half dozen times over the years, with critics praising its "rustic charm" and "dim, romantic lighting."
On the menu, the standards have staying power. Scampi Gabriella ($25), fat shrimp and pancetta over reams of creamy pasta, is still a comfort food classic. A mustard-y balsamic vinaigrette on the generous house salad ($6), extolled in the restaurant's earliest reviews, is still tangy and light.
But reading the praise of the past, much of it now proudly framed and displayed on the burnt sienna wall behind Vin Santo's small bar, I somehow missed how much of their meals the writers couldn't finish.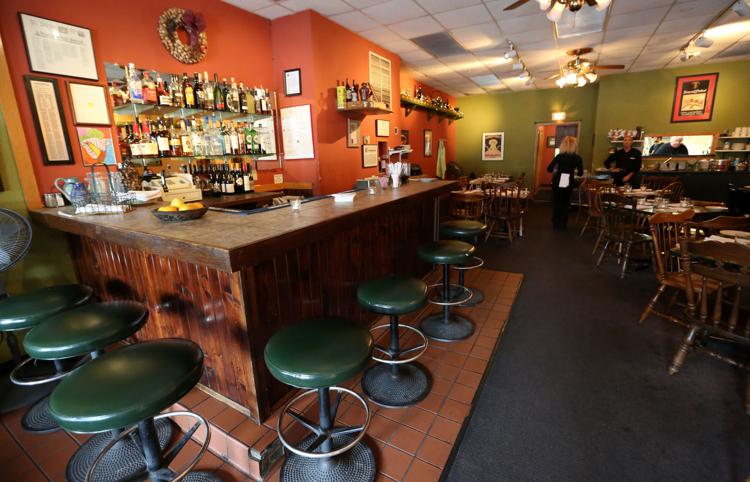 In 2002, State Journal critic Chris Martell found owners Gregg and Clarissa Edwardsen serving "consistently good food" in "enormous quantities."
"Regulars," she wrote, "are familiar with the heroic portions. The bartender warned us that most people couldn't eat an entire Vin Santo dessert and suggested we split one."
"Our take-home packages provided two days' worth of lunches," a Cap Times writer noted in 1998. In a 2005 review, he amended this: "The portions at Vin Santo are almost large enough to share." Maybe they were smaller by then?
"When we opened, we thought customers would share a lot more than they do," said Gregg Edwardsen, a co-owner and Vin Santo's chef. "We envisioned it as family style, 'Let's get together, have some fun, share some dishes.'
"But most people get their own entrees. They take it home and announce to us how happy they are to have lunch for tomorrow."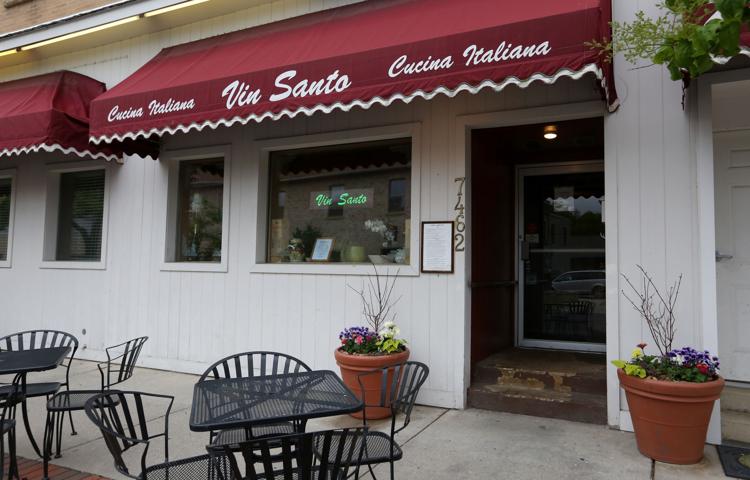 Decked out with Christmas-lit antlers, a portrait of Frank Sinatra and mismatched chairs, cozy little Vin Santo feels like a cross between a trattoria and a small-town Wisconsin restaurant, leaning heavily toward the latter. 
The dishes, grouped loosely into appetizers, salads, a long list of pastas and a few entrees, are less about invention and nuance than they are about filling you up.
On our visits, salads offered ample plates of fresh veggies, with oil-packed anchovies topping a fine Caesar ($8) and thick slabs of mozzarella and out-of-season tomatoes in a passable caprese ($10).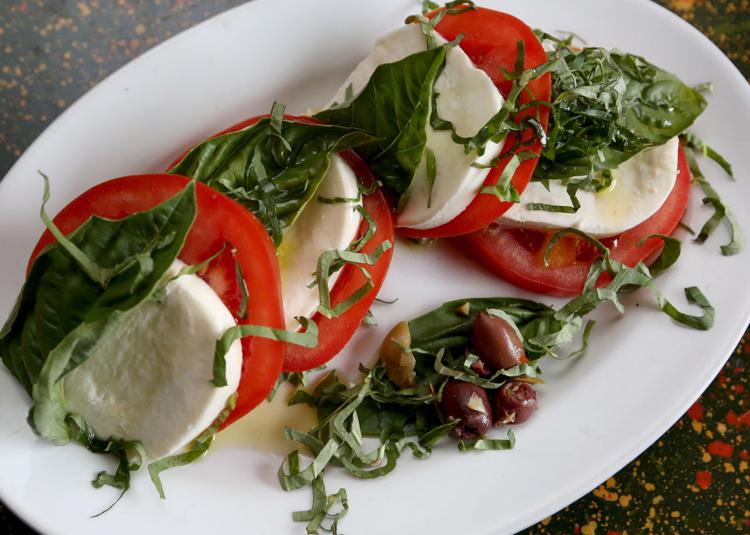 Mushroom soup ($6), rustic with sliced mushrooms, tasted of cream and paired perfectly with a light-bodied Rosso di Montalcino ($41 by the bottle, or try Vin Santo's sangiovese by the glass, $9).
Gregg Edwardsen gets most of his noodles from RP's Pasta, serving six ounces per plate of fresh spinach fettuccine, linguini and spaghetti. Delightfully, he has as generous a hand with red pepper flakes as he does with the pasta.
He deployed the spice liberally on sauce for lightly chewy sautéed squid ($13) and on several of the entrée-sized pastas. Spiciest, on our visits, was the Amatraciana ($18), a rich red tomato sauce carrying curls of pancetta and topped with pine nuts.
Spaghetti puttanesca ($16) had a little less heat, the pepper adding a warming note to the saltiness of capers, olive and anchovies.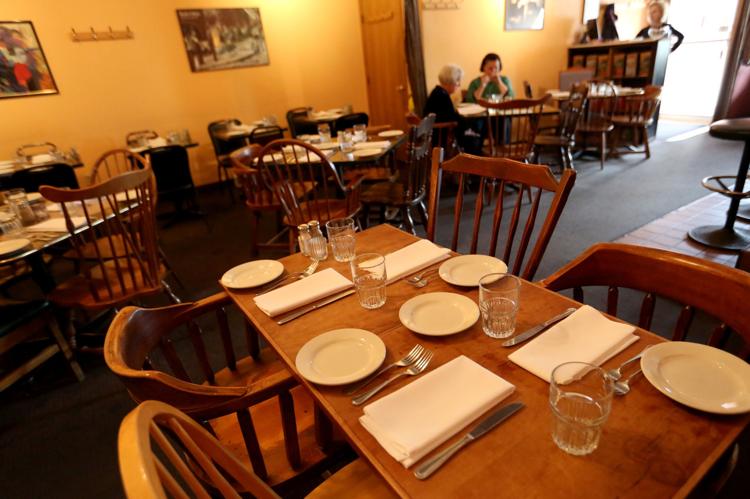 Even the simplest pasta was worthy. Linguini al Pecorino ($16), just linguini, a little cheese and lots and lots of garlic (yes!) was so good that when the noodles were gone, we began reaching toward the bread basket to sop up more garlic oil.
Vin Santo's you're-in-someone's-house vibe makes a person want to overlook a few things. Slender baguette — Madison Sourdough, Edwardsen said — had the kind of crust that made me fear for my dental work. Bruschetta in all forms ($8) was cold and disappointing.
And the non-pasta entrees were just a bit more heavy-handed than they needed to be. Chicken marsala ($18), breast meat swimming in a mushroom-wine sauce, tasted quite sweet and heavy, though fresh, thin haricot verts on the side gave it a lift.
Similarly, I love eggplant in all forms, but chef Gregg's casserole ($18) had been cooked nearly to a mush. The flavors were there, but the texture was close to stew.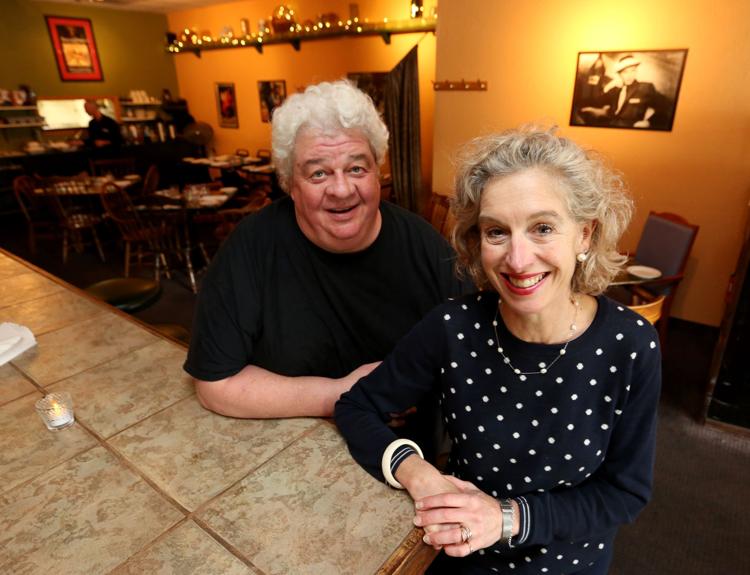 Vin Santo may be named for an Italian dessert wine — which you should get, by the way, it's nutty and fantastic with a biscotti cookie — but the wine list is fairly basic, reasonably priced but with no vintages even on the bottle list.
Among the bottles, a pretty 2014 Rosso di Montalcino ($41) went better with the pastas than a Tommaso Bussola Valpolicella ($49), which was boozier and flatter in flavor. By the glass, best was a Fuso Barbera ($9) from Piedmont, fresh, fruity and food-friendly.
 Vin Santo's bread pudding ($10) was, as one diner noted, "the size of a small home." It was also deeply caramel-y and super sticky, with a sauce made from grappa, an Italian digestivo.
In 19 years, chef Gregg has also learned how to source well. Shells for ricotta-stuffed chocolate chip cannoli ($10) come from a pastry supplier in Chicago, but they shatter on impact like good cannoli shells should, and a sprinkling of cocoa powder adds his own tiny twist.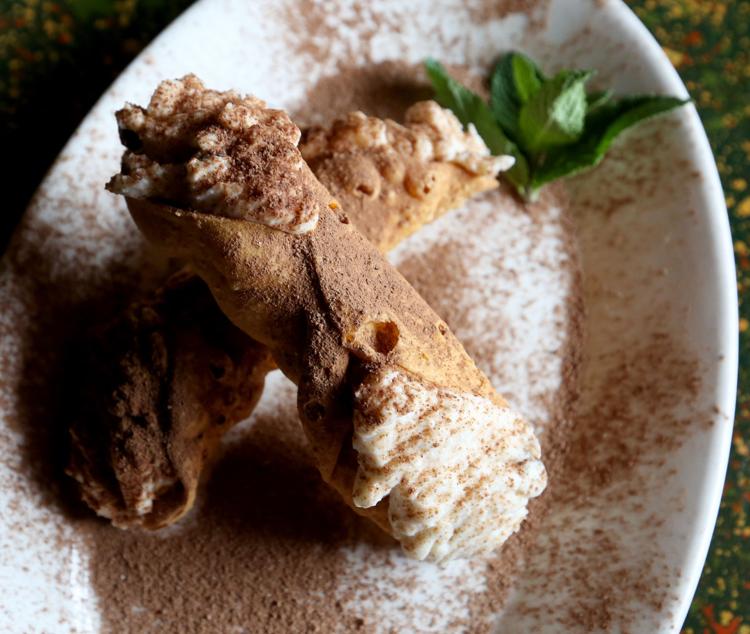 Cannoli is one of just a few things Vin Santo has added in the past few years, something the Edwardsens noticed their customers liked.
"We have a loyal customer base, so when we make changes they're very small," Gregg Edwardsen said. "Our customers like what we do."
Edwardsen said there are no immediate plans to change — no branded bottled sauces, no Vin Santo Due, no imminent passing of the torch to Hanna Edwardsen, the daughter who grew up in the restaurant and sometimes fills in for her mom on the floor.
The most they have done is to close for two days a week. Vin Santo is now open Tuesday through Saturday for dinner, closing at 9 p.m. weekdays and 9:30 p.m. weekends. If you come in toward the end of that, though, the Edwardsens will still seat you. 
"When we first got to Middleton there was not a whole lot there," Gregg said. "There was us, Louisianne's, Village Green and that's it. I'm excited about more good restaurants being in Middleton.
"It does bring people to the area. And you can't fight it, you might as well embrace it."
Stay up-to-date on what's happening
Receive the latest in local entertainment news in your inbox weekly!